Products
Leverage comprehensive quality planning
How is it possible to optimize control and inspection processes?
Leverage engineering-related data for comprehensive quality planning is crucial. Product and process complexity continues to grow in importance for many businesses today, influencing new business models. Manufacturers must redefine roles for PLM (product lifecycle management), and QMS (quality management system) must expand beyond the traditional paradigm. QMS best practices need to be applied across the entire product lifecycle.
Design for quality and product excellence
Comprehensive quality planning contains the process steps and activities to handle critical elements during manufacturing processes. This is where potential risks, while not completely mitigated, can be controlled systematically to identify defective parts.
Drawings provide necessary requirements in virtually all cases, like 2D or 3D detailing with product and manufacturing information (PMI). PMI conveys information about the design of a product's components for manufacturing. The information includes geometric dimensioning and tolerancing (GD&T), 3D annotation (text), surface finish and material specifications.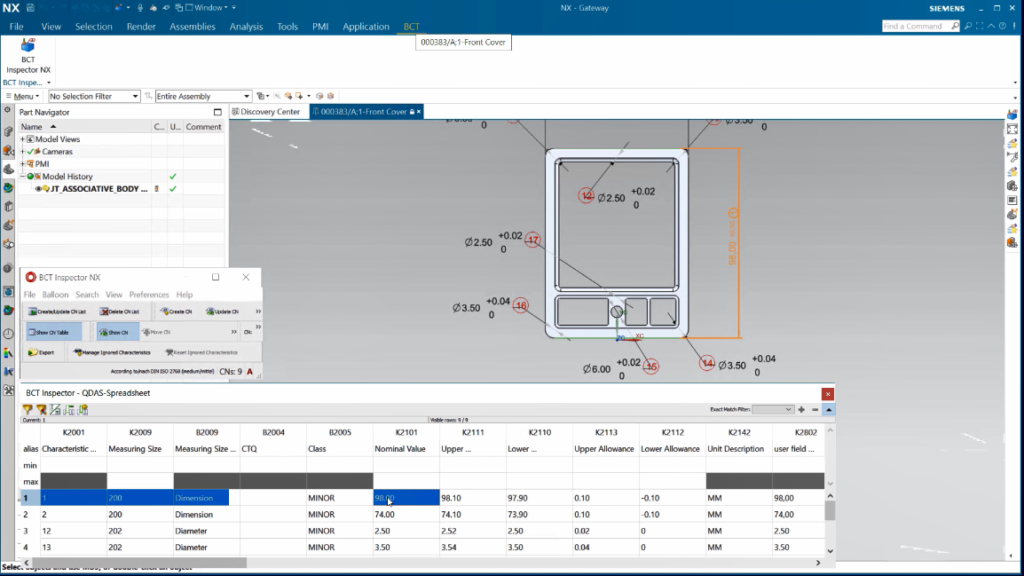 Once PMI is created, it can be re-used thought the whole product lifecycle from the engineering drawing to validation analysis. Using visualization tools that facilitate collaboration, the manufacturing and quality teams can also reuse this information as well.
How can quality team reuse the information?
The creation of a control plan is a vital component of comprehensive quality planning process. Control and Inspection Planning manages the process steps that control critical elements during the manufacturing processes, where the potential risks could not be fully mitigated, but controlled systematically to identify defective parts.
Siemens' solution allows product teams to capture and associate a component's manufacturing requirements directly to the 3D model, as well as convey this information to downstream manufacturing applications. A critical procedure is the creation of a control plan that takes the process, as well as the design-driven characteristics, into account. Automating identification of design characteristics enables continuous processes to improve quality assurance.
By leveraging Teamcenter collaboration platform, the quality team can leverage the information in the 3D model or the 2D drawing with their PMIs, because it supports the automatically ballooning of characteristic-relevant information. In Teamcenter Quality, it's possible to automate the manual creation of an inspection plan and reduce, or eliminate, transfer errors. The results are available in a control plan printout by following the quality standards' requirements.
Finally, the execution of inspections on the shop floor and the collection of this information can give fundamental insights. Thanks to the possibilities of closing the loop, it allows you to design for both quality and product excellence.
Change management for PMIs within inspection planning
In Teamcenter Quality Control and Inspection Planning module, it is possible to create the inspection plan in different ways. On one hand you can derive a control plan from an FMEA – Failure Mode and Effects Analysis, or you can directly select the relevant part and the 3D model, including the PMIs. Then, the change management implementation can compare part revisions with 2D/3D CAD data in the inspection planning process. In the latest version of Teamcenter Quality Control and Inspection Planning, a new function compares revisions and shows changes.
Relevance of quality planning
So, how can we integrate quality best practices in the early stages of development of a new product/process? How is it possible to optimize control and inspection processes leveraging comprehensive quality planning?
To learn more, watch our latest webinar. We hosted Marko Weber, Product Manager at BCT Technology AG. In the past, he has worked on several software projects related to NX, Solid Edge and Teamcenter. Today he is responsible for BCT's product portfolio. In this webinar, he provided an overview about key solutions to associate a component's manufacturing requirements directly to the 3D model and its relations with Teamcenter Quality.
This article first appeared on the Siemens Digital Industries Software blog at https://blogs.sw.siemens.com/teamcenter/leverage-comprehensive-quality-planning/