Products
ALM-PLM: Coordinating effective change management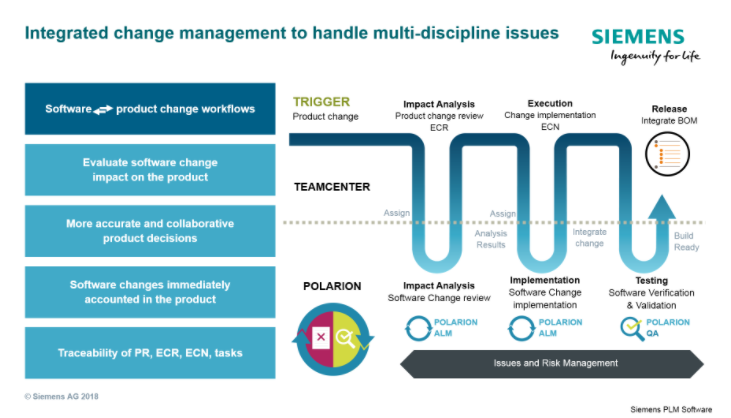 Managing complex products requires coordinating change across ALM-PLM (software and hardware) throughout the development process.
The ancient Greek philosopher Heraclitus, put it this way, "The only thing that is constant is change" (he may actually want to update that quote to mention that the speed of change is accelerating). This is especially true in developing complex electromechanical or mechatronic products. Knowing and even expecting that change is coming requires companies to properly plan for how to handle them and when the change impacts multiple groups, the challenge of managing the change grows exponentially.
Integrated Change Process
So, how can you ensure all of the change-driven activities are completed across different design teams? How can you prove compliance or capture an audit trail of the work? How do you effectively communicate where you are in a release or approval process? These are key questions that all companies need to answer in order to deliver quality products.
ALM-PLM Integrated change management process
An integrated, orchestrated, and closed-loop change management process is needed to handle these challenging questions. Typically, when you initiate a Product Change request, it triggers an impact analysis which requires a review of related hardware and software information. Once the analysis is complete and a Change Request is approved, the system aids and tracks the engineers execute and implement the changes simultaneously on the both HW and SW side. After implementation is complete, the product data is released inclusive of all the hardware and software changes. This process which spans across Teamcenter (PLM) and Polarion (ALM), allows you to manage multi-domain change workflows which leads to:
Better impact analysis of software changes on your products
Accurate and more collaborative product decisions (with justification)
Instant impact understanding of software changes on product performances and supports "what-if" analysis
Full traceability to problem reports (PR), engineering change requests (ECR) and engineering change notice (ECN) tasks
An example of how this workflow can manage this process can be seen above. A Teamcenter workflow, with connectivity to the related Polarion activities, provides an encompassing process to control how and when tasks are completed across the applications. The Teamcenter workflow can restrict when the next state is reached based on the related Polarion tasks. This interaction allows companies the ability to coordinate product changes and eventually the release process.
Want To Learn More About ALM-PLM?
The Linked Data Framework infrastructure for the PLM-ALM integration is the foundation for a managed cross domain change process. If you are interested in learning out more about the integrated solution, take a look at the ALM-PLM integration – real visibility across domains and ALM-PLM interoperability … a must for today's products blogs for why its critical for complex product development.
About the Author:
Derek Piette is a Product Manager within the Systems Driven Product Development organization with a focus on the strategy and direction of the Integrated Software Value Chain. He has over 14 years of experience in various PLM product management positions related to product development and systems engineering.
This article first appeared on the Siemens Digital Industries Software blog at https://blogs.sw.siemens.com/teamcenter/alm-plm-coordinating-effective-change-management/