Products
What's New in ST10: Wrapped Cut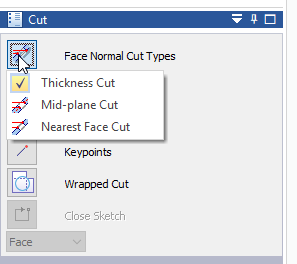 This is another topic request from the forum. It wasn't requested directly, but there was a discussion about this functionality, and I just wanted to clear up what the actual enhancement entails. There was a mention on the forum that you could now bend and unbend in Synchronous mode. That is sort of true, but possibly not in the way you might think.
In Synchronous, when you create a cut that cuts into a bend, you now have the option to select the Wrapped Cut setting, the cut will act as if the part were flattened , cut , then rebent, but there is no actual fold/unfold or bend/unbend command. The software shows the part visually flattened, and then reforms it.
This holds true for cylindrical cuts as well as rectangular, but if a change is made later such that the cut only touches one flat face and the bend, it will fail.
Another new option within the Cut command is the Face Normal Cut Types. The Thickness Cut will always cut the material normal to the sheet face – as if it has been cut in a shear, not like it has been cut by an end mill.
In this case shown, a circle was drawn on the top face, and then cut through the angled and flat panels. The shape cut out on the angled panel is an elongated oval, but the walls of the cut are not parallel to the first cut, they are normal to the angled face of the angled panel. Sheet metal tools all cut the material normal to the face
This article first appeared on the Siemens Digital Industries Software blog at https://blogs.sw.siemens.com/solidedge/whats-new-in-st10-wrapped-cut/