Products
What's New in Solid Edge 2022: Design Configurator
Create new designs at a click of a button
Offering unique products is a competitive strategy that creates distinctive value, wins more business, and increases customer loyalty; however, manual design customization can be expensive, error-prone and time-consuming. Solid Edge 2022 comes to the rescue with the new Solid Edge® Design Configurator, a design automation application that allows you to rapidly design products to customer specification while eliminating expensive errors inherent in manual design customization. 
Solid Edge Design Configurator enables the automatic generation of new designs based on defined parameters and rules. Rule-based automation can boost productivity and design speed.
Once authored, rules can be quickly tested within the current Solid Edge session. There's no need to compile rules and start a separate run-time session for testing. This significantly speeds up the rule development/test loop.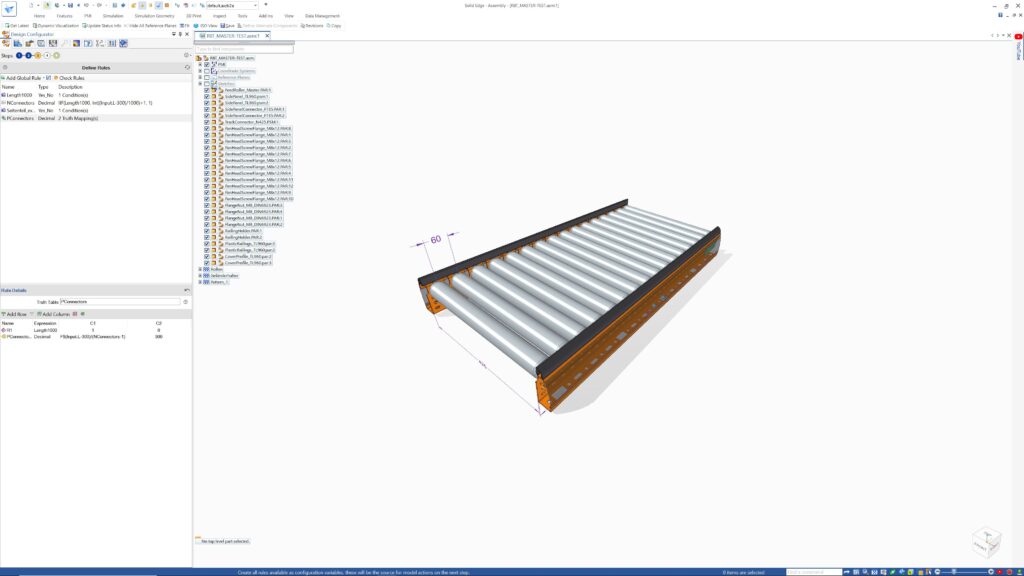 Completely embedded in the familiar Solid Edge mechanical design environment, the Solid Edge Design Configurator application automates many of the repetitive design tasks involved in the order engineering process. For example, it can shorten lead times for quotes and reduce margin-eroding engineering order errors. Additionally, automating the order engineering process allows more time for product innovation, which is especially useful when your engineering team handles both order engineering and new product innovation.
The ability to quickly engineer a detailed design at the point of sale enables you to generate more accurate cost estimations, providing you with the necessary information to conduct more confident price negotiations and realize more predictable margins on orders.  Solid Edge Design Configurator provides related outputs, such as a costed BOM, compelling 3D visualizations, and sales drawings.
Using Solid Edge Design Configurator eliminates the need for custom programming or using a complex spreadsheet tied to CAD through APIs — and there's no need for programming knowledge to use it. Home-grown solutions can be difficult to maintain and scale, and they often lag product design changes and evolving business rules.
Solid Edge Design Configurator is easy to use thanks to its graphical user interface that leads you through functional product specifications. Configuration rules are defined within Solid Edge, using a step-by-step guided process. Rules certify that only valid product selection are made. Once you complete the requirements, the application automatically generates the product design. A simple change of specifications shows a customized design.
To see how this new functionality in action, check out the launch video below!
---
To learn more about what's new in this release, visit siemens.com/solidedge2022.
This article first appeared on the Siemens Digital Industries Software blog at https://blogs.sw.siemens.com/solidedge/whats-new-in-solid-edge-2022-design-configurator/