What Annoys History-based Users?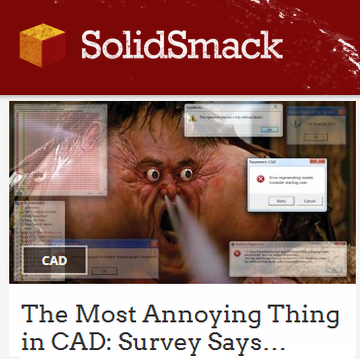 On a CAD blog I recently found an article bemoaning problems people have with their CAD systems. Somehow it devolved from a cynical yet rhetorical "survey" of sorts into a set of serious answers from users annoyed with their CAD software. Apparently the author didn't really expect serious answers. Possibly he underestimated how fed-up a lot of people are with their CAD systems. As you might expect, most of the p-o'ed users were using SolidW… I'll let you read the article and figure that out for yourself.
Anyway, what I thought was so interesting about this was actually the kinds of things that they were so annoyed about.


Translated data


Simulations of working parts and assemblies


Sharing files


Unforeseen changes


It's easy to see that people who aren't using Solid Edge will be annoyed at how their CAD handles translated data. I remember those days, and not in a nice way. Working with translated stuff is one of the strongest areas in Solid Edge, and somehow we need to let this guy's blog readers know that we've got a peach-sized Excedrin for their Works headache.
Simulations – I'm taking this to mean putting assemblies in motion, although it's not clear just what was meant in the survey. Stress analysis can be conceptually difficult. It has to be a little bit hard just to keep people out of it who don't have any business making that kind of decision.
So to me, this is about making assemblies move, which I think should and could be a lot more intuitive. If you look back at the recent interview I did with Art Patrick, making assemblies move is one of the things on his radar. To me this is just confirmation that Art has a great intuition for things that pain the community of users.
Sharing files. Yes, of course.
Unforeseen changes is the big one here. This is the one big beef that tells you it's a bunch of annoyed history-based users answering the survey. Synchronous doesn't leave you in this bind. What if you could take 2 out of 4 of your worst CAD nightmares and just erase them? Wouldn't that be something worth having? This survey is proof that there are a fair number of people out there who haven't heard what's going on with Synchronous Technology.
Anyway, just found that bit of CAD info interesting. So if you have any friends out there who just can't let go of history-based software, do them a favor and show them what you're using.
This article first appeared on the Siemens Digital Industries Software blog at https://blogs.sw.siemens.com/solidedge/what-annoys-history-based-users/