Student Spotlight: Kyle Crowder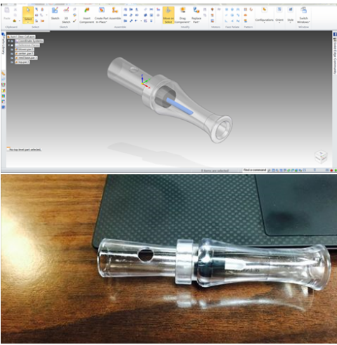 Kyle Crowder, a senior at Fountain Lake High School in Hot Springs, Arkansas, is learning valuable skills as part of the project-based learning initiative led by Toby Craver. Learn first-hand how project-based learning has made a lasting impression on Kyle's future. Here is our brief Q&A:
What do you plan to study after High School?
I plan to study Mechanical Engineering and Design.
Has this class influenced your career choices?
The class has enabled me to narrow my focus in my career choice.
When did you first start using Solid Edge?
I first started using Solid Edge during the third week of school this year in 2015.
Where and how did you learn to use Solid Edge?
I started learning how to use Solid Edge in class and outside due to the enjoyment I gained from using it. At first we learned the basic controls from trial and error; then we were given instructions for how to build a bird house using an ST4 manual. As we are using the ST8 software, there was a bit of a learning curve considering we had to "translate" the old manual to the new software.
What do you like best about Solid Edge?
The best thing about Solid Edge to me is that you can simulate real world situations without the need for wasting real materials.
What's the most interesting thing you've done in Solid Edge?
Reverse engineering my game call was probably the most interesting thing I've done in Solid Edge, mainly because afterwards I got to 3D print the module that I made.
What have you learned about engineering or about Solid Edge during this class?
I've learned a lot about engineering in the time that I've been in IPT (Integrated Production Technologies). For instance, whenever I go to a store of any kind, I don't see just products on a shelf; I see all the time it took to design, calculate prices, and market the product. I think most people tend to overlook all the work that went into something that they see every day.
Who has most influenced you academically?
The person who has influenced me the most academically is probably Nikola Tesla, because he was an extremely intelligent person that didn't back down even when his predecessor was against him.
What change do you want to accomplish in the world? Specifically what could you do using the skills learned in this class?
I don't want to be on the cutting edge of technology; I want to be the cutting edge of technology. I want to create a new way of looking at the world, and my time in class has taught me about the hurdles I need to overcome to get there.
This article first appeared on the Siemens Digital Industries Software blog at https://blogs.sw.siemens.com/solidedge/student-spotlight-kyle-crowder/