ST8 training, videos, and search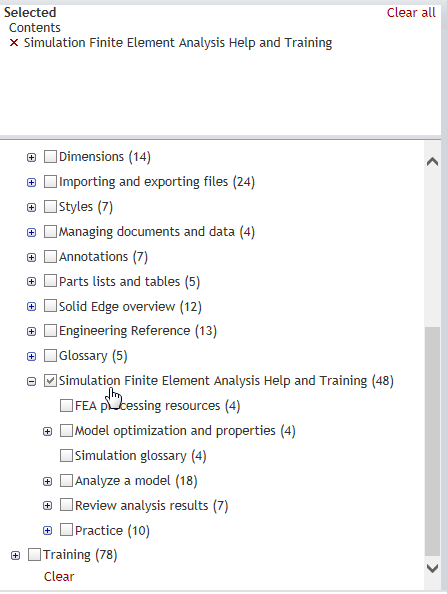 On the Solid Edge ST8 Help and Training home page, Search and Learn to use Solid Edge have their own dedicated real estate. To the right of these are all of the links to what's new information in this and recent releases.
Learn to use Solid Edge – Follow these links to find indexes to all of the tutorials, all of the self-paced training courses, and all of the instructor-led courses. The recommended learning paths for new users are here. In ST8, we also inaugurated a list of Solid Edge videos and Solid Edge SP interactive training simulations.
Search – Everyone uses search to find information. But many people don't know what the search result icons represent or how to filter search results. For example, if you enter the word units in the Search box, the total number of search results is 312. You can predict the type of content you will see when you click a results link based on its icon.
= help topic
= training topic
If you only want to see the help topics that satisfy the search criteria, but not the training topics, then you can filter by content types (Help, Training) in the left pane.
Even now, there are 234 instances of the word units.
If you only want to find information pertaining to units in simulation, then select the check box in front of Simulation Finite Element Analysis Help and Training. When you check the box, the search results update. There are now just 48, and they are all located in the simulation content area.
You can find these search tips and more in the article, Do a basic or advanced search, Yes, this is the top link in the Search section on the web help home page.
The training and video content is heavily biased towards delivery on the web. But the help content is the same in web help and in the local help delivered with Solid Edge. If you don't have Internet access, you automatically get local help. You also can switch between the two types of help. A printer friendly doc attached to this post summarizes this and other user assistance features in Solid Edge ST8.
This article first appeared on the Siemens Digital Industries Software blog at https://blogs.sw.siemens.com/solidedge/st8-training-videos-and-search/