Products
Solid Edge University 2015 Reception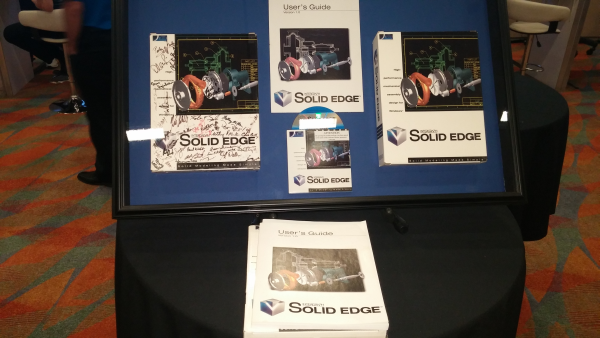 I met my old friend Billy Oliver before 8 AM this morning, and I could tell it was going to be a full day. Not long after, I ran into Tushar Suradkar, Ken Grundey, and Sean Cresswell with his lovely wife, along with Bob Mileti and Jason Newell.
Philip Norman, the robotics keynote speaker for tomorrow also strolled past my spot near the registration table. I felt like I knew him with all of the press releases, and the bit of research I did on him for the blog article. We chatted a little. Really looking forward to his keynote address.
Also I met John Miller, the "new" head of Siemens PLM Mainstream, Bill McClure, Dan Staples, of course, to show him my shoes, John Fox, Jeff Miller, Laura Watson, Mike Brown, Art Patrick, Dan Vinson, Chris Dayton, Kevin Riggs, Doug Stainbrook, Oliver Duncan, and I'm sure I've left out as many people as I've listed.
And then there were the true CAD luminaries such as Dr. Ken Versprille, the father of NURBS, and I spotted Mike Payne, a former cofounder of teams such as PTC, SolidWorks, Spatial Technologies, Spaceclaim, and now Kenesto.
Also we have some CAD press, in John Evans and Jeff Rowe. These were the only ones I spotted, although there were likely more.
On top of all of those people are new and old colleagues who are now in new positions supporting Solid Edge in one way or another.
It's a lot of name dropping, but I think it's important for Solid Edge customers and users to see that the CAD product you have selected to work with and invest in is also taken seriously by people at the highest levels of the CAD industry.This isn't just another CAD conference, it's a collective vote of confidence in your engineering tools.
In addition to it being the big reception of Solid Edge University 2015, it also turns out to be the 20th birthday of Solid Edge as a product. They had some of the original boxes of software on display at the reception.
The reception hall was full and busy, filled with people who looked optimistic and enthusiastic about the product and the team that brings it to us. I'm excited about Solid Edge University 2015, if you can't tell, as I am every year, but moreso this year.
This article first appeared on the Siemens Digital Industries Software blog at https://blogs.sw.siemens.com/solidedge/solid-edge-university-2015-reception/