Solid Edge ST10 – Shaping the future of product development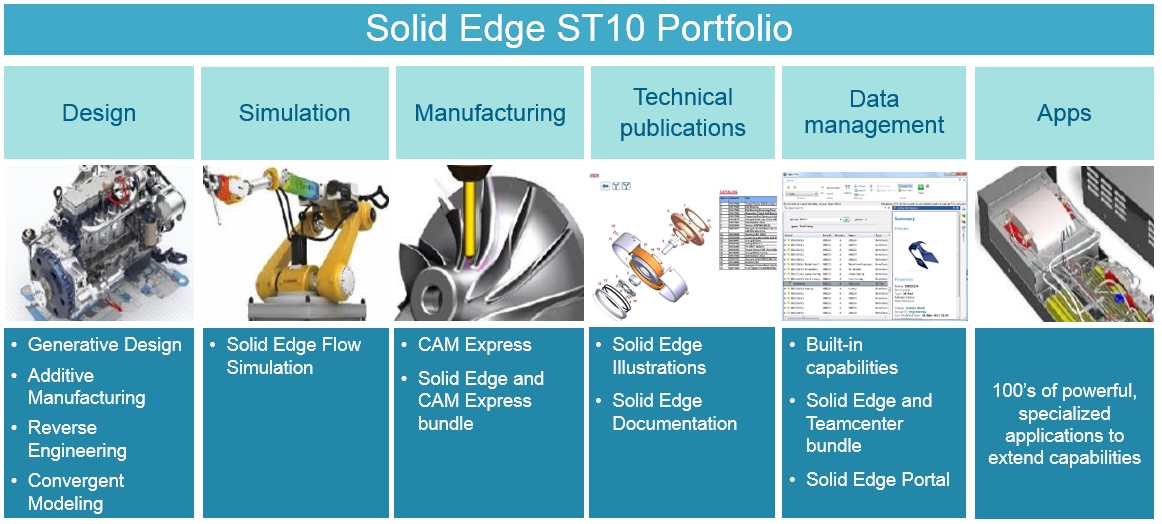 Solid Edge ST10 was launched today in Indianapolis and will be available for download this summer. You can read a more formal list of the new capabilities on the Solid Edge ST10 web page – but here I want to present my take on this wide ranging release and the benefits it will bring for our Solid Edge users.
Solid Edge Portfolio
Although the core of Solid Edge is excellence in 3D part and assembly modeling, and the creation of engineering drawings, this release strongly builds on Solid Edge as a comprehensive portfolio of solutions for product development. With Solid Edge you can create digital models of your designs and add data to them throughout the design, manufacturing, installation, service and decommissioning lifecycle of your product. Some examples of this in Solid Edge ST10 are expanded solutions for fluid flow and heat transfer analysis, a new emphasis on creating excellent technical publications, and a new cloud-based portal for easy collaboration both internally and externally. Solid Edge can really help small and medium sized manufacturers move towards the vision of a digital factory.
Next Generation Design
This to me is the most intriguing area of ST10, and from talking with our beta customers the application of new capabilities in the areas of generative modeling, reverse engineering, and additive manufacturing are going to be very diverse. A key here is the underlying Convergent Modeling technology that is being made available to Solid Edge users from the Parasolid team here at Siemens – you can watch an excellent technology explainer video about convergent modeling here. Convergent modeling allows both mesh (or facet) data and traditional b-rep data to coexist in the mathematical representation of your 3D CAD models, and makes it easier for you to work in a world where mesh data is becoming more important. Mesh models, not b-rep modles, are the typical result of generative design processes, reverse engineering workflows, and are used to output data for 3D Printing.
Solid Edge Flow Simulation
We announced the availability of FloEFD for Solid Edge last year, and we are continuing to work closely with Mentor (now a Siemens Business) to communicate the benefits of this software to our Solid Edge users. A new demo video is available here. For me, the fact that these capabilities are embedded within Solid Edge is a key benefit. You can take existing Solid Edge assembly models, add parameters such as heat sources and fans, specify goals such as maximum temperature of a housing, and have the FEA based analysis set up for you. This makes computational fluid dynamics analysis possible for designers, not just CFD specialists. The analysis you set up is fully associative to your Solid Edge models, so if you have a design change you can quickly re-run the analysis.
Manufacturing
CAM Express is an excellent CNC machining solution for Solid Edge users who can continue to take advantage of the comprehensive set of modules for different machining processes, from 2 ½ axis through to mill/turn and 5 axis machining. Recently we introduced a new bundle of the 2 ½ axis CAM Express module with Solid Edge, this provides a high value, low cost entry point for manufacturers who need both CAD and CAM capabilities. We also continue to improve our support for 3D Printing, with both expanded capabilities for outputting your Solid Edge models to your own 3D Printers, and the availability of a cloud-based 3D printing service where you upload your files, receive quotes for manufacturing the part in different materials and have the part shipped to your door.
Data Management
The built-in data management capabilities that were added to in ST9 have proved popular with Solid Edge users looking for an easy way to improve the management of fast growing numbers of CAD files. These capabilities are enhanced in ST10 with new tools to flag the existence of newer revisions of parts referenced in assemblies, the ability to directly open the drawing file of a selected part, new tools to identify and resolve duplicate files, and further simplification of the setup and administration of these capabilities that are included as a standard part of Solid Edge and take advantage of standard Windows Indexing.
For Solid Edge users who also use Teamcenter, the integration is significantly enhanced with support for part classification (through the embedded Active Workspace interface), the ability to work offline and many user interface improvements. A video highlighting these enhancements is available here.
Solid Edge Portal
With the introduction of ST9 last year Solid Edge users could start to take advantage of cloud-based capabilities, these included easy access to your license and user preferences on the cloud, and the ability to work easily with popular cloud-based file sharing services, we referred to this as cloud-enabled design. We continue to expand this area in ST10 with Solid Edge Portal, an easy way to upload, view and share your CAD files on the cloud. Watch out for the announcement of how you can access a beta version soon.
So there are some of the highlights of Solid Edge ST10. We will blog more about specific enhancements over the next few weeks,and we are always interested in your reaction to these developments.
This article first appeared on the Siemens Digital Industries Software blog at https://blogs.sw.siemens.com/solidedge/solid-edge-st10-shaping-the-future-of-product-development/