Products
Report From Cleveland User Group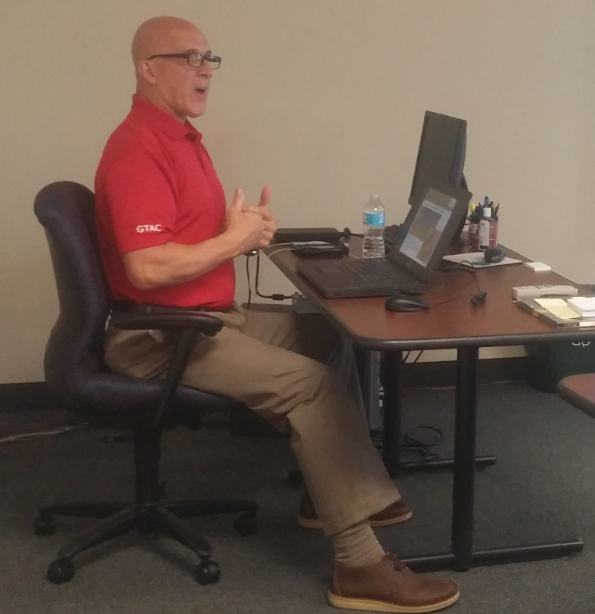 The inaugural Cleveland Solid Edge user group meeting happened yesterday.There was a good turn out of active users interested in learning more about the product. Some of the users were from as far away as Indiana. This shows that users understand the value of these meetings.
That value is really based on two things: The technical information you can learn and share with other users and the presenters, and also the value of the connections you can build with the other people who show up, which may include power users, administrators, engineering managers, Solid Edge employees and executives.
The meeting was run by Melissa Schultz of Robbins, with all of the energy and drive to bring this many engineers together in one place. Melissa also presents yearly at the Solid Edge University convention.
We had a great presentation from Jeff Walker, the director of Solid Edge products, on how development of Solid Edge happens and how you can be part of it. Jeff has a unique presentation style that is very personal, and very honest. Jeff took over this position from Dan Staples. While Dan is probably a tough act to follow, Jeff has stepped into this role with style and sense of humor all his own. While of course still delivering great software updates.
Jeff spent some time describing how enhancements make it (or don't make it) into the 18 month development cycle for a new version of the software. With a new version taking 18 months to develop, but delivering a new version every 12 months, well, you do the math – that means that half of the time there are two different versions working their way through the development cycle.
Part of the story that I like best is that the release of the software is based on quality metrics, not a blind cut off date. So if there are still too many bugs in the software, it doesn't ship until its ready. Plus the fact that with every release of the software, their target is fewer issues than were in the previous version. To me, this speaks volumes about the quality of the software Solid Edge delivers to customers.
The technical presentation for the afternoon came from someone who a lot of Solid Edge users may already be familiar with – Wayne Mahan. Wayne works for GTAC (the internal support organization), and has a wealth of information on the product and troubleshooting skills to help you work through your issues. He also has a passion for teaching and user groups that made him the perfect presenter for this group's first meeting.
If you ever get to meet Wayne, you won't forget him. He's a bit larger than life, and is a fountain of interesting stories.
Wayne's presentation was on how you can best use the combination of Synchronous and Ordered modeling to make some sheet metal tasks easier. You can make stuff in Synchronous that you might never dream of creating in ordered. Along the way we got to talk about several other Solid Edge topics like shifting back and forth between Synchronous and Ordered, Design Intent (Live Rules), multi-body design techniques, visualization techniques, some of the new functions in ST9, and more. There was definitely something for everybody in this presentation. Given that everyone in the room was involved in either machinery or equipment design, and a mixture of Synchronous and Ordered users, I'd say he hit the nail on the head with the choice of presentation topic.
And of course any self-respecting user group has lots of pizza on hand. Guys Pizza delivered a nice selection of salads, chicken, pizza and cheesy bread.
The people from the Siemens Building Systems facility were extremely gracious and helpful, and provided us a very nice place to meet for free. You can't beat that. In particular, Sandra, the receptionist, did a great job of making us feel welcome, handling our special requests, and even helped us clean up. I can't emphasize enough how important this kind of help has been to the stress-free success of this meeting.
The next meeting of the Cleveland group will be in 3 months, during the afternoon, and will feature Melissa presenting some of the What's New for ST9, along with other not-yet-determined stuff. The group is off to a good start. To get in touch with Melissa about joining the group, contact her at cleveland@edgegroups.org
So what's next?
Next we go to Detroit, or Michigan in any case. We still haven't recruited a leader, so we may just start the group without a leader, and recruit one at the meeting. Are you from central Michigan and want to be on the front line of starting a new Solid Edge user group? Think you know someone who might need a little encouragement to volunteer? Contact me here. We will have more details in a couple of weeks.
This article first appeared on the Siemens Digital Industries Software blog at https://blogs.sw.siemens.com/solidedge/report-from-cleveland-user-group/