Preparing Students in the Age of Industry 4.0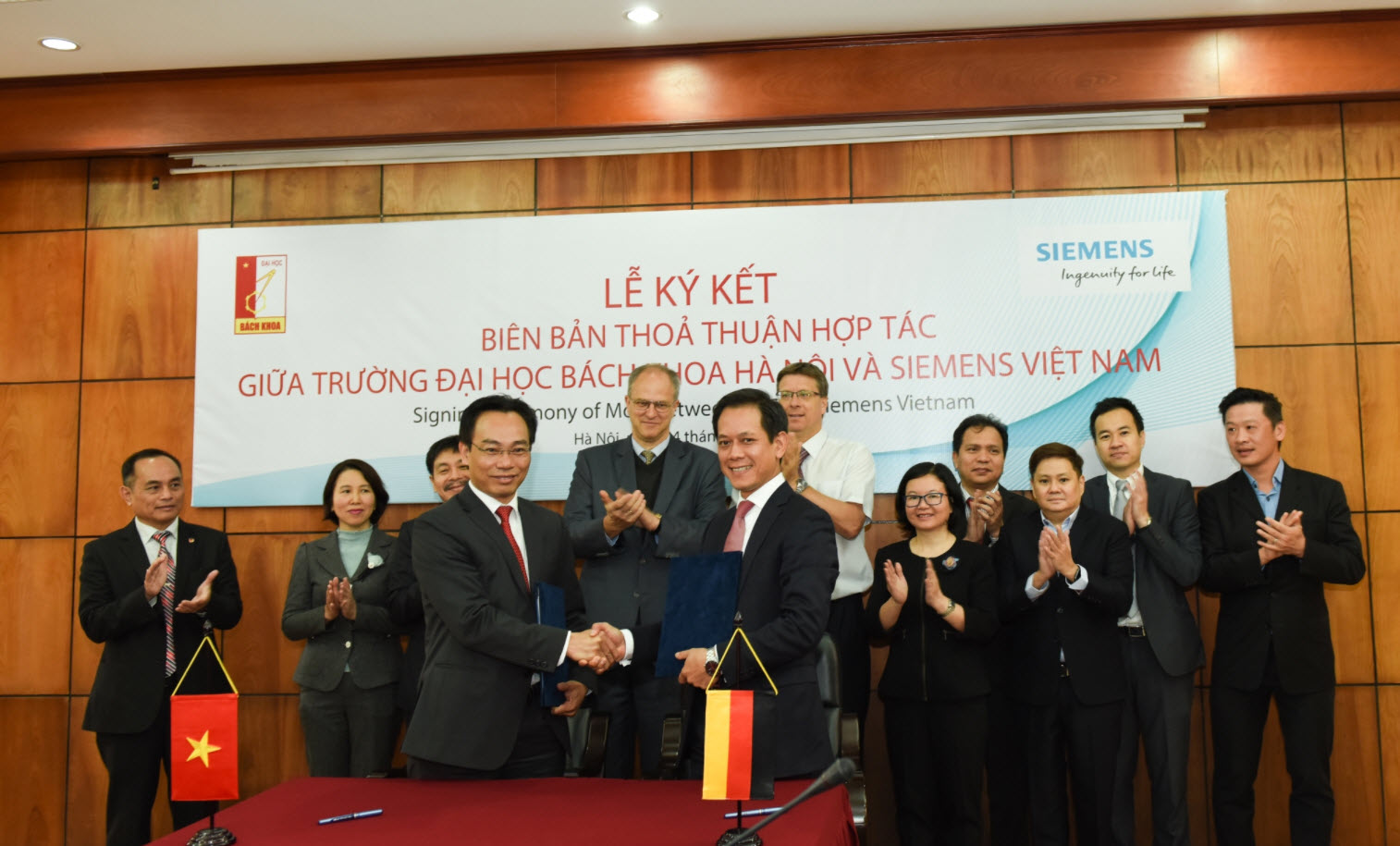 Hanoi University of Science and Technology (HUST) is the first and largest technical university in Vietnam, helping to prepare more than 40,000 students annually with the skills needed to succeed in STEM. The university recently reaffirmed its longstanding relationship with Siemens, one which dates back to 1966 shortly after Siemens opened its first Vietnam office, by signing a memorandum of understanding (MoU) to promote mutual cooperation in science and technology development.
"Hanoi University of Science and Technology is pleased to partner with a global corporation that is on the leading edge of digital technology," said Professor Dr. Hoang Minh Son, President of HUST. "This partnership will enable us to meet the utmost needs of enhancing our education and training system, especially in the era of Industry 4.0."
HUST will receive more than 200 Solid Edge 3D CAD licenses as part of this memorandum, along with knowledge and expertise shared through consultation with Siemens as they work together to develop a Digital Factory Lab that will help educate and prepare students for future careers in the age of Industry 4.0.
Industry 4.0 is a phrase you're likely familiar with, particularly if you work in the PLM industry and follow Siemens, as it is something we talk about quite a lot around here. The term refers to the ongoing fourth industrial revolution brought about by the rise in automation and data exchange in manufacturing technologies, the culmination of which is a smart factory of interconnected machines. Because of this connectedness due to increasingly integrated software and technology, engineers must now think and work in terms of processes and systems, as opposed to the individual disciplines of the past.
What many companies are finding, though, is that the recent graduates and newly minted engineers joining their ranks are not well-equipped with an understanding of the information and process management capabilities inherent in PLM. This means that students entering the workforce are unable to support critical Industry 4.0 initiatives such as establishing a true digital enterprise, providing support for the Internet of Things (IoT), enabling simulation-driven product development (SDPD), and creating a model-based enterprise (MBE), among others. As CIMData concluded in a recent whitepaper, "The Challenge in Preparing Students for Industry 4.0", the strategies and tools used in industrial companies today have far outpaced what academic institutions are teaching, the result of which is a significant gap in PLM education versus industry expectation.
Siemens is committed to closing this gap through our partnerships with universities and educational institutions around the world. By providing software, hardware, knowledge and expertise to universities like HUST, Siemens is investing in our future workforce. Together, we can ensure that the coming generations of talent have the skills and knowledge the industrial companies expect and this new market demands of them.
"Education is the key to sustainable development. Siemens has been a strong supporter of young generation education and training worldwide. Through our partnership with HUST, we are very proud that we can help to empower the next generation of digital talent in Vietnam", said Dr. Thai Lai Pham, President and CEO of Siemens Vietnam.
HUST is well-known in Vietnam for the breadth of its multidisciplinary technical programs, as well as its exemplary students. Graduates of HUST work in key industrial and scientific areas, and many hold important roles in the government. Given the university's dedication to interdisciplinary research, as well as scientific and technological advancement, it's no surprise they have been a partner with Siemens for more than 50 years. Together, HUST and Siemens established an Automation Training Center to serve students.Siemens supports HUST in other ways, too, such as developing curriculum and training kits, holding technical workshops for both students and educators, and participating in career talks.
By signing the MoU, HUST and Siemens are taking their cooperation even further in these efforts. Siemens is providing 200 Solid Edge licenses worth about $30,000 each for HUST to educate students on not only 3D design, but all aspects of product creation including simulation, visualization, manufacturing and design management. Students will have the opportunity to understand and experience the end-to-end processes that are required in today's industrial engineer jobs.
"Our students stand to benefit significantly because hands-on experience with leading digital technologies in the classroom will give them a distinct advantage as they begin engineering and manufacturing careers", said Dr. Hoang Minh Son.
Siemens and HUST are proud to partner together to foster the next generation of digital talent.
This article first appeared on the Siemens Digital Industries Software blog at https://blogs.sw.siemens.com/solidedge/preparing-students-in-the-age-of-industry-4-0/