Products
New eBook Explains Synchronous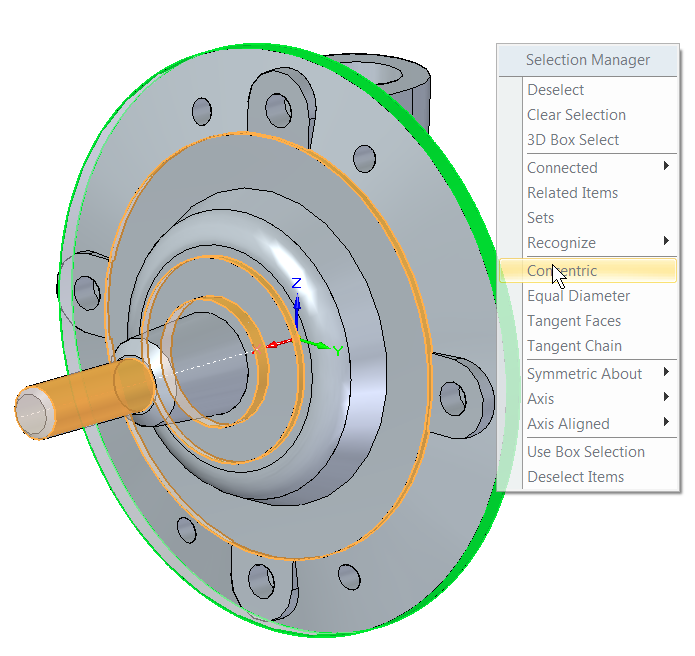 Some people wonder what I do with my time. I'm obviously not blogging 40 hours a week. I do get involved in some projects that aren't always 100% related to community. I'm in a bit of a unique position. I report to the technical side of the business, not the marketing side. But I do work on things for both sides. Sometimes the marketing people need help that requires a user focus, and sometimes we need technical information presented in a way that's easier to understand. The combination of engineer and writer makes a bit of an odd duck, and I guess I just have to embrace that.
One such project where all of this collided started last summer as a bit of writing to try to explain Synchronous Technology to history-based users. In fact, that was the working title, Synchronous Technology for History-Based Users. For me to write a book like this required a bit of research, and a lot of question asking. I know a lot of people – even Solid Edge users – have a lot of questions about how Synchronous Technology works. I'm not really sure that we as a company have found the ideal way to talk about it, since there are so many misconceptions about it out there. I'm positive that if more people understood the technology better, there would be a lot more excitement about it, and thus about Solid Edge.
I will give a breakout session at Solid Edge University this year in Indianapolis about the book and the concepts in it. The entire book should be available for download before that time (October).
I joined Solid Edge because Synchronous Technology seemed like the most interesting thing going on in CAD for the last decade. Sure, we've also got the cloud, but the cloud is an IT solution that addresses IT related problems – it doesn't really address anything in the purely mechanical engineering realm. Plus, it's just time for us to upgrade history-based workflows. The history paradigm is something that the last generation of CAD users had to come to grips with before they could get out of 2D, and we have instinctively learned to work around its shortcomings. There are a lot of editing problems that come about as a direct result of the parent/child limitations.
Search your feelings, you know this to be true.
Direct Edit on its own is simplistic. Being simple is both a blessing and a curse. CAD doesn't really need "simple", we need power that is easy to apply. So in order to take direct edit to the next level and really make it usable enough for general purpose CAD (rather than, say, Sketchup or Minecraft), it really required
a lot of new ideas.
Its very unfair when Synchronous gets labeled as "just direct edit". And it's also unfair when strictly history-based products add history-based features that look like direct editing, but are not. It is definitely time to settle that score.
Anyway, back to the book. It's about 165 +/- pages, with example parts and assemblies, videos, and text tutorials. The first two chapters are highly conceptual. Ch1: Introduction To Synchronous Technology and Ch2: Driving Design Intent without History are really the chapters you have to read if you are just wondering what Synchronous Technology is and what makes it different from straight direct edit techniques. Fortunately, these chapters are available for download today. There's a link at the end of this article. Included with this download is Ch3: Introduction to Solid Edge. Because Synchronous Technology happens in Solid Edge, you need to be able to navigate SE to get the advantages of ST.
The middle four chapters are really about the application of Synchronous Technology. Ch4: Creating Geometry, Ch5: Selection and Reuse, Ch6: Working with Imported Data, and Ch7: Editing with Synchronous Technology are the real heart of what it takes to work with Synchronous Technology. These are the chapters with the details of actually how to work with it. These will be published shortly, but I'm not sure exactly when.
The final three chapters, Ch8: Synchronous Sheet Metal, Ch9: Synchronous Assemblies, and Ch10: Synchronous, Parametrics and Associativity allow you to apply the conceptual and practical knowledge to real techniques. Many people believe that Synchronous is not parametric. If there is one single concept I
wish this book to convey, it's that Synchronous Technology is fully parametric, and in fact has unparalleled capabilities in driving design intent. Some of the revelations you will find related to these concepts will change the way you think about changing CAD models, and even changing how you think about what "design intent" really is. The capabilities for dimensions to drive the direction of changes… What you normally think of as sketch relations being applied to 3D model faces… The ability to turn on/off aspects of design intent at will… The selection becomes the feature…
The easiest person to convert to Synchronous is the AutoCAD user. If you look back, it wasn't that moving from 2D to 3D was that hard, the hard part was moving from the "select and change" mentality to the history/feature-based way of thinking that more resembles programming than engineering.
Anyway, in reading, you may find some flaws in the book. Please try to forgive me, as this was my first shot at being both the author and executive editor. The book couldn't have happened without the help, prodding, encouragement, expertise, and feedback from a number of people. When you see only my name on the cover, that means that I'll be the one to take the heat for problems and answer questions, but these other people really deserve the credit for making this happen:
John Fox for bringing the Design Freedom for Dummies pamphlet home from Thailand that really served as the "why not" catalyst for the book.
Dan Staples and Laura Watson for giving me the time to work on it, and some high-level validation of ideas and concepts.
Donna Wright for judicious use of the cattle prod to keep me going.
Art Patrick, Dan Vinson, Chris Dayton, Gan Kunda, Doug Stainbrook, Mark Thompson, and probably several others I have left out have helped me with answering what must have seemed like stupid technical, theoretical, or even philosophical questions at the time. Their answers were instrumental in piecing together this guide to understanding the biggest development in mechanical CAD in the past decade. Without the help I received from these people, the book surely would lack most of its value.
And then there were several people inside and outside of Siemens who contributed to editing this book to try to remove my mistakes from stupid to subtle, make the ideas more accessible and accurate: Ken Versprille, Theodora Mazza, Tamara Kite, Dave Chadwick, Gan Kunda, Jeff Walker, Dan Staples, Kevin Riggs, Ric Watts, Jan Bos, Matt Johnson, Ken Grundey, Ryan McVay, Tushar Suradkhar, Donna Wright, Sarang Sahasrabudhe, Kevin Dawes, Nikhil Raut, and others. And of course renderings for the cover were created by Doug Stainbrook. Thank you all very much for helping to make this look like a professional production.
And finally the people behind the scenes pulling the levers that turned my raw Word and image files into a pdf eBook. I don't even know who they are, but I know they put a lot of effort into this project and did a nice job.
Overall, the project has taken over a year. We took a break from it for last year's SEU, rewrote it once, edited it many times. Progress was sometimes fast, and sometimes slow.
So where do you get this new free eBook? Go to this link.
I hope you'll enjoy the book, and pass it on to a Synchronous skeptic, or a SolidWorks user who needs to see some new CAD technology.
This article first appeared on the Siemens Digital Industries Software blog at https://blogs.sw.siemens.com/solidedge/new-ebook-explains-synchronous/