Products
New additive manufacturing capabilities from 3YOURMIND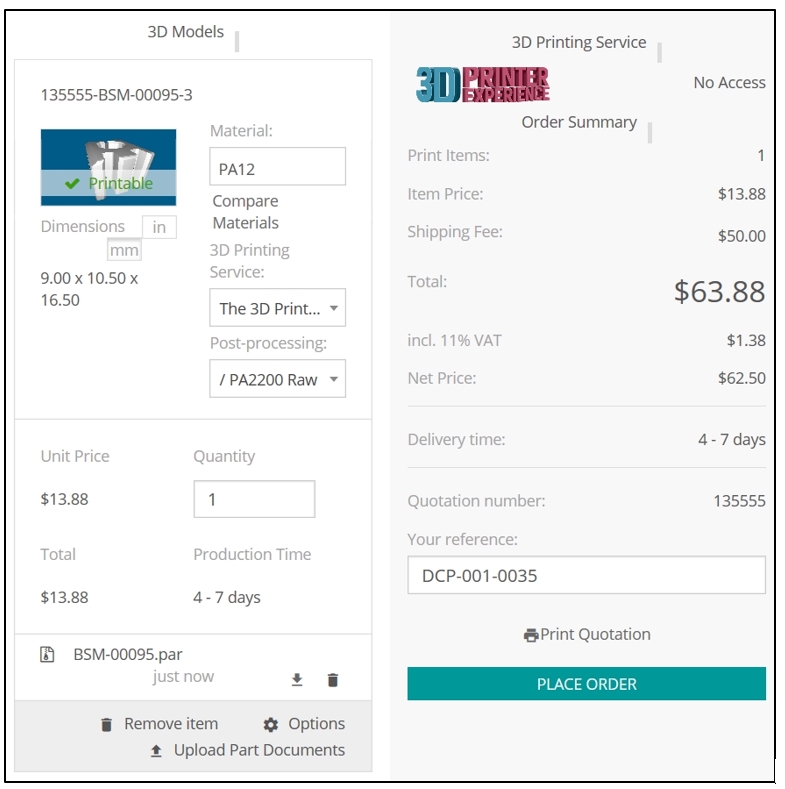 Last week I was able to make a short visit to the Additive Manufacturing Users Group (AMUG) exhibition and conference in St. Louis. This event is certainly worth attending if your company is interested in seeing the latest developments in additive manufacturing. All the industry leaders were exhibiting their latest hardware, and there was a good series of technical presentations available in parallel. This event also seems more focused on industrial applications of additive manufacturing than on desktop 3D printing capabilities that are targeted at makers and schools.
The 3YOURMIND booth at AMUG 2018 in St. Louis
I took the opportunity to meet with Stephan Kuhr, CEO of 3YOURMIND, a key partner for Solid Edge users in the additive manufacturing arena. 3YOURMIND provides direct access to a global network of suppliers of additive manufacturing services from within Solid Edge. You can access these capabilities using the 3D Print option in the application area within Solid Edge, then selecting the "Order Online" command. 3YOURMIND sends the selected Solid Edge part to its supplier network for analysis for additive manufacturing, and then presents a list of vendors, materials and costs for manufacturing the part and shipping it to you.
3YOURMIND has expanded its supplier network to more than 50 vendors
I first blogged about 3YOURMIND in 2016 so it was good to see how the service has developed since then. Stephan explained that 3YOURMIND has signed up more manufacturers and there are now more than 50 suppliers providing quotes to manufacture your components. This results in more competition between vendors for your business, and also gives users more options for finding suppliers locally with the potential to reduce shipping costs. The user also has more options to select different material types and additive manufacturing processes. The system also displays a chart of the densities of the available materials making it easier for users to reduce component weight if this is important for them.
This chart shows the densities of the different materials available for 3D Printing your part, and the number of suppliers
Another area that has developed significantly is collaboration. Users can now upload documents and comments alongside their Solid Edge models, this can be used to open a dialog with the supplier around more specific manufacturing requirements. Projects can also be shared with users in your own organization increasing your ability to review and approve quotes with other departments.
New collaboration capabilities enable you to upload documents alongside your 3D model, enabling you to communicate better with the manufacturer
I asked Stephan if he had some examples of the type of parts that Solid Edge users were submitting through the 3YOURMIND interface. He told me that they don't see the contents of the parts that are submitted, they are passed directly to the manufacturers to generate the quotes. It was good to see that 3YOURMIND takes the security and privacy of your data very seriously! But if any of our Solid Edge users would like to share their experience of using this service with us we would be very interested to hear from you.
This article first appeared on the Siemens Digital Industries Software blog at https://blogs.sw.siemens.com/solidedge/new-additive-manufacturing-capabilities-from-3yourmind/