May the Fourth Be With You this Star Wars Day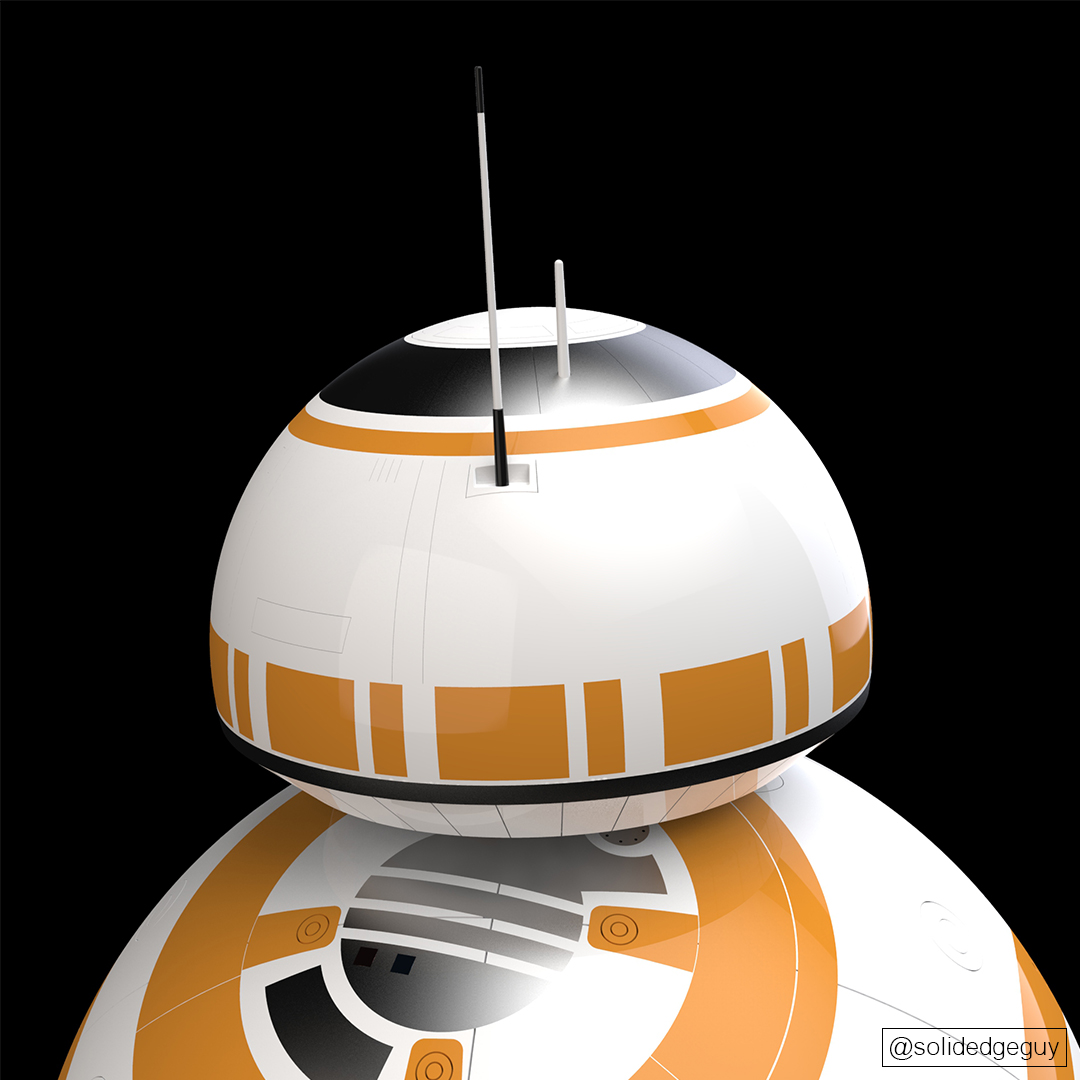 Star Wars Day is celebrated by fans of the media franchise around the world each year on May the 4th.What first started as a pun on the Jedi phrase "May the Force be with you" has since taken on a life of its own, eventually evolving into what is now a full-fledged celebration and holiday. Though originally observed with grassroots celebrations by fans, it came to be embraced by Lucasfilm as an annual commemoration of Star Wars. As someone who loves both Star Wars and cringe-inducing puns (I have an incredibly cheesy sense of humor), it goes without saying that I am a fan.
Repost of picture from Solid Edge user Imre Szucs.
You may be wondering at this point what the heck this has to do with design. Well, bear with me because there are more than a few ways the two are connected. I will try to do a few of them justice in this post as we explore some of the history behind this fascinating fandom.
Model created in Solid Edge by Botond @solidedgeguy on Instagram. Posted with permission.No one can deny the impact that the Star Wars franchise has had on the world. Its influence is far-reaching, affecting nearly every aspect of life from pop culture and filmmaking, to science and technology, to architecture and yes, even industrial design. As far as the latter goes, there is no shortage of Star Wars inspired products one can find when browsing the web. Take this article from PC Mag for example, "11 Star Wars Inspired Industrial Designs for Your House." There are toasters and hairdryers made in the likeness of our favorite villain and Sith Lord, Darth Vader; backpacks made in the likeness of the notorious bounty hunter Boba Fett; and my personal favorite: a standing lamp that pays homage to the Empire's AT-AT walkers. (AT-AT, by the way, stands for All Terrain Armored Transport.)
Design inspiration drawn from Star Wars doesn't stop there, though. Apple's chief design officer Jony Ive has confirmed that the company modeled its earbuds after the infamous stormtroopers. Of course, it's easy to see the resemblance: Both are sleek, shiny and white with smoothly rounded edges. Then there's the newly built Apple headquarters located in Cupertino, California, which many were quick to point out resembles a certain Death Star.
Model created in Solid Edge by Botond @solidedgeguy on Instagram. Posted with permission.More in the realm of computer-aided design (CAD) and drafting is the impressively detailed technical illustrations from Hans Jenssen. A UK-based professional technical illustrator with more than 30 years' experience, Jans is one of the men behind Incredible Cross-Sections of Star Wars, a 32-page book that brings the main ships of Star Wars to life in realistic detail.Though drawn without the aid of a computer, his work is done using classic DK cross-sections illustration techniques. Cutaways reveal the armaments and armor, propulsion and control systems, and other features and hidden mechanisms in vehicles such as the Millennium Falcon and TIE fighters. Though admittedly not drawn to scale, the detail in the drawings is stunning, and they call to mind exploded views of models you might see in a CAD system. You can check out some of his work in this article "The Amazing Star Wars Vehicles and Location Cutaways by Hans Jenssen."
Then of course there is the endless supply of detailed 3D CAD models that devoted fans have created in their spare time, whether to hone their CAD skills or simply for fun. Models include everything from the characters themselves to ships and weaponry to even themed products, whether real or imaginary. A few Solid Edge users were kind enough to share some of their amazing examples with us to be featured in this blog. First, there is Botond who is an industrial design engineer. You can check out his work on his Instagram page @solidedgeguy
Then there is the amazing work of someone those in the community know well – Imre Szucs @Imics. He created this awesome model of R2D2 in Solid Edge and inspected him using FEA (finite element analysis). We're happy to report that R2D2 is good to go! Watch the video and then check out Imre's blog Solid Edge (R)eloaded to see more of his work.
Got an awesome model you're proud of? Share it with us if you'd like to be featured in our blog or social media channels!
This article first appeared on the Siemens Digital Industries Software blog at https://blogs.sw.siemens.com/solidedge/may-the-fourth-be-with-you-this-star-wars-day/