Products
Manz Solves Top CAD Challenges with Solid Edge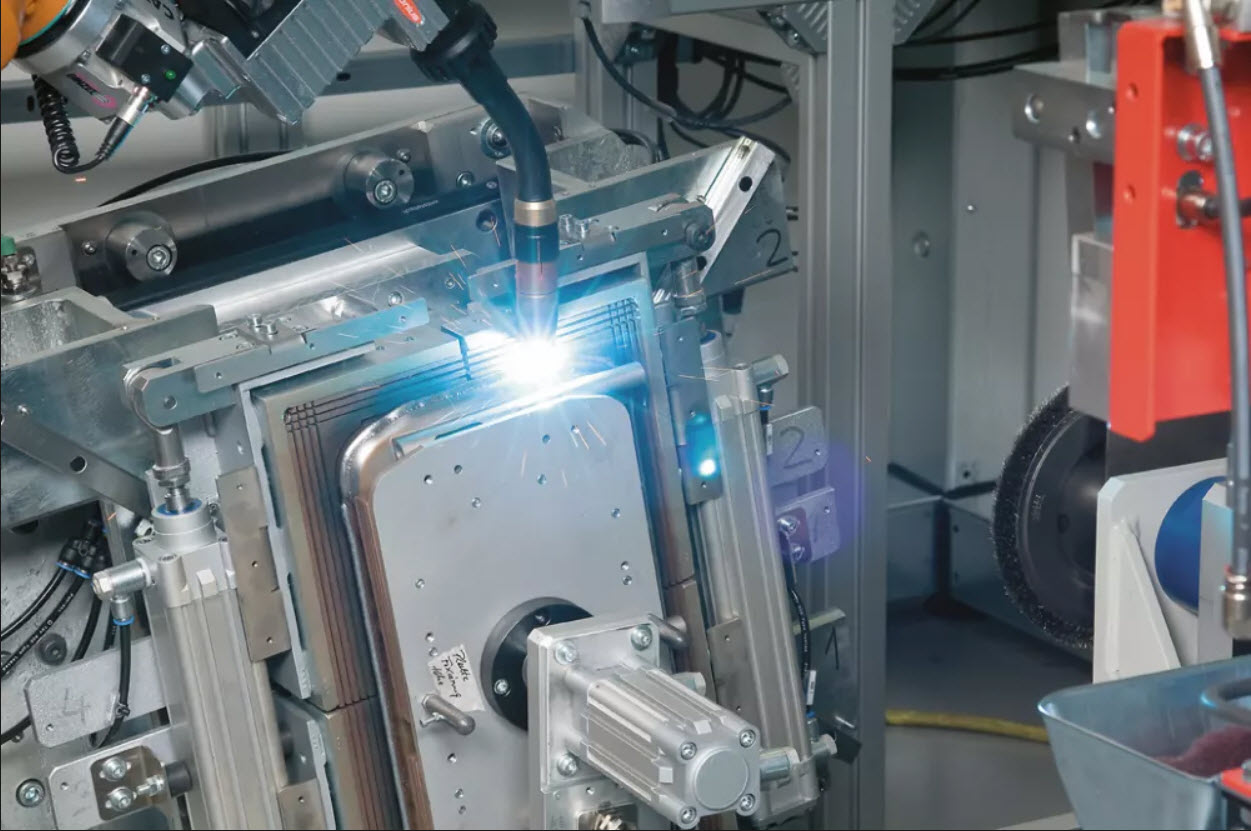 Manz 's automation system for handling of FPD glass substrates.
It's no coincidence that two of the top design challenges for CAD users— working with imported CAD data and system performance for large assemblies—are among the benefits Manz AG leaders mention when they talk about using Solid Edge for computer-aided design. The German-based company has been designing its high tech manufacturing equipment in Solid Edge for nearly 16 years, and they have helped countless customers around the world to achieve better production processes.
Founded in 1987 as an automation specialist, Manz has since grown to have more than 1,700 employees working in production facilities across 6 countries, focused not just on automation but metrology, laser processing, wet chemistry, printing and coating, and roll-to-roll processes. This growth and expansion is the result of a company that chooses to embrace challenges as opportunities. By being willing to occasionally reinvent itself when necessary, Manz has managed to keep pace with changes in their industry, and today they manufacture electronic components and devices, solar modules, and lithium-ion batteries for customers around the globe.
Manz doesn't have many standardized parts of its own; instead the company is focused on fast design and delivery processes for clients. They develop and manufacture machines and machine lines with the end goal to cut production costs for clients while improving performance parameters for products manufactured on their equipment. That means delivery time is a key challenge for them.
There are a few things that stand out about Manz when you consider the company from this perspective: The nature of the machinery and equipment they develop and manufacture means their designs comprise complex, very large assemblies; and the fact that they work with clients, vendors, and suppliers from all over the world means that they have to be able to work with CAD files from a variety of platforms. It's not surprising, then, that system performance for large assemblies and working with imported data were key among their concerns when choosing a solution for computer-aided design software.
Inside the Manz AG manufacturing facility. Photo courtesy of Engineering.com
These situations are not unique to Manz; many companies that rely on CAD software to design and develop products face similar circumstances as these. That is why so many engineers cite those problems as their biggest design challenges. Manz recognized Solid Edge as the best solution for them based on its ability to tackle these exact problems.
Designers and engineers at Manz receive files from clients, vendors and suppliers all from different CAD systems that they must be able to work with in order to develop their machines. The ease with which Solid Edge handles imported CAD data—it is as simple as opening a regular native part—gives Manz a huge advantage not only when working with client data, but also when handling their own old legacy CAD files.
Design teams at Manz are able to reuse CAD files that were created prior to the company's implementation of Solid Edge, saving them a significant amount of time that would otherwise be spent on rework to recreate those old models. Now, the engineers can simply open and edit legacy CAD files, make changes or additions to the design, and even create new drawings from them.
Laser structuring of thin-film solar modules.Synchronous technology helps when it comes to editing those old CAD models, too, or any imported CAD data for that matter. Unlike history-based modeling, synchronous allows the designers at Manz to modify geometry directly without understanding how it was created or having to rely on the history tree. It's a powerful tool that Manz considers to be a key factor in Solid Edge's usability, and it doesn't just work with imported CAD data either. The sheet metal department at Manz uses synchronous extensively in its design processes. Synchronous is a fast, easy method to designing parts.
"ST is an important part of Solid Edge because it's the only possibility for us to not have to redefine or make the models from scratch," Roland Mann, group leader CAP/PLM Administration for Manz AG, said in a recent ENGINEERING.com article. "We just use the imported part and move forward with the design from there to create drawings, which can mean up to a 30% time saving for us."
That time savings is significant in helping Manz reach its goal of shorter delivery times and faster, better processes for clients, both of which are underscored by the company slogan "passion for efficiency." That's not the only way Solid Edge helps Manz, though.
As mentioned previously, another benefit that led Manz to choose Solid Edge is how well the software handles performance for large assemblies.
"For us when we talk about big assemblies, we're not talking about 10,000 to 20,000 parts," Martin Genz, Global CAD administrator for Manz, said. "We're talking about 200,000 to 300,000 parts. It's important for us to be able to work with and simplify these models and assemblies, as well as make configurations. To date this has taken a lot of time, and sometimes the simplifications are not enough to be able to work in the models so we have to switch to something else."
A battery pack assembly being manufactured on Manz equipment. Image courtesy of Engineering.com
Manz has seen significant improvements in their processes thanks to Solid Edge's ability to smoothly handle assemblies with hundreds of thousands of parts, no problem. As the company looks to the future and at retaining their competitive edge, they are well-positioned with Solid Edge to continue their legacy of success. ST10 offers a number of new features and improved performance that both Mann and Genz look forward to taking advantage of, such as the ability to automatically switch languages, improved STEP import, and optimized performance of assembly features (what took 15 minutes on ST6 can be done in 35 seconds now with ST10). The affordable and flexible subscription options Solid Edge offers are also perfect to meet the needs of Manz; as the company grows and expands, they will need to continually add new designers to their teams. In these ways, Solid Edge helps Manz succeed by preparing them for the design challenges of today and tomorrow alike.
Read more about Manz in the Engineering.com article this post is based on: Keeping an Eye on the Prize: Manz Reinvents Itself in the Changing Business Landscape or check out the Siemens Solid Edge case study on Manz for more.
This article first appeared on the Siemens Digital Industries Software blog at https://blogs.sw.siemens.com/solidedge/manz-solves-top-cad-challenges-with-solid-edge/