Products
Leading Furniture Manufacturer Embraces Digital Transformation
Companies around the world are using Solid Edge to produce amazing products that push the boundaries of innovation. One of these companies is Kimball International – a design and manufacturing company for furniture products with generations of success.
Kimball started as a family business in 1970 and maintains that spirit company-wide today, with manufacturing and design facilities in Asia, the United States, and Mexico. Currently, Kimball employs 3,000 worldwide.
Developing Next-Generation Office & Hospitality Furniture
The office furniture and hospitality markets have undergone dramatic changes in the last 25 years. Design and comfort are now more important than ever. Traditional office products used to stay in the same place for decades, and now they change almost every year. Digital transformation is something that companies like Kimball have to do to differentiate themselves from the competition.
"Designing a chair is not like designing a car. It's both art and science," explains Ricardo Espinosa, Director of Design and Engineering at Kimball Hospitality. "An expert in seating first creates a model that is unique and one of a kind, then we have to figure out how to mass produce it."
"A very important part of our digital strategy is moving from the information from our customers in 2D to 3D," says Espinosa. "In the past, making a rendering was a very hard task, but now we can create renderings in Solid Edge as quickly as 10 minutes."
Solid Edge Gives Kimball a Competitive Advantage
Solid Edge provides Kimball International with a suite of digital tools for next-generation product development, including 3D rendering, data management, simulation, and more.
Built-in 3D rendering tools in Solid Edge allow Kimball to create photo-realistic images and animations from within its modeling environment. This allows Kimball to easily visualize a product – from communicating a new concept to providing images for sales and marketing.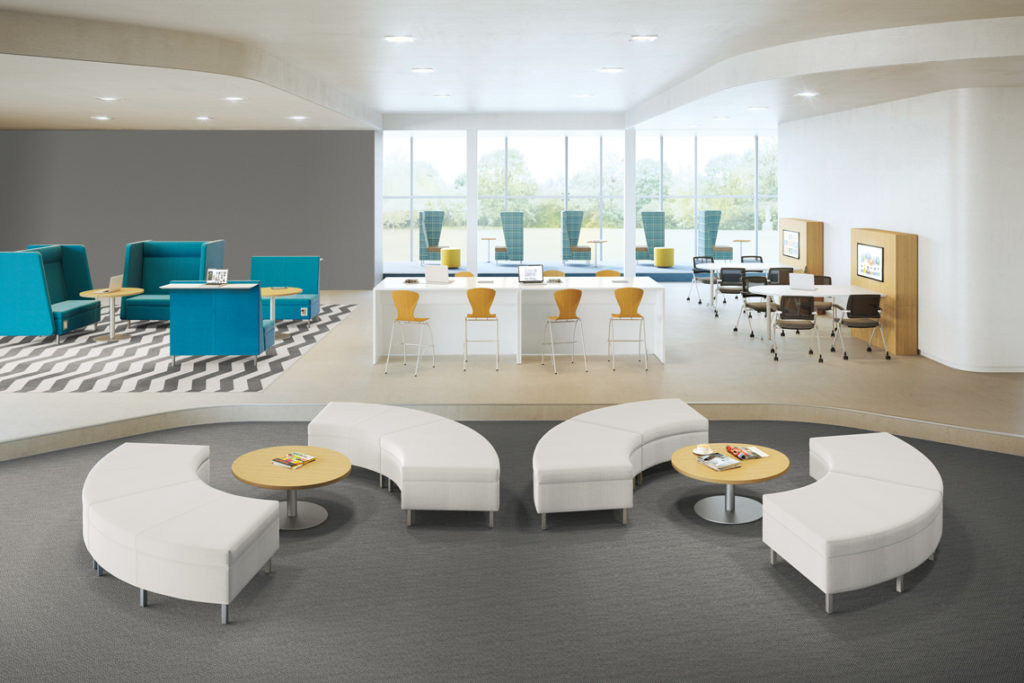 "First, we 3D-scan the shape and composition of a physical part or model. Then Solid Edge automatically re-creates the information in a digital format, and its integration with Teamcenter allows us to distribute this information to all of the different areas within the company; it goes to sales and marketing, but it also goes to manufacturing and automation."
"When you have different finishes, colors, and textures, you can have thousands of potential variations, and that creates a very complex problem to design. Thanks to synchronous technology in Solid Edge, we can easily adapt our products through different dimensions. And thanks to data management in Solid Edge, we can match these thousands of textures and colors with the 3D model that we already have."
"Kimball's mission is to be a leader through speed and innovation. Tools like Solid Edge are helping us to get there."

Ricardo Espinosa, Director of Design & Engineering, Kimball Hospitality
Simulation also plays an important role in Kimball's digital transformation. Powerful simulation capabilities in Solid Edge allow the company to simulate product appearance, performance and durability earlier in the design process, make changes when they are easiest, shorten manufacturing times, and reduce manufacturing costs. The ability to accurately simulate complete models reduces the number of physical prototypes that Kimball has to develop, further reducing time and costs.
"In the past, we used to build three or four, maybe more, prototypes to make sure that a product is going to work," explains Espinosa. "Now, we use simulation to reduce this number. So, instead of doing five, we do only one. When we get to the real prototype, we're 99 percent sure that it's going to work because all of the work is done using simulation."
Digital Transformation, Industry 4.0 & Survival in the Digital Age
A recent IDC survey shows that nearly 50 percent of small and medium businesses agree digital transformation will be essential to their company's survival in the next 3-5 years. And many are already well underway in their transformative journey. For companies like Kimball, digital transformation is not just a preference – it's a matter of survival.
As small and medium businesses invest in engineering, design and product development processes, they find that engineering and manufacturing can collaborate more easily, they gain business agility, and can respond more quickly and precisely to changing customer demands, and they can bring their products to market faster.
"Everything has to be digital because it's the only way that we can the information we need in time, all the time," says Espinosa. "With the market changing as fast as it does, we often find ourselves having to develop products in days, maybe weeks, instead of months or years, so there's no way you can do this the traditional way."
Digital initiatives are all a part of what is being called the next industrial revolution, also referred to as Industry 4.0, which enables greater business agility and profitability. Over 60 percent of midsize manufacturers (500-3,000 employees) either have or plan to have a smart, connected Industry 4.0 initiative in the coming year, according to the IDC survey.
"Digital transformation is a matter of survival."
Manufacturers need to educate themselves and take action, or risk being left behind. Digitalization of product development processes – from concept through delivery – allows companies like Kimball to move faster, achieve greater flexibility, and exploit new market opportunities.
"Thanks to tools like Solid Edge, we can be there before our competition. We can provide more information than our competition. Leveraging the power of convergent modeling and digital transformation, we can present better information and be faster than our competition," says Espinosa. "Kimball's mission is to be a leader through speed and innovation, and digital tools like Solid Edge are helping us to get there."
This article first appeared on the Siemens Digital Industries Software blog at https://blogs.sw.siemens.com/solidedge/leading-furniture-company-embraces-digital-transformation/