Interview with Michael Brown, Director of Academic Relations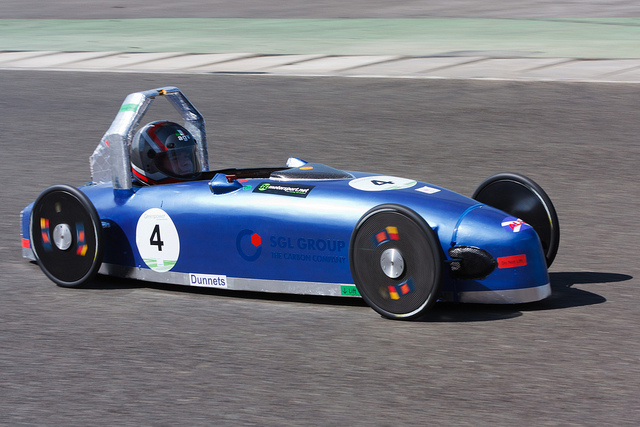 The charismatic Michael Brown is based in the UK, and is the Global Director of Academic Relations for Solid Edge and related products. Here in the Community we have an area for Academic, and we are frequently promoting the software to students. You might not see or hear about Mike every day, but the effects of what he does are all around us. As you read through this interview with him, you will see just how much energy Mike puts into his job with students.


Tell us a little about your position as Director of Academic Relations and the team you work with.


I have global responsibility for the mainstream engineering academic programme (please note the English spelling), and also a regional responsibility for Europe, Middle East, and Africa. I'm based in the UK and live in the greatest city in the world, which of course is Manchester; the home of the 1st industrial revolution and where the future is being developed thanks to discoveries such as Graphene. As you can see I'm rather proud of my city. The next question I usual get asked when people hear I'm from Manchester is football related (soccer); I don't support Manchester United or Manchester City, my sport of choice is Formula 1, and of course the team I support is Red Bull racing.
I used to be a real engineer and worked for Computervision on projects such as the Airbus A380, the LearJet45, a few military projects, and the digitalisation of the Rolls Royce Trent jet engine. When CV was acquired by PTC I resisted full assimilation into the collective but did enjoy my product manager role in the development of Pro/DESKTOP and went on to set-up the PTC academic programme. I joined Siemens PLM in January 2011 with the goal of increasing the use of Solid Edge and Femap in education.
I have the pleasure to work with a small but highly motivated and passionate team; Matt Bruce is based in Austin Texas and has responsibility for the Americas, Alvin Tan is based in Singapore and has responsibility for Asia-Pacific and we also have the two additional team members on contract, Patricia Jebeles in Huntsville and John Devitry in Utah, both names may be familiar to long-term users.
I also enjoy phenomenal support from my line management (Laura Watson and Dan Staples) and the whole Solid Edge team, from R&D to Tech Support and Marketing. Everyone within the Solid Edge team recongises the importance of the academic programme and is very supportive. I also can't forget to mention Bill McClure who's passionate about the academic programme and a great source of help and advice.


You're the director of academic "relations". How does relating to students differ from relating to professionals?


Students actively embrace new technology, they're hungry for it; they want it yesterday. We were all young once and I hope still able to remember how we were going to change the world; it's great to see that passion still alive and kicking in students around the world. Students are looking for inspiration and encouragement and our customers and partners can help deliver that inspiration by showing students what cool things they do with Solid Edge. The one thing I think separates engineers and designers from all the other professions is the ability re-capture the passion of youth, the excitement of solving technical problems, and taking an idea from concept to reality. As you can tell I enjoy my job.


Why is it so important for Solid Edge to engage the academic community?


To put it bluntly; the future of the human race depends on it (no pressure…)
The Solid Edge Academic Programme is of strategic importance for Siemens, our Channel Partners and our customers (current and future). There's a recognised world shortage of engineers and we're working to encourage more students to enter the engineering related industries and use Solid Edge so when they enter the workforce they're better prepared and able to hit the ground running with Solid Edge. It's a problem in the pipe-line; we need to work at the High School level to engage with students at 12 to 14 years of age to enthuse and inspire them to study the STEM subjects (Science, Technology, Engineering, and Mathematics) and encourage them towards a career in engineering. We need follow these students into College and University and help them acquire the knowledge and skills required by our customers and the wider engineering industries. The world has enough accountants, rap-artists, reality TV stars, and solicitors; what we need is more engineers, its engineers that are going to develop and build our future.


Does the Solid Edge Academic Community Forum play a role in the success of Solid Edge with students?


The Solid Edge User Community has been a key success factor for the Academic Programme. Students live in the virtual world and in the 'now' they want immediate responses. The Solid Edge Community is there 24/7 and students can post questions and discuss ideas and solve problems the instant they need to. I've seen a student post at 3am in the US getting a reply within minutes from a commercial user in Australia; amazing.
Our User Community is vital to the growth of our Academic Programme, with their help and support World domination is achievable. I'd like to actively encourage all our customers to get involved and help shape the next generation of engineers; their future employees and co-workers.


How does it benefit Solid Edge to engage users younger than high school? How does it benefit the students?


The sooner we engage with students the sooner we can ignite their passion for engineering. While Primary School students may not be able to learn how to use Solid Edge they can use the mobile viewer to explore and visualise 3D models. At this level it is about developing a good grounding in 'technological literacy'.
This level of education is also where the Greenpower Challenge is helping us engage with more students and getting students excited about engineering. (Read more about Greenpower in an interview with Sean Webb, and also in a future interview with the director of GreenpowerUSA, Mike Evans).


When students transition into the workforce, what advice do you give them about how to best succeed? What advice do you give people from industry looking to recruit new talent?


First and foremost Students should obviously be able to use Solid Edge; it will make them more attractive to the opposite sex, get them a fast-pass to the 'cool table' and generally make them better human beings…
On top of academic qualifications employers are looking for practical, hands-on experience. We would encourage students, at all levels of education, to take part in project-based learning activities such as the Greenpower Electric Car Challenge. Students need to understand how to apply academic knowledge and their Solid Edge skills in a real-world application. I'd also suggest that students become certified in Solid Edge.
One of the main drives behind Solid Edge Certification is to help our customers find staff able to use Solid Edge effectively and efficiently, it will help employers recruit with confidence. We'd also suggest our customers support the Greenpower Challenge; if a customer were to support a local College or University Greenpower team they'd be able to develop links with participating students enabling the customer to identify and nurture new talent giving them first pick of the best and brightest graduates.


Is the distinction between "education" and "training" important?



It's not the role of a University Professor to deliver product training in CAD software; they're focused on teaching students how to become engineers or designers. Some universities recognize the need to 'train' students in Solid Edge but the less time they spend on software training the more time they have to focus on education. This is also why it's important to get Solid Edge into the hands of High School students; if they can learn the basics before they get to College or University they'll be able to hit the ground running and spend more time focused on learning to become and engineer or designer.
We're also constantly working to make it easier for students, and customers, to learn how to use Solid Edge, by making the product more intuitive and improving the excellent Online Learning Resource.


What is the age level where students begin to be able to understand and use CAD?


At 12 and 13 years of age students need to be introduced to real-world industry leading CAD to ensure they start down the correct path. Some students have natural ability and take to Solid Edge like a duck to water, whereas some students only get into their stride towards the end of secondary education or at the start of post-secondary education (16 to 19).
It's critical that students in secondary education use modern industry relevant software. It may horrify some of your readers to know that I've seen some schools using SketchUp and even Minecraft to "introduce students to CAD". We need to encourage teachers to deploy Solid Edge in the classroom and again this is where our customers can make a real difference. Teachers would really appreciate the help and support our customers and Channel Partners could provide; spending just a few evenings showing a teacher how you use Solid Edge and answering 'how to' questions can make all the difference.


What is Greenpower, and how is it related to the Solid Edge academic effort?


The Greenpower Electric Car Challenge is a STEM focused project-based learning activity where teams of students design and build a single seat electric car and then participate in head-to-head races. Siemens recently produced a great video following the story of one student and how Greenpower changed his life (http://youtu.be/lmTau0J0haA).
The Greenpower Challenge started in the UK (www.greenpower.co.uk) back in 1999 and is now expanding into other countries including the USA (www.greenpowerusa.net), South Africa (www.greenpowerza,co.za), and Poland, with strong interest in China, Brazil, Argentina, Slovakia, and Hungary, to name but a few.
We have a strong partnership with Greenpower and it's a strategic project within our global academic programme. Building on this relationship we have a 5 year Global Technology Partnership with Greenpower that requires all academic teams participating in the Greenpower Challenge to use Siemens PLM software in the design and engineering of their Greenpower car. This applies to all countries outside the UK.


What types of design and manufacturing tasks are the various age groups of Greenpower participants able to take part in?


The Primary School category (ages 9 to 11) is called 'Formula Goblin' and schools purchase kit cars from Greenpower. Working as a team the students follow detailed instructions to assemble the kit learning basic engineering terminology and of course "righty-tighty, lefty-loosey". The following link is a time-lapse film of young students assembling the Goblin car – https://www.youtube.com/watch?feature=player_embedded&v=O75fGNAJwwE
We've also created a Solid Edge model of the Goblin kit car so students can use the Solid Edge mobile viewer to interact and explore the 3D model of the car. This can be downloaded from www.siemens.com/plm/academic/greenpower. Once the kit car has been assembled the students can design and build their own bodywork using plastic, cardboard etc. and then it's time to race. The kit is speed limited to 15mph (24kph) and students can take part in exciting race events (https://www.youtube.com/watch?v=3BUGXV4L6wc)
The Formula 24 category is for students age 12 to 16. Schools have the choice of purchasing a Formula 24 kit car from Greenpower (rolling chassis) or designing their Greenpower car from scratch. Many Secondary Schools start off with the Formula 24 kit car and once they've gained some experience they typically design a new car from the ground up. We've created a full Solid Edge model of the Formula 24 rolling chassis that can be downloaded from www.siemens.com/plm/academic/greenpower. Students can use Solid Edge to design their can, run simulations and analysis, produce drawings, photo-realistic rendered images and animations, and provide output for manufacturing including engineering drawings, STL files for additive manufacturing and models for CNC. The head-to-head racing at this level gets very intense; teams compete in two 90 minute races using a defined amount of power (2x12v batteries for each 90 minute race) with a 60minute break in between. They have to use a minimum of 3 drivers (requiring pit-stops, with teachers not allowed in the pit-lane) and the winning team is the one that covers the greatest distance in the time allowed. The following YouTube video was taken at the Greenpower International Finals in October 2015 and shows the teams competing in the Formula 24 category – https://www.youtube.com/watch?v=Kxjcb28opGA
The Formula 24+ category is for students aged between 16 and 25. At this level teams typically design their car from scratch. The Solid Edge designs are very sophisticated and students get real experience in working as a team of engineers focused on a single product. The head-to-head racing gets really serious with many cars using live telemetry to help extract the best performance from both car and driver. The Formula 24+ race is a single 60minute race; the following YouTube video was taken at the Greenpower International Finals in October 2015 and shows the teams competing in the Formula 24+ category – https://www.youtube.com/watch?v=NEyJBqmaxcI
The Greenpower Corporate Challenge category is for Graduate and Apprentice teams from companies and attracts companies like Bentley Motors, Jaguar Land Rover, Renishaw, and Lockheed Martin.
"Anyone wishing to learn more about the Solid Edge Academic Programme and/or the Greenpower Challenge in their region can use one of the following contacts;
Americas: solidedgeacademic-am.plm@siemens.com
Asia Pacific: solidedgeacademic-ap.plm@siemens.com
This article first appeared on the Siemens Digital Industries Software blog at https://blogs.sw.siemens.com/solidedge/interview-with-michael-brown-director-of-academic-relations/