Interview with Matt Lombard – The Man Behind the Scenes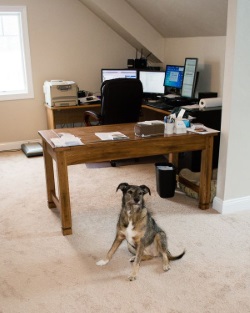 Matt Lombard needs no introduction. The world knows Matt as a CAD user, celebrated author, blogger, sought-after speaker and an insightful voice on CAD and related technologies. He is down to earth in preferring to remain the 'guy behind the curtain' when approached for an interview.
But it's no secret that Matt has brought in great liveliness to the Solid Edge community hence what follows is more than just an interview. This interaction with Matt is a celebration of his presence amongst us, getting to know more about him and let the world know too.
Four Edgers – Imre Szucs, Sean Cresswell, Matt Johnson and I – had the privilege of interacting online last week and here's Matt Lombard for you…
Imre Szucs @Imics starts the ball rolling with this awesome video. Ladies and gentlemen, sit back and enjoy this first round of accolade: [Sound ON]
Spellbound ?? The best of Matt follows. Read on…
Tushar Suradkar: The world knows you as a CAD user, celebrated author, blogger, sought-after speaker and an insightful voice on CAD and related technologies, how did your CAD journey begin? Please take us through your journey so far.
Well, in my senior year of high school, I got a 50% on a calculus test. That was the week I had to make a decision to go college for mechanical engineering or music. So I went into music. (I retook the test and got a 95%). It took me 6 years to see my mistake and get back to engineering school.
The part of engineering that really enthused me was visualization and complex geometry. Whenever I saw CAD I was just mesmerized. My first job was designing assembly fixtures for electronics using AutoCAD v10. Visualizing assembled parts in 3D from a 2D drawing is hard to do. A couple years later my boss saw me doing 3D in Acad after hours and he was mesmerized too. "What do you need to take that to the next level?" he said in 1994 or 95. I wasn't thinking very far ahead, and just said "$1000 to get the brand new Mechanical Desktop 1.1". That was a painful introduction. I learned more about PCs than I did about CAD, design, or engineering. I spent most of my time with MDT rebooting from a blue screen.
Next I bought SolidWorks 97, and taught myself the software from the Help file, which was very small at that time. My first project was a stylized medical jug requiring lofts, working from sketches and clay models.
From there, I worked for software resellers. My favorite part of the job was going to see how customers did things, and trying to match CAD to the real world process as much as possible.
I was involved in the old news groups, and had developed a reputation for better or worse as someone who could answer questions – just like each of you today. I even had a fledgling website starting from 1995 where I posted PowerPoint presentations.
The writing fell on me out of the clear blue sky. I was working on a contract design job, and I got a call that explained that the publisher JWiley had a book idea but their author had to back out. "Would you be interested in writing a CAD book?" Shortly after that, someone from a certain CAD company suggested that I start a CAD blog. This was all in 2006 or 2007. So I was in Boston working on Klipsch speaker design during the day, then back at the hotel I was writing chapters of my first CAD book, and articles for a blog that someone else at first named "Matt Speaks", then I changed it to "Matt Writes", and then I moved it to my own server and took control over the admin and renamed it "Dezignstuff" after the name of my company.
Sean Cresswell: I know I for one, have job envy, so can you talk us through how a typical [in the most broad sense] business day plays out for you?
This past summer we re-finished the attic as an office, so climbing the steps to my office is my big commute. My administrative assistant is Zoe, a mixed breed rescue dog. She answers the door for me, tells me when the UPS truck drives by, and tells me when it's time to take a break. Siemens doesn't actually pay her, but she brings a lot of value to the table just by keeping me on track.
I start out the mornings scanning the forums for bad behavior. I don't read 100% of every post, but I do make sure I know what's going on in each thread. I keep my eye on anything that gets controversial. You guys teach me a lot. Sometimes I work through problems in the software and see if I can answer some of the questions. It's really hard going from being an expert to being a learner.
I get to ban bad apples now and then, and clean up some spam. I answer questions that people have about the Community site, and sometimes just chit-chat with users, cuz I'm a user kinda guy. I try to stay in touch with folks. (So this is an invitation, if you wanna talk CAD or fishing, or whatever, drop me a message on the forum.)
Writing articles for the blog varies. Sometimes I have to research topics, sometimes just interview people, and sometimes write things for other departments. In general, my favorite stuff to write is around new release time. Everybody wants to read about new features, and researching how they work is a lot of fun for me. I like to try to break the software to find out where the boundaries are.
I'm also constantly looking for that one phrase that will flip the switch for a bunch of Synchronous hold-outs. More than anything, I want to make sure people understand concepts. I don't care if I can't teach you all the details, but if I can teach the spirit of how something works, that's the one thing I want to convey.
​ ​
Sean Cresswell: Most of us know how adept you are at product design and CAD wrangling in general. How much time do you get to spend hands-on with Solid Edge, and do you get to use SE for anything outside of the topical SE-Community umbrella? [home projects, etc…]
I still feel like I'm learning the software. I open it just about every day and try to work through forum questions, or research something or try to understand how something works, or where it stops working. I try to follow ideas through the Help documentation. I have great access to some of these guys behind the scenes, guys that I've interviewed, and they help me with the concepts. I do have a couple of assemblies I've created to work through understanding some things. Some days I get to spend several hours unmolested in the software, which is nice.
Matt Johnson: In all that you know of Solid Edge and [clears throat] "other CAD products" in the industry; what feature, functionality, or methodology, do you think Solid Edge should consider adding.
​
When I started learning the software, it was the workflow, and "what comes next" that hung me up the most. I know Jeff and the guys pay a lot of attention to this, but that focus needs to continue. Keep in mind that I'm not directly connected to development, planning, support, testing, or any of that, so I don't have any special pull or knowledge of what development is working on. In general, I would work on the "workflow" issues and making things more obvious. Every release, they definitely improve on this stuff.
Solid Edge has a great interface for people who know the software and understand the flow, but for people used to a different flow, sometimes things aren't completely obvious.
Tushar Suradkar: Adopting new CAD software inherently involves un-learning. Your grasp of Solid Edge is stellar. Can you share your secret of having accomplished this in a short period of time?
A little secret – the only thing that's "stellar" about my grasp of Solid Edge is that it's very small, and seems very far away. Joking a little, but seriously, I don't feel like I know many of the real details of this software as thoroughly as I'd wish, and certainly not as thoroughly as you guys. I've tried hard to understand the overarching philosophies and concepts, and to some extent, I've got that. But I've got some great teachers (all you forum power users), and guys like Art Patrick and Dan Vinson, who I tend to lean on more than the others.
​​
Matt Johnson: In all that you know of Solid Edge and [clears throat] "other CAD products" in the industry; is synchronous technology really different? Is it better, the same, or not that big of a deal?
Yes, I believe Synchronous really is better. I'm not familiar with Creo or Fusion, but the whole reason I came to work at Solid Edge was because I believe Synchronous Technology is the next CAD technology. Some people are trying to distract CAD customers into talking about IT issues such as how do you deliver CAD or where do you manage the data (cloud), but these are not CAD issues. They are IT issues. Synchronous Technology is about how do I make changes to my CAD data. To me, this is the right question to ask, and I think Solid Edge has a great answer.
Other companies are trying to copy ST in that they want to combine direct and history editing. Nobody else does it as convincingly as Solid Edge. Siemens has really invested a lot of thought into making Synchronous Technology something special, and they/we keep adding to the value of it with every release of Solid Edge. I think we have a giant technological advantage over the rest of the players in the industry. If I didn't think so, I would have gone somewhere else.
​
Imre Szucs: Do you have any plan to write Solid Edge "Surfacing" Bible? Or are you waiting for Synchronous Surfacing?
Uuuuhhhhhh. My old 'Works surfacing book does still have some relevance even for 'Edge users. I think the number of surfacing users in Edge would have to reach some future critical mass before there would be a need to re-write that book.
I do think that Solid Edge users could use a general reference guide, though. But a book like that has to be written by an outsider. I'd be glad to be the technical editor if one of you wanted to write that book…
​
Matt Johnson: What do you enjoy most about your role in the Solid Edge Community?
This is gonna sound corny, but I most enjoy working with people like you guys – people who use the software and give back to the community. Your generosity with your skills and your time is really inspiring. I really love solving design and manufacturing problems with CAD. It sounds like work to some people, but I just love doing that. The only thing better is to surround myself with people who love the same thing.
​
Sean Cresswell: How do you keep up with the "On The Edge" blog, given all you do in the Solid Edge Community?
The truth is that I haven't done a very good job of keeping On The Edge going consistently. I started writing blogs as a more creative outlet to give myself a break from writing those CAD books. In this case, I write On The Edge to give me a "less constrained" outlet compared to the Siemens PLM Community. Dan Staples has actually encouraged me to keep it going, because it offers us a way to connect with non-Solid Edge users. It's a more opinion-based venue, with a rougher style than what you'll find on the Community Blog.
​
​​ ​Matt Johnson: CAD / CAM / CAE / PDM / PLM / Additive Manufacturing / Scanning / etc… What's the next big thing? What do you dream of and hope to see in your career's lifetime?
Change happens so slowly, but I think combining data types is going to be a big deal. NURBS is great, and has served us well, but sub-d/mesh/point cloud/tessellated data or whatever you want to call it is huge. 3D print works off of STL, scanning works off of point cloud, medical scan technology can be converted to point cloud. And then there are applications like 3DSmax, Mudbox, Zbrush, modo that have been making geometry for a long time, and there's so much of that data out there that it just can't be ignored any longer. To me, merging this type of data with NURBS is something that has already started and should really begin to catch on in the near future.
Of course I have to mention the cloud. Some big players are betting big on the cloud. To me, this is just a distraction. It doesn't have anything to do with engineering, CAD, visualization, manufacturing. It doesn't give us any power that we don't have already. It solves some problems and makes others. It's just an IT issue.
Matt Johnson: Aside from Solid Edge, or even CAD in general, what are some of your hobbies or activities that you enjoy?
I don't have a tear-jerking story of inspiration like Jason and Sean. I used to be a consultant, and when you do that kind of work, you don't really have any time off. One of the great things about this job with Solid Edge is that it actually does afford me some time when I'm not sitting in front of the computer.
So, as soon as I can get a fly between the floating chunks of ice, I'm going trout fishing. And then when it gets warm I'll be taking days off to go bass fishing. I've been a musician since I was a kid, and have a trombone quartet that I play with. And like any home owner, I've got a hobby with Kim, my wife, of doing yard work and gardening. We love to keep a tomato garden in the summer, and of course eating those tomatoes is a joy all its own.
This article first appeared on the Siemens Digital Industries Software blog at https://blogs.sw.siemens.com/solidedge/interview-with-matt-lombard-the-man-behind-the-scenes/