Products
Greenpower is About Racing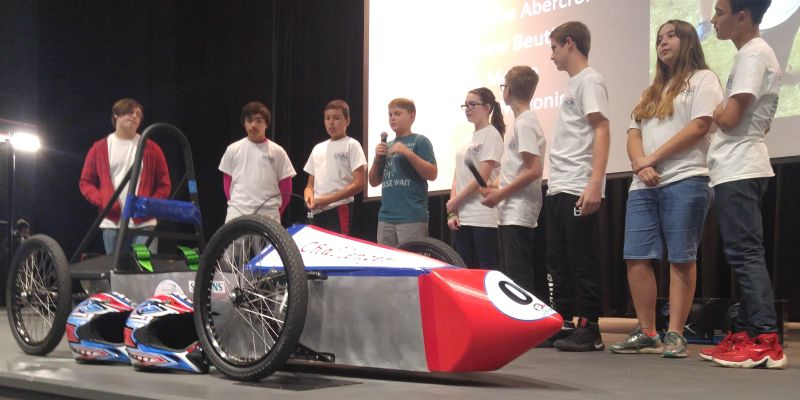 Some people may hear the word "greenpower" and start expecting another heartfelt academic harrangue. Not that there's anything wrong with a good ol' heartfelt harrangue about educating our kids in math and science here and there, but would it be more interesting, maybe even exciting if greenpower were really about… racing? Racing is cool, it's fun, it's exciting. Plus, it's related to our favorite subjects like engineering, design, CAD, analysis, building stuff, making things that go. And beyond that, it involves people we all love – our kids.
Today I'm down here in Huntsville, AL, the home of both Solid Edge and Greenpower USA. Tomorrow is a race at a local high school where some 50 teams will compete with cars they have assembled and modified to some extent on a circuit around the school campus. I saw two tea
ms from China giving presentations about their cars (as an aside, it was frankly amazing the young age at which Chinese kids can function in both Chinese and English).
When I drove into the facility, the first thing I noticed was that there was a circuit set up complete with barriers to keep the racers on track (and spectators off the track). I also noticed a parking lot with both sports cars and mini vans. That really sums up this event. The sports cars belong to some of the volunteers from the SCCA (Sports Car Club of America), and the mini vans belonged to, well, you know that part already. Next I saw the big marquis that frames the event in repurposed large green shipping containers. If you're the type to look for metaphors, this would be the place.
So you clearly get the sense that this is an event about racing. Yes, it's also about kids. Yes, it's also about education. Yes, it's also about Science, Technology, Engineering, and Math, but it goes beyond that too. When some of the older teams were presenting their cars, they were also talking about things like accounting, management, public relations, and other functions that you see in real-world adult situations. This event will give literally hundreds of kids practical experience in the real world, and start to show them that you can have a career that you might actually also enjoy.
By the way, this nose cone was designed in Solid Edge by two of the students on stage, and it was printed out at about 4 am, in true student racer fashion.
Anyway, later this afternoon, I'll go back to the school and see some of the cars take practice laps. I'll be here and be reporting on this through Saturday. Until then, I want you to think about helping to get a Greenpower team started at your local school, and maybe even mentoring some of the kids yourself. Watching Mad Men on Netflix again is such a waste of time. Do something that will make you feel excited, and help educate the next generation of young engineers, designers, mechanics, and racers.
This article first appeared on the Siemens Digital Industries Software blog at https://blogs.sw.siemens.com/solidedge/greenpower-is-about-racing/