Products
Geometric DFX now supporting Solid Edge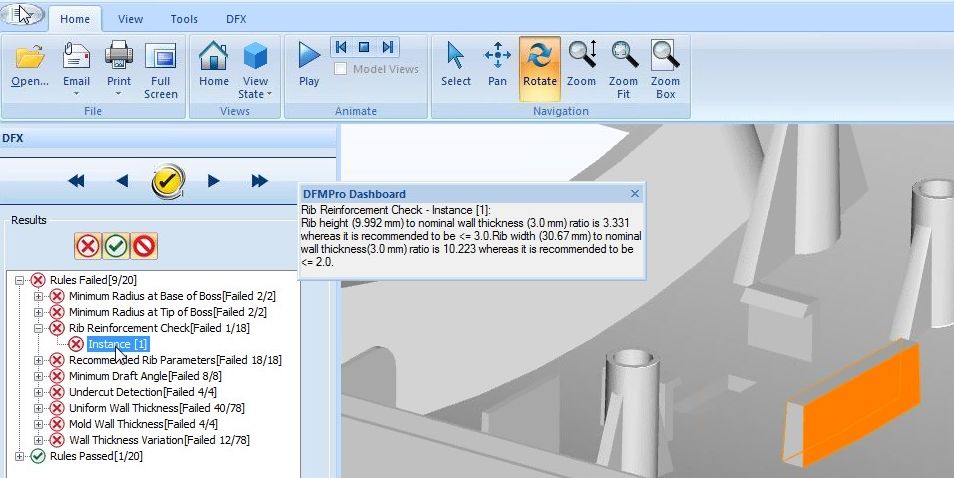 I had an interesting demo from the Geometric DFX folks. I did a post on the Siemens PLM corporate blog that gives a high level view but thought I'd share some of the details here.
Basically DFX checks for a number of common mistakes in a design that might make it a problem to manufacture or maintain.For example, in the image below, it identified some sheet metal cut outs that are too close together. In another example, it identified a bolt that would be hard to get to with a tool (my personal favorite since I was changing belts in my car the other day and could not get the darn tool onto the bolt!). In another image, it is checking draft angles for injecting molding. It can go much deeper than but these are some simple ones even I can understand.
The interface seems to be very simple to use… just read in your Solid Edge files, pick the rules to check, and hit analyze. I think it would be useful right out of the box but you can tune it as you go. For example, some problems might be critical in your environment, while others are nice to know or you just want to turn off. You can also add your own checks that might be specific to your company.
Once you are happy with the checks it is doing, you can share them across the company. I imagine this might be nice for that young engineer that was just hired or where you want to enforce some standards.
What I thought was good was that DFX not only identifies the problem, it tells you why it is a problem and, in some cases, can suggest a solution.
If you are interested, you can request a free trial here:
This article first appeared on the Siemens Digital Industries Software blog at https://blogs.sw.siemens.com/solidedge/geometric-dfx-now-supporting-solid-edge/