Products
Flow Simulation for More Reliable Products: See FloEFD for Solid Edge at SEU Boston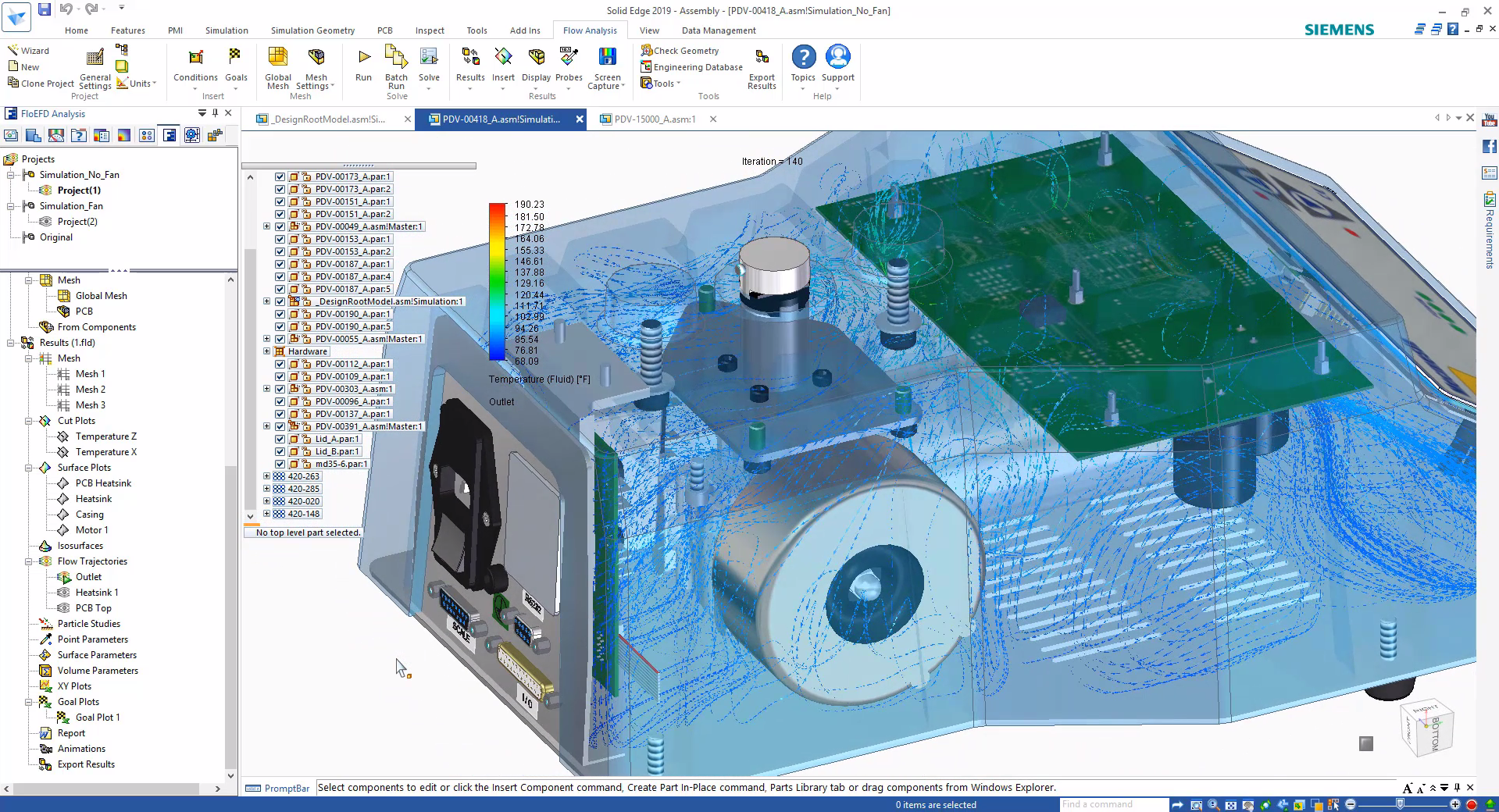 With Solid Edge University in Boston only a week away, we've got another exciting preview for you of some of the latest solutions available in Solid Edge, which we'll be sharing during the event next week. And don't worry; if you're not in the Boston area, you will have more chances to attend SEU. Check out our Solid Edge University global series online to register for an event near you today!
I spoke with Richard Ozaki, Americas field application engineer at Mentor Graphics, about what he plans to present for his session on "Simulation: FloEFD for Solid Edge." Richard has been at Mentor since 2006 where he has worked predominantly in the analysis space with both thermal and CFD or computational fluid dynamics. His specializations include electronics cooling, turbomachinery, automotive lighting, and HVAC. Today he works as an application engineer in the mechanical analysis division of Mentor, responsible for a suite of software tools for performing thermal and flow analysis. At SEU Boston next week, Richard is going to be talking about FloEFD for Solid Edge.
"EFD stands for engineering fluid dynamics," Richard explains. "FloEFD is a CFD tool embedded within Solid Edge that first debuted at SEU Indianapolis about two years ago with the release of Solid Edge ST9. Since that time, we have been bringing more new features and capabilities into the software, and it has just been getting better and better."
You'll get to see firsthand just how much better during Richard's presentation. He will show an example of flow and thermal analysis performed on the electronics of the Mecmesin bottle testing machine to demonstrate not only new capabilities available in Solid Edge 2019, but also the necessity of this type of analysis.
"A lot of products today have electrical and mechanical combined. With IoT and Wifi connectivity, you have smaller and smaller components being packaged into hotter and hotter environments," Richard says. "Thermal and flow are often the last things people think about. You have to get the product to operate first, make it manufacturable. There are a whole host of things to consider." While it's easy to overlook until the end, simulation really belongs at the front of development because it gives insight that can change the outcome of a product's design and layout.
Simulation helps us to understand where we can make changes in a product to enhance its performance and durability. "For example, can we add a heat sink, a fan, or possibly some vents to make the machine more reliable and less prone to failure?" Richard explains. "It's important to think about how to position the electronics. When you're using natural convection, it's important to think about how heat sinks are aligned with gravity. How many vents should you have, and where do you put those vents to ensure good air flow? Are you including a fan, and if so, how many and where? These are all things to consider and then simulate with the CFD tool to quantify what the best position for any of these things could be. Performing studies upfront in Solid Edge ensures you have a more reliable product that is less likely to fail."
Less product failures means more money for you. As products become more reliable, there are less warranty claims. Customers are happier. Far from being the only benefits though, simulation also allows you to get to market faster which, in today's world of the ever-shortening product lifecycle, is a must if you want to stay competitive in your industry. This is because simulation replaces the prototyping process with a digital model. Rather than go through the cycle of build, test, fail, repeat—which results in lost money and time—you can simply use the digital model you already have to perform testing and analysis on with the aid of software.
What makes FloEFD for Solid Edge unique compared to other similar solutions on the market though is that it is an embedded tool direct in Solid Edge. With standalone software, you lose the connectivity between the design model and analysis model when you export your Solid Edge assembly to a STEP or Parasolid and then import the file into your analysis tool. Now you can't take advantage of design changes. If you want to made a change you have to go back to Solid Edge, make the change, and push out the file again. "With our embedded CFD tool, you can do these parametric optimizations directly in Solid Edge without having to export anything," Richard says. FloEFD also offers some very unique meshing technology that deals with "dirty" geometry easily. Where you have overlapping components, minimal cleanup required. Complex assemblies are handled with ease as well.
While the topic Richard will focus on during his presentation is mainly electronics cooling, it's important to note that FloEFD for Solid Edge is an all-purpose tool that is not restricted to one specific application. Any product in which there is fluid flow or heat transfer, FloEFD could be used. Some examples include valves, heat exchangers, pumps, external aerodynamics, even something as simple as a medicine bottle.
If you're heading to SEU Boston next week, don't miss Richard's presentation. And if you haven't registered yet, be sure to do so! Solid Edge University is a wonderful opportunity to connect with experts who can show you best practices and the latest solutions to make your life easier.
This article first appeared on the Siemens Digital Industries Software blog at https://blogs.sw.siemens.com/solidedge/flow-simulation-for-more-reliable-products-see-floefd-for-solid-edge-at-seu-boston/