Finamac: possibly the coolest Solid Edge user ever!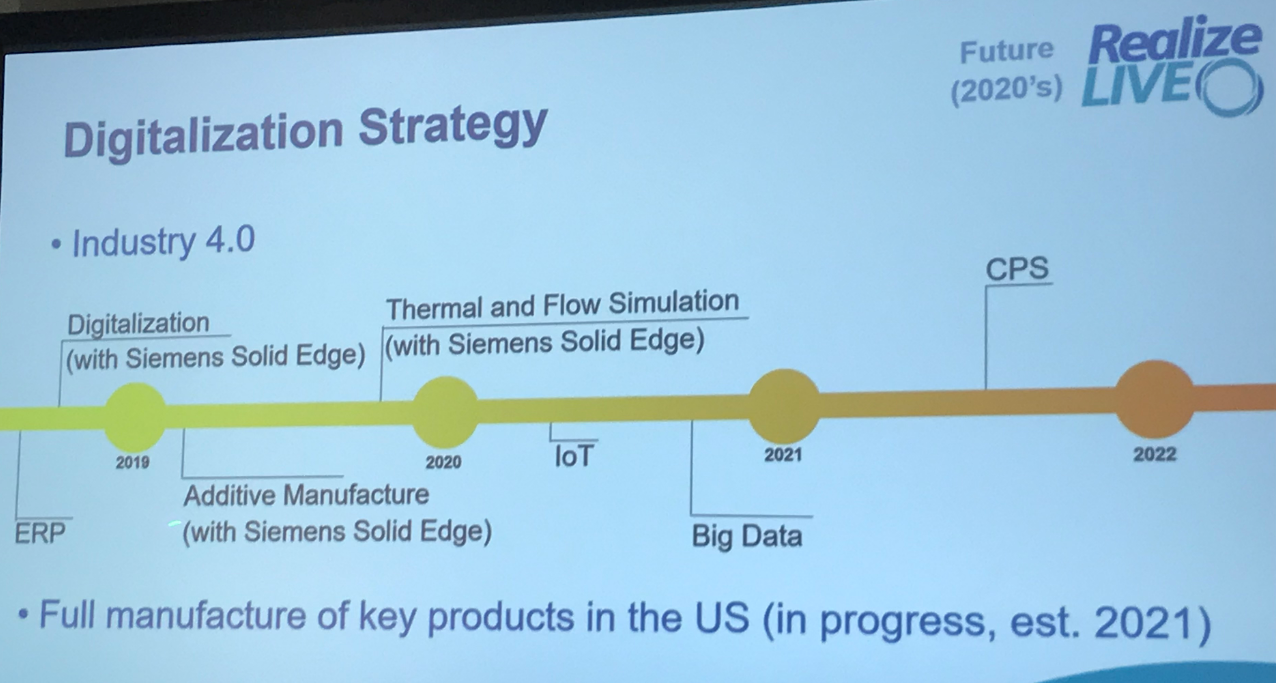 The mission statement of Finamac, a Brazilian manufacturer of equipment for ice cream and popsicle manufacturing is that "Delicious ice cream, made with the highest quality ingredients, needs equipment designed with inspiration, cutting-edge technology, and a commitment to superiority in performance." I was fortunate to see a presentation by Guilherme Mello, lead designer at Finamac at Realize Live today and it was one of the best, I could say coolest, presentations I have seen recently.
Guilherme introduced his presentation with a brief history of Finamac. The company was formed in 1985 by aerospace engineer Marino Arpino who created his first equipment in a spare room of his house. Since those early days, Finamac has had a commitment to innovation resulting in recognition as a leader in their industry globaly. They also have a commitment to creating attractive looking machines that enable their customers to create a clean and high technology environment in their factories, restaurants and shops.
Award winning designs help create a clean and high-tech image for Finamac's customers
Using Solid Edge has been an important part of Finamac's success, in fact they implemented Solid Edge Version 1 in 1996. Today they take advantage of synchronous technology to create new designs quickly, and to complete fast modifications of their designs to meet specific customer requirements. They create complete assembly models of their equipment and then generate photorealistic images to support their marketing efforts. You can see an example of the development of their machines from an older design to a contemporary design in the image above. They design many components in fibreglass as this enables them to create lighter, more attractive looking equipment for their customers.
Finamac uses synchronous technology for fast design of complete assemblies ensuring excellent fit and function
Guilherme highlighted a couple of fairly new capabilities in Solid Edge that help improve his productivity. Capture Fit is an excellent way to record how a particular component is typically aligned when it is placed in an assembly. When the component is inserted in new assemblies it knows exactly how it should be placed. And Clone Component is an excellent way to place multiple instances of a part into an assembly very quickly.
Guilherme finds the Capture Fit and Clone Component commands improve his productivity when designing assembliesGuilherme has been using his time here at Realize Live very effectively, for example participating in a hands on session on Solid Edge Technical Publications. Finamac currently has 2 people working full time on creating installation manuals and user guides for their equipment and Guilherme sees great possibilities for improving the efficency of this process and the clarity of the documents they create. He also plans to introduce Solid Edge Wiring Design for creation of wiring schematics and routing wiring around 3D models.
Finamac plans to introduce Solid Edge Wiring Design and Solid Edge Technical Publications to continue their tradition of innovation
Finamac also has a long term digitalization strategy that will support their focus on innovation. With the heating and cooling cycles involved in ice cream and popsicle manufacturing (liquid at -25 celsius is used as part of the process), investing in thermal and flow simulation software solutions is in their plan. They have started to investigate additive manufacturing for creating production parts such as popsicle molds, and using IoT to give them feedback on machine perfromance and maintenance schedules is also on their radar.
Finamac is a great example of a smaller manufacturing company that is executing a comprehensive digitalization strategy
This article first appeared on the Siemens Digital Industries Software blog at https://blogs.sw.siemens.com/solidedge/finamac-possibly-the-coolest-solid-edge-user-ever/