Products
Discover add-on apps for Solid Edge at Solid Edge University 2015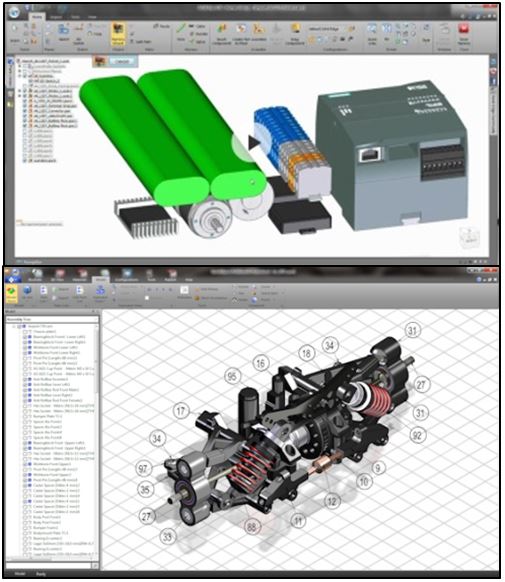 Meeting face-to-face with solution providers who are demonstrating their add-on apps for Solid Edge is one of the many benefits of attending SEU15. At this year's event in Cincinnati, October 26-28th we will again have a diverse range of exhibitors ready to discuss solutions for many areas including technical publications, dynamic analysis and electro-mechanical design.
A first timer exhibitor is QuadriSpace who will be demonstrating their technical
documentation software including Share3D that enables illustrated documents such as manufacturing and service instructions to be published to the cloud. Share3D users can incorporate Solid Edge models into their documents, and can quickly create online parts catalogs that include shopping carts. QuadriSpace has been working closely with Solid Edge to ensure excellent integration between the two solutions, and there is an entry level version of QuadriSpace's Publisher3D technical illustration software available on our Solid Edge App Marketplace.
The ability to analyze moving parts and understand the full dynamic behavior of their designs is critical for designers of machinery and many other products. Design Simulation Technologies (DST) are experts in this area and will be demonstrating their Dynamic Designer software at SEU15. Dynamic Design Motion Professional enables Solid Edge users to model, test and refine their products and output performance information like part interference, optimum motor size and gear and linkage layout that may otherwise require expensive physical prototypes to be built and tested.
Design of wire harnesses and control panels is an important part of the product development process for many of our users and one of our long term partners in this area Zuken will be demonstrating E3.series at SEU15. E3.series is a Windows-based, easy-to-learn system for the design of wiring and control systems, hydraulics and pneumatics in the aerospace, automotive, machinery, power, railway, special vehicles, and telecommunications industries. E3.series has a bi-directional integration with Solid Edge using the E3 Routing Bridge software and this video shows how easily a wire harness can be imported into Solid Edge and routed within the mechanical design.Electrical harness components such as connectors, terminals, splices and netlist information can also be transferred to Solid Edge where engineers route the cables in the mechanical space.
And just to give you an idea for the breadth of add-on applications that you can find at SEU15 some of the other partners exhibiting include Keyshot (3D Rendering and animations), Microsoft (Windows 10, SharePoint, Surface Pro 3), Lenovo (PC workstations), CADMAC (sheet metal manufacturing), 3DConnexion (precision input devices), Mechworks (technical document management), Kenesto (engineering document management) and CAD Partner (plant design).
At SEU15 you can meet one-on-one with experts from many different fields, strengthen your product development process and move ahead of your competition! If you can't attend SEU15 then checkout the links above – and let us know if there are more applications you would like to see working closely with Solid Edge to meet your specific needs.
This article first appeared on the Siemens Digital Industries Software blog at https://blogs.sw.siemens.com/solidedge/discover-add-on-apps-for-solid-edge-at-solid-edge-university-2015/