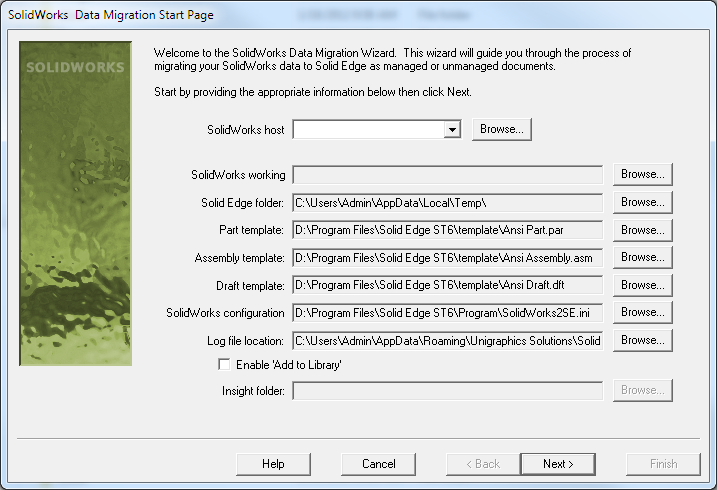 The next series of blog articles that I'm putting together is again based on a request, and again, something that sounds simple on paper turns into a bigger project when you see it in the light of day. The request was to show how to do some animation in Solid Edge. But this series is going to go through the SolidWorks Data Migration tool, some simple assembly analysis, mating, making synchronous changes to imported parts, applying motors to assemblies, and finally, creating animations and recording movies. It's indeed a long and winding road, I hope you'll find some of this valuable.
The story starts with some poor engineer who is just starting to figure out that history-based modeling is fine, for as far as it goes, but there are just a lot of things that it won't do. He builds stuff, and curses at his software constantly. "The Feature Tree is always a tree of BLOOD!!! Every change I make causes 3 other problems." Parent-child
relationships get all twisted, and in-context relationships are impossible to sort out after a couple of parts have been up-revved and swapped out.
Our friend is designing a pressure washer, and he knows it has some problems, but fixing things on this model takes courage that he just can't muster. He's just about to export it and reimport it to get rid of all the relationships he can't track, but decides to take a chance instead. He heard Solid Edge deals with imported data as if it were native, and that it reads Parasolid files. Plus anyone can get a 45 day free trial. "It would only take a few hours to fix this if the software would cooperate" he mumbles, with his head in his hands.
So he downloads and installs the 45 day free trial, and the first thing he notices is that there are Migration tools for several CAD packages, including SolidWorks, Inventor, Pro/Engineer (Creo), and Mechanical Desktop. The source package must be installed on an accessible computer on your network, not necessarily on your local computer, and you have to install a small application on the same computer as the old software is on. If you're interested in some of the details of the software and results, follow this link to the online Help.
When you migrate an assembly to Solid Edge, you get geometry, part and subassembly files, materials, mates, hole features, patterns, configurations (family of assemblies/family of parts)… read the link above for a more complete list.
There are some settings that had to be set up, but it didn't take long, and our engineer was able to get his old CAD data output into Solid Edge ASM and PAR files quickly and painlessly. (Ahhhh, 3 letter extensions are soooo much more civilized!)
While some of the other data migration tools have been around for some time, the SolidWorks tool is new in ST6. This is the version that you get with 45 day trials as of this writing.

You can continue to work on other things while the migration tool works in the background. If it stops early, it should give you a reason why. Our engineer forgot to give himself write permission to the working directory, so he got a little practice doing it twice.
The next step is to fire up the Solid Edge 45 day trial, and open the top-level assembly. Sure enough, there is his assembly in all of its glory, with the subassemblies and parts, just like he left it in what is quickly starting to look like his "former" CAD package. He's very surprised to see mates attached to most of the parts. All of the parts have come over with "body features", but remember that Solid Edge, with its direct-editing based synchronous technology can easily work with what other CAD companies call "dumb solids". They're not dumb at all, as we'll see in a later article.
In the image below you can see one of the subassemblies pulled in from the engineer's old data. The crank.par is selected in the Pathfinder, and it is highlighted in the graphics window. If you look right below the Pathfinder, you see that four mates have come over in the motor subassembly through the data migration tool, three axial aligns (concentric) and a mate (coincident). Our engineer thinks getting mates with a translated assembly is pretty awesome.
We're going to come back in the next article and see how our engineer is progressing. He'll be working some more on the motor assembly, checking to make sure all the mates came over, and seeing if he can drag parts to see the motion of the gears, cams and valves.
This article first appeared on the Siemens Digital Industries Software blog at https://blogs.sw.siemens.com/solidedge/data-migration-tools/