Customer Spotlight: Cherrie Bommarito of Hussmann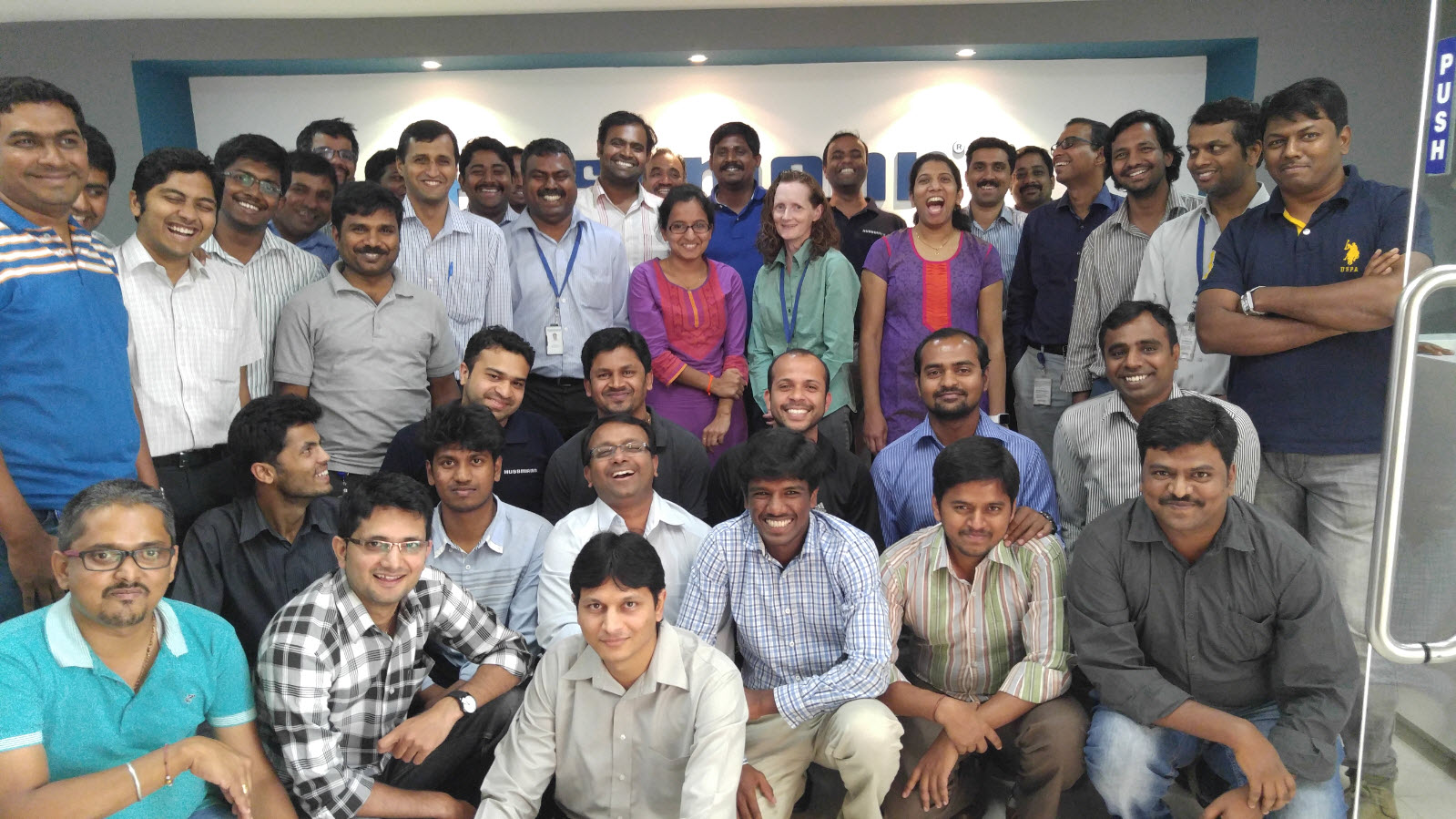 March is Women's History Month here in the US, a time that is dedicated to recognizing and celebrating the many great contributions that women have made to society throughout history—and continue to make today. Historically speaking, the accomplishments of women have often gone unrecognized, especially in the areas of science and math. And while we have made great strides in terms of gender equality, there is still much to do.
The number of women employed in STEM careers is a perfect example of this. We are starting to see more women enter traditionally male dominated roles, yet despite comprising 48% of the working population, women still only make up about 24% of the STEM workforce. We talked to CAD systems specialist Cherrie Bommarito about this topic and more, including her experience as an engineer, and today we are featuring her on the blog in honor of Women's History Month as a great example of a woman who followed her passion for engineering.
Her role today
Cherrie has used Solid Edge for more than 20 years in her role as the CAD systems specialist for Hussmann, a manufacturer of commercial refrigeration units for the supermarket industry. Hussmann holds a majority of the market at 40%, and chances are if you've been inside a grocery store, you have seen one of their meat, dairy, specialty, or frozen food cases. They are also responsible for the systems that run the display cases, such as the large rack systems that pump refrigerant to cool them. The work involves a lot of sheet metal design, and the folks at Hussmann including Cherrie worked closely with Siemens to develop the initial sheet metal package that is in Solid Edge. "You can't beat the sheet metal functionality," she said of Solid Edge.
As the CAD systems specialist, she is not only responsible for identifying the functionality that will benefit the company, but also she helps users to be more consistent in how they use Solid Edge. Consistency is important when it comes to design, not just from the perspective of efficiency, but also in terms of creating good designs that others can work with or recreate if necessary. This aspect of her role is what Cherrie mentioned she enjoys most.
"I like to help people. We have some very talented people, and some of the things that they can do are just amazing," she said. "Helping them create even more amazing products in a more efficient way or in a new way—that is what I find most rewarding."
Cherrie makes herself available to users in a myriad of ways in order to support them as they develop their design skills further. In addition to hosting a quarterly Solid Edge users group, she sends a monthly newsletter along with other bulletins that include best practices and helpful tips on how to use the software. It's critical for engineers, especially those who are just starting out in their careers, to be proactive when it comes to learning about the software they use.
"You don't know what you don't know. It's easy to get so busy with trying to get something done that new commands and functionality, which could be very helpful, just pass you by," Cherrie said.
Advice for engineers
Her advice for engineers who are just starting out is very much in that same vein. If you want to succeed in your career, retain your passion for learning. Learn more about the tools you use, seek out information on new techniques and skills.
"People tend to think that once they're done with school, they're done. They don't need to ever go to a formal learning session ever again, and that's just not true," Cherrie explained. "Don't ever lose your desire to learn. Nurture that. Because that's what will keep you interested, it will keep you motivated, and it will help you improve throughout your life."
Passion, not just for learning, but for your career as well is so crucial to becoming the best you can be in your field. "Any job that doesn't have passion is just that, it's a job," Cherrie said. "It's easier to learn if you're passionate about it: You have an interest; things come naturally, and for those things that are a little more difficult, you have that drive to want to improve upon those and master them."
Her story: passion fueled by her education and family
Cherrie herself demonstrates this through her story. She began her career as a designer before moving up the ranks to engineer and finally CAD systems specialist, but her passion for engineering began long before that.
"I've always loved to find out the way things work and build things and do basically the 'boy' stuff, which is what it was when I was growing up," Cherrie said. She was often one of the only girls in shop class or drawing class in middle school, and was one of a handful of women in her engineering program in college. "I was never discouraged from playing with Lego and building things, so I ran with it. I seem to gravitate toward the more mechanical type of industries than the traditional career path that ladies normally take. It's just come naturally to me. Probably some of that is related to me not being discourage in my upbringing."
The support and encouragement she received came not just from her parents at home, but also in her education. "My love for drawing started in middle school. My first formal, school drawing class was when I was 13, and I just fell in love with it. Every time it was offered throughout my high school career, I took the class and was exposed to mechanical drawings, electrical drawings, architectural drawings, all the way through high school." Cherrie said. "That alone had me at an advanced level when I went to the technical college. I was in a room full of 25 individuals drafting on the board, and I would always get complete the assignment first. They would always ask 'How'd you get that done so fast?' and to me, it came naturally because it was offered in my high school."
Cherrie's early education from K-12 taught her many skills applicable to the technical field long before she knew that was the industry she wanted to go into. "It definitely nurtured my passion, because that was one thing I could do and I could do it well," Cherrie said of her drawing class. "It encouraged me not only in school, but at home as well. My stepfather was in construction, and if he needed a drawing for a room addition he was going to build, he would say 'Here, I need this,' and throw me the napkin with the drawing on it, and I would draw it for him. It's just something I was lucky enough to realize early enough in life that that's what I wanted to do."


Section of an assembly to evaluate a hinge design, image courtesy of Cherrie/HussmannIt was the work she did with her father that inspired her to receive a technical degree in architectural design. "This was before the public schools had CAD systems. It was all board and pen drawings or pencil, whichever you were doing, and I was trying to get a full time job drafting right out of high school. No one wanted to hire anybody who had no CAD experience," Cherrie explained. "The technical college, Ranken Technical, was offering a 2 year degree in architectural design and structural engineering. I thought, 'Well I know construction and I know drafting. I can do this.'" She enrolled to learn CAD drawing, and at the end of two years had received her associate's degree. By that time, she realized she didn't want to do architecture.
After graduating, she got a job in a machine shop and that is where it clicked for her. "I loved the drawing of the machine parts," she said. She created an entire library of parts for the company she was working for at the time, and then the company downsized, which is when Cherrie found a place at Hussmann. She has been using Solid Edge for drawings and sheet metal parts ever since. She also went back to school during her career with Hussmann to receive her bachelor's degree in industrial technology from Southeast Missouri State.
On diversity and women in the workforce
Throughout her time as an engineer, Cherrie has definitely noticed some trends, especially when it comes to diversity. She has noticed more women entering the field of engineering, and there are more female engineers at Hussmann than when she had first started. "The girls are still in the minority, but it's not only the diversity between men and women that has improved," Cherrie said. "We have people who are from Australia, China, Japan, Brazil… the culture is becoming more inclusive whereas before it may have been a little more exclusive, meaning that all of those groups of people were not included in these roles."
In terms of advice for any aspiring young female engineers, Cherrie says that if it is your passion, follow it no matter what anyone says. Also, never underestimate the power of networking. It's so critical, especially as a woman, to build a support network and find people at work who can guide you and even just lend a sympathetic ear when you're struggling.
"Find your friends at work," Cherrie said. "If you're struggling with an issue, just having a conversation in the hallway or going to lunch with your coworkers, you'll find that maybe they dealt with something similar. You can learn how they handled it, and it's a good way to 1. Release some of the tension that comes with the job but also 2. Understand that you're not there alone. People have been through this same thing before, this is how they dealt with it."
Cherrie also points out that women in the workforce have a tendency to stay inside their comfort zones. "Sometimes it seems like women in the workforce try to stay to themselves and not really go outside of their roles or reach out to someone in a different department," she said. "I feel that that doesn't happen enough. You have to nurture your support network, and it's even more important in a traditionally male dominated environment."
You can tell Cherrie's advice is based on her own experiences and the way she has lived her life. She followed her passion, stayed true to herself, has stayed a lifelong student and has even built an extended support network throughout her career. Today, she guides Hussmann engineering teams which include up to 100 engineers at located at multiple global sites, and is a wonderful example of what you can accomplish when you stay committed.
This article first appeared on the Siemens Digital Industries Software blog at https://blogs.sw.siemens.com/solidedge/customer-spotlight-cherrie-bommarito-of-hussmann/