Case study: Quick design sharing using cloud based document management software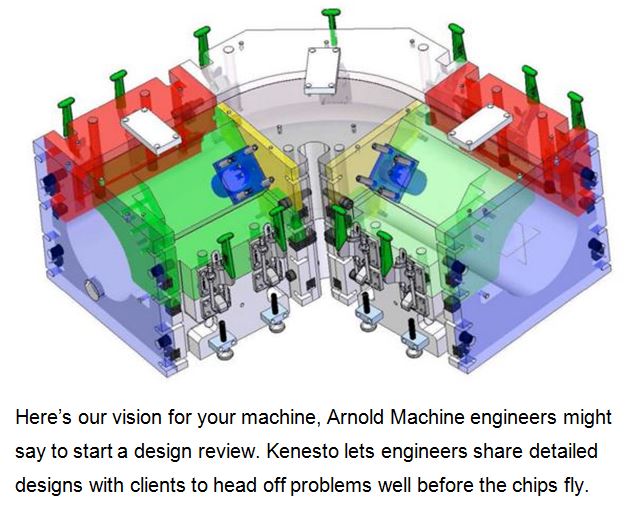 Arnold Machine Inc., based in Tiffin, Ohio designs and builds one-of-a-kind automation systems for unique customer needs across industries that include machining, fabrication, finishing, and assembly.
Until recently, company engineer Mark Miller says he and teammates had been using off-the-shelf file sharing software and a file transfer protocol (FTP) site to share large files of their design information. For design reviews, engineers would meet online with customers at remote locations using the online meeting service GoToMeeting. This let them at least share screens. "Getting our customers to connect to the FTP site is difficult because they might not have access, or their companies don't let them download files through their firewall. In this case, they'd had to contact their IT people and jump through hoops and that made it hard for them," Miller says.

The company sought a solution that would let customers review proposed machine designs irrespective of the CAD software the customer used in-house. Miller didn't want customers to have to install additional software. They required that the file sharing system would run over a secure Internet connection and could work with large file sizes.
Kenesto filled the bill on all fronts. So about a year ago, the company began using the cloud-based service for engineering document management. It let Miller's team share design information of all types with its customers. Kenesto works with the Solid Edge CAD system that Arnold Machine had been using since 2004.
Users can also install a service feature, Kenesto Drive, which works like a virtual LAN drive to view, share, and work with the designs directly from their PC. "This alone speeds our review cycle, and because they're able to view the detailed design ahead of the meeting, customers have far fewer questions," Miller says.
"When we show customers designs with Kenesto, they see much more detail on their end, either before or after we have an online meeting, and we don't have to take up so much of everyone's time," he added. "'We don't need to go through every little piece of the design they'd be concerned with. Kenesto can shave hours off of calls with clients," he added.
Kenesto allows viewing of more than 250 file types including most widely used CAD models. The system has also helped with workflow. Arnold Machines can track events and share and update the bill of materials through Kenesto without the need to rely on a cumbersome product lifecycle management system.
Arnold Machine engineers now meet customer requests more quickly and in a much smoother manner than they did in the past. "We believe these areas will only improve in the future, thanks to Kenesto," says Miller.
Learn more about automated machine manufacturer Arnold Machine at: arnoldmachine.com. If you want to investigate cloud based document management further you can sign up for Kenesto Free and for easy-to-use professional 3D CAD you can download the 45 day free trial of Solid Edge.
This article first appeared on the Siemens Digital Industries Software blog at https://blogs.sw.siemens.com/solidedge/case-study-quick-design-sharing-using-cloud-based-document-management-software/