Products
CAD on Cloud Nine: Expanding your horizons with Solid Edge ST9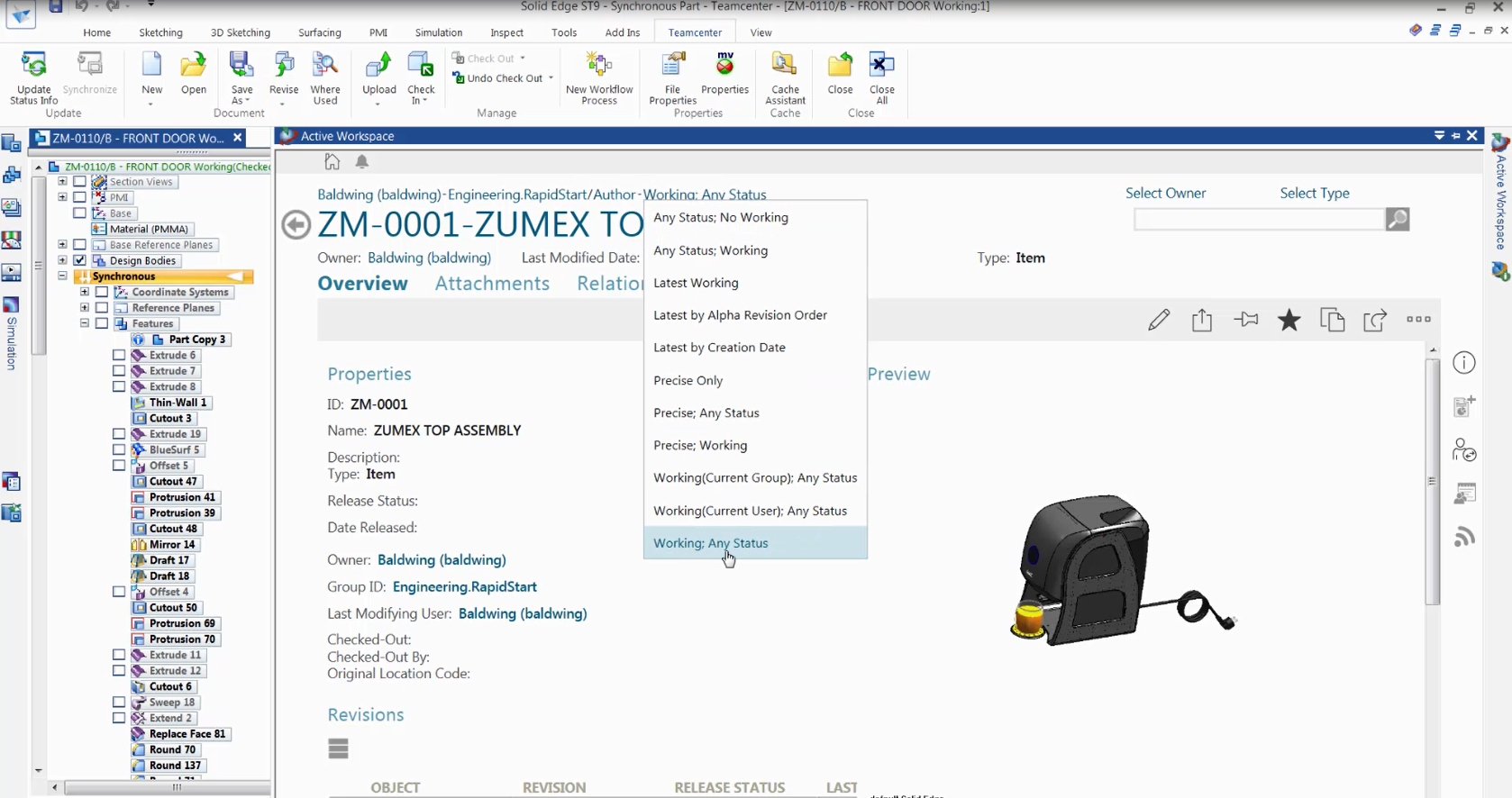 Is Cloud Nine:
A) An album by George Harrison that includes "Got my mind set on you?"
B) A new vape that has "notes of vanilla and white chocolate?"
C) A sushi bar in Cincinnati that offers "half price sushi with full price quality?"
D) A great new release of Solid Edge (ST9 actually) that delivers "cloud on your terms?"
Cloud Nine is all of these! – read on to find out more (about Solid Edge!)
Solid Edge ST9 includes significant enhancements in 3D modeling, and new cloud and data management capabilities that all combine to speed the design process. We will take a quick look at the new capabilities in four main areas: cloud, modeling, data management and moving to Solid Edge.
Cloud-enabled design on your terms
Solid Edge ST9 applies cloud technology in a new and flexible way – enabling designers to access their personal CAD environment and their data anywhere and anytime, while also allowing them to keep working if their internet connection fails. Users can login to the cloud to access their software license, and retrieve their preferences (how they configure their CAD environment for their personal and company use) when they move between locations, and when they move from the workstation in their office to a tablet they use when traveling. And they can update their software "on-demand" using the same cloud service.
They can also use popular cloud-based file sharing software like Dropbox, OneDrive, Google Drive and Box (that they may already be using in-house) to backup, share and collaborate around their data. They can replicate their CAD vault to different sites giving remote designers and manufacturing sites full access to the design information they need. And they can selectively share files with external resources, for example sharing a 2D drawing or 3D lightweight model with a supplier so they can get a quote for manufacturing the part, or sharing an assembly design with a customer for a design review. Using popular file sharing software keeps software costs and IT overhead to a minimum, and these applications have a natural integration into the Windows File Explorer minimizing the learning curve for users.
Both Solid Edge software and your files are still available locally ensuring you can keep working if your network connection is interrupted, the result is a highly reliable system where your users experience consistent and fast response times. And Solid Edge users can add these cloud capabilities as and when needed to fit their unique environment.
Fast and Flexible 3D modeling
Synchronous technology continues to develop in Solid Edge ST9, for example new parts can be created and edited, using both Solid Edge and imported data, without leaving the assembly environment.Other assembly enhancements include the ability to display inter-part realtionships in an intuitive tree, this enables users to quickly understand and edit the relationships that have been specified. And a new isolate option makes it easy to focus on a specific area in a large assembly, speeding the modification of large assemblies. Expanded modeling capabilities include the ability to remove material by sweeping a solid body along a path (simulating a machining operation), the ability to apply rounds and chamfers across multiple features in a part model, and wider capabilities to duplicate profiles, bodies and features.
Scalable data management
Solid Edge users also benefit from new built-in data management capabilities that provide fast searches for data, and straightforward management of properties, revisions and the release process. These capabilities take advantage of standard Windows indexing so users do not need to install and maintain specific database software. Searches can be based on file names, or standard and custom properties. Users can also perform fast where-used searches to find which assemblies a part is used in, enabling them to quickly assess the impact proposed design changes before they are started.
The Design Manager utility (an expanded version of the popular Revision Manager utility) enables users to review and edit properties of multiple files, and to perform revision and release operations on Solid Edge parts, assemblies and drawings.
These data management capabilities will help our users get control of their fast growing volumes of CAD data, minimize errors, and experience fewer errors in manufacturing; and with more consistent data, they will be in an excellent position to upgrade to Teamcenter should the need arise.
And talking of Teamcenter, which is already being used by many Solid Edge users – including those in larger manufacturing companies and those with more complex processes, ST9 offers many new capabilities. A Teamcenter ribbon in Solid Edge consolidates data management commands in one location, speeding the learning curve for new users, and helping experienced users complete their tasks consistently and efficiently. And direct access to Teamcenter Active Workspace is now available through a window within Solid Edge – this modern and streamlined interface is popular with users who can intuitively browse the Teamcenter database and retrieve the specific data they need.
Teamcenter Active Workspace provides streamlined access to your data and runs within Solid Edge
Move to Solid Edge!
We make is easy for Solid Edge users to use data from other CAD systems – and this theme is expanded in ST9 with maintaining the associativity between SolidWorks models and drawings when they are imported. 2D symbols from Solid Edge drawings are now mapped to their equivalents in Autocad.And a new "Pack and Go" function enables you to package up the files for a complete design project. We also recently added annual subscriptions to the current monthly subscription option giving our users even more flexibility for how they license Solid Edge.
Check out the many ST9 demo videoson our Solid Edge ST9 web page and you will see that Solid Edge ST9 really is CAD on Cloud Nine!
This article first appeared on the Siemens Digital Industries Software blog at https://blogs.sw.siemens.com/solidedge/cad-on-cloud-nine-expanding-your-horizons-with-solid-edge-st9/