Bill McClure and Dan Staples in New Positions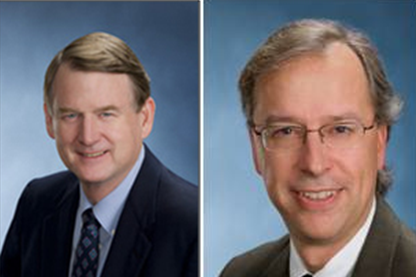 Mainstream Engineering, which includes Solid Edge, Femap, and CAM Express, has seen a shuffle at the top. Bill McClure has been the leader of this segment, but is now moving on to VP of Special Projects. Bill's tenure of nearly 30 years has seen a lot of changes in computers and in software. In this interview, he shares some of his involvement in some of these changes.
Bill's official Siemens PLM biography is attached at the end of this article.
Dan Staples is moving into Bill's old position, and Dan has a few words for us at the end as well.
Interview with Bill McClure:
Matt: How long have you been with the Solid Edge group, and how did you work up to the VP of Mainstream Engineering position?
Bill: I started my career in the CAD/CAM/CAE industry in 1985 when I joined Intergraph as developer for the mechanical software that was running on VAX mini-computers from DEC. Later I had responsibility for customer support and training, after which I became the VP for Mechanical Products at Intergraph. I was part of the management team that made the decision in 1993 to begin development of a Windows-based MCAD system, releasing the first version of Solid Edge in April 1996.
In 1995, we announced Solid Edge with the first public launch of the product. As the VP of Mechanical Products, I gave the opening presentation. We wanted to emphasize the message that this was a new generation of easy to use software. In the middle of my presentation, I gave the first public demo of Solid Edge.
Matt: Wow, that's exciting to hear – the first public demo of Solid Edge! The mid 90s were exciting times in CAD.
Describe the kinds of things that users would be able to relate to that you did as part of this position?
Bill: Before joining Intergraph, I worked for 12 years as a design engineer for packaging equipment and paper making equipment. My experience as an engineer has helped me develop a strategy and direction for the product that is focused on the mechanical designer and engineer.
Matt: It's good to know that the guys in charge have stood where our customers stand today. It helps keep the product relevant.
What is the project that you worked on during your time here that you think made the biggest difference for customers? Can you tell us the story of how it happened?
Bill: Move from ACIS to Parasolid
When we started the development of Solid Edge, we recognized that the solid modeling kernel was becoming a software component that would be licensed from a supplier that specialized in this technology. At that time, ACIS was the most well known solid modeling kernel and Parasolid was not yet on the market as a component. After the first release of Solid Edge, we were having enormous problems with blending, thin wall (shelling), and hidden line generation. Dan Staples and I soon realized that if we were going to be competitive in the mechanical CAD market we would have to replace ACIS.
I contacted the business manager for Parasolid at EDS (who owned Unigraphics at the time) and made arrangements to get a trial copy of the software. We were so paranoid about keeping this investigation secret only three people at Intergraph knew about it – Dan Staples, Jeff Walker, and me. We even rented an apartment in Huntsville. Each day Jeff would come to the office, and then quietly leave to go to the apartment to work on testing case in ACIS versus Parasolid. In a few weeks, the results of the testing were clear: Parasolid provided far superior performance and functionality.
Shortly after the test results were in, the Global VP for sales was in Huntsville for a review meeting. He was furious over all the problems we were having in Solid Edge with rounding and hidden line. After the Sales VP left, my boss asked if there was anything we could do to fix all these problems. I then told my boss about the secret project that Dan, Jeff and I had been working to replace ACIS with Parasolid.
We then had a meeting with Jim Meadlock, CEO of Intergraph, to present the plan to replace ACIS with Parasolid in Solid Edge. Jim suggested that if we were going to make a change this big, we should open a discussion with Unigraphics about a joint business strategy. This started the discussion that resulted in the acquisition by Unigraphics Solutions of the Mechanical Software division of Intergraph.
Matt: That's a lot of change all at once, and those changes have had a profound effect on the product and company even today.
What types of things will you be doing in "Strategic Projects"?
Bill: One of the strategic projects that I am involved with is our on-line project to offer Solid Edge for purchase on a monthly rental basis.
Matt: I hear you're working towards retirement. What are you looking forward to the most about retirement?
Bill: Right now, I am not sure what I want to do when I retire besides spending more time with my family. So, for the next few years I will still be around.
Dan Staples will be moving from his position as Director of Solid Edge Development to VP of Development for Mainstream Engineering
Interview with Dan Staples:
Matt: What are you most looking forward to in this new position?
Dan: There are two great opportunities for growth in this position. The first is being more involved in some of the business aspects of Solid Edge and working more closely with the field. The second is learning more about our FEMAP business. This is a super productive team with a great product. I think I can learn a lot from them.
Matt: You've been a very visible character around the Solid Edge Community. How will this new position change the amount of time you have available for that kind of activity?
Dan: I don't think this will change much at all. There are certain things I make time for – partly because its good business and partly because I enjoy them – and one of those things is engaging with users. The Solid Edge Community is a great place to make those connections and have interactions with real users with real problems. So I expect you'll see me in there often still. Plus, I have to read Matt's blog daily – there is always something good in there.
Please join me in wishing Bill and Dan the best of luck in their new positions.
This article first appeared on the Siemens Digital Industries Software blog at https://blogs.sw.siemens.com/solidedge/bill-mcclure-and-dan-staples-in-new-positions/