Products
A better way to manage engineering data and documents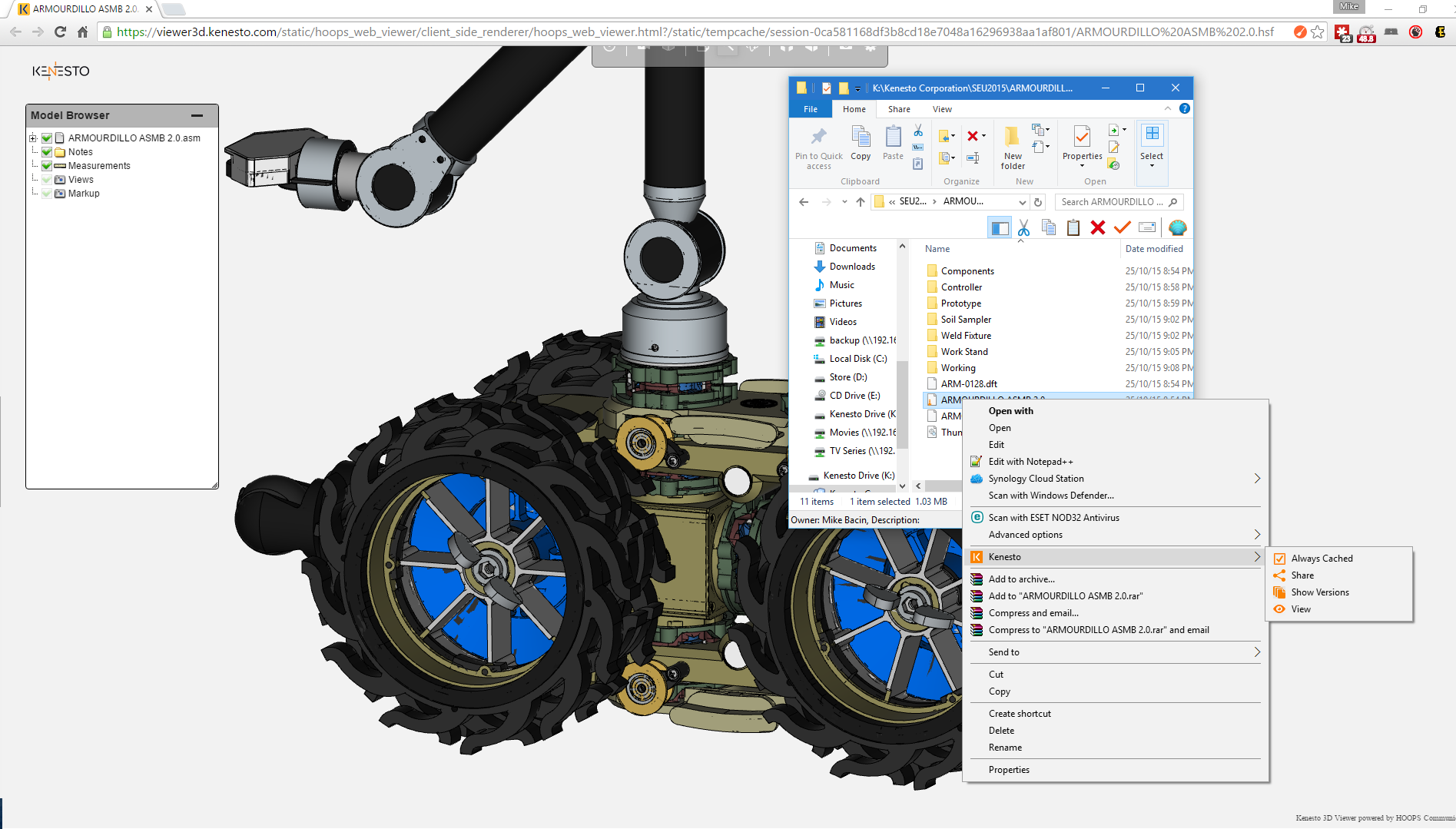 Since the computer revolution swept into engineering firms, they have been generating mountains of information that should be organized for easy access by their design teams that could be anywhere. Organization, however, has been a moving and often missed target. For instance, when need for particular data arises, questions often start with, "Where can I find…?" Frequent answers start with, "Have you looked in…?" Such searches are not the best use of time for teams on tight schedules.
Home-grown solutions to the problems have included consumer products such as Dropbox or FTP sites. They provide versioning, but as there is no master copy and changes can be over written so out-of-date designs could be assumed to be up-to-date. And PLM systems, while possibly more useful, are expensive and time consuming to install – a year or more in some cases – and have more features than most teams need.
A better idea
The developers at Kenesto think their cloud-based system offers a solution to the problem of organizing, sharing, and leveling those mountains. The company is a Siemens PLM partner but CAD agnostic, according to Leslie Minasian, a CAD industry veteran and vice-president of Partnerships and Alliances. She says the system capability sits between consumer file sharing products such as Dropbox, and more costly PLM systems.
Kenesto brings a range of organization capability that promises to significantly cut the time engineers spend storing and retrieving the right document. In a nutshell, the system manages engineering and design changes on over 250 file formats, distributes quotes and bids, provides collaboration with partners, and more.
The Kenesto vault secures design data, and with permission, shares with others.
The cloud brings advantages, too. For one, it lets engineering teams easily access and view from any location. Access to the documents depends on permission levels, which are easily set by an administrator. Users also share workspaces, workflows, and forms. The cloud also enhances security. "It stores master documents and revisions while local drives only work with instances of a design. This arrangement provides a security feature. Should someone steal an engineers' laptop – it happens – unlocking it does not provide access to sensitive information because a call to Kenesto locks its documents," says Minasian. What's more, the cloud takes storage problems out of the equation.
A few notable features
There is more than cloud storage. Minasian says Kenesto is designed with engineers in mind. Major overarching features include data management, version control, and scalability. The Kenesto Drive offers the familiar look and feel of Windows Explorer, it is a virtual LAN drive service. It enables users to treat the cloud storage as though it were on their own computer.
Engineering design management –The system is a design repository for all facets of a process, from early concept to release. Users would manage versions and release processes in a dynamic, ad-hoc manner, or take advantage of Kenesto's vaulting, automatic file updates (desktop to cloud and vice versa), tasks and workflows for better efficiency and design management audit trails. Minasian says the system gives greater control over change processes and more visibility into changes as they happen. "Kenesto stores only one version of the truth—the CAD file as it currently stands."
Version tracking – This can be an issue currently with off-the-shelf consumer cloud storage solutions. Without version tracking, users can access an out-of-date files and have many opportunities to overwrite earlier edits. Minasian tells of a medical company that shared and worked on an out-of-date CAD document after a department manager left the company. The mistake was eventually caught and corrected, but not without substantial expenses. Minasian says Kenesto assures that teams work on the latest version of the CAD file available to them.
Scalability – Kenesto addresses this issue with two versions of their software. And get this: The entry level version is free for sharing and collaboration. There are no implementation costs. But how long does the free capability take to implement? "How fast can you type?" asks Minasian, implying a simple and straight forward process. A few features in the entry level include 2 GB of storage per user, exclusive access when editing, and the ability to append conversation and chats to documents. (You can sign-up for Kenesto Free here).
Kenesto Pro, a step up, provides more, such as unlimited storage. Plus, it can be used for design collaboration alongside a company's existing PDM and PLM systems. A team can use Kenesto Pro for design management, requesting quotes, managing changes, creating and sharing bills of material, and to share designs with suppliers, partners, and customers.
This blog post was written in conjunction with Design World and our software partner Kenesto, and is the final post in a series of three. You can also read about the data management challenges faced by manufacturing companies and a case study of applying cloud based document management.
This article first appeared on the Siemens Digital Industries Software blog at https://blogs.sw.siemens.com/solidedge/a-better-way-to-manage-engineering-data-and-documents/