Products
Siemens LMS News – The engineering publication about simulation and testing solutions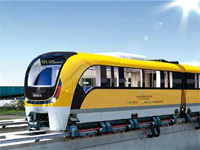 Like you, we know that the world of engineering is pretty darn exciting and that our customers make some amazing machines. But the process of getting there is complex, highly detailed and honestly, not your everyday news. What other publication could mention boom arms, pendulum suspension, multi-body model, FE model, modal analysis, instrumented impact hammer, response vibrations, and experimental test and simulated FE modal analysis in the same short paragraph.
Needless to say, we write about the results of all your hard work and innovative thinking, which is why we're please to announce that the latest edition of Siemens LMS News is now available online: read the LMS News.
A bit of history
Some of you might remember receiving previous issues via old-fashioned snail mail. The publication originated in 1999 as a newsletter highlighting cutting-edge customer stories. Over the years, we covered tons of cool topics, like:
How do you fly the Airbus A350 before you build it?
How do you tackle non-linear simulation when designing a Picanol weaving loom?
What happens to all that NVH and testing data when two automotive giants like Fiat and Chrysler merge?
And how do the Germans at Daimler keep on engineering practically perfect cars, like the Mercedes-S-Class coupe?
The magazine itself was redesigned in 2007 as a quarterly publication. At its peak, LMS News reached an annual worldwide readership of over 200,000 including English, Japanese, Chinese and Russian versions. Today, in the digital age, we no longer print that many, of course.
Something for everyone
Redesigned again in 2014 as a tri-annual Siemens publication, LMS News always has something for everyone, including original customer stories, new applications, and topics close to our hearts like the World Solar Challenge or the latest in space industry engineering. And rest assured dear reader, we will continue to talk about the behind-the-scenes technology, new product developments and the bigger innovation picture in future issues of LMS News.
Read the latest LMS News issue about engineering amazing machines, right now:
Access the LMS News directly from our website.
And, if you have any questions, comments or ideas, just drop me a note. I am always happy to hear about what is happening in the field, so to speak.
Jennifer Schlegel
Editor-in-Chief
Siemens LMS News
This article first appeared on the Siemens Digital Industries Software blog at https://blogs.sw.siemens.com/simcenter/siemens-lms-news-the-engineering-publication-about-simulation-and-testing-solutions/