Researcher of the month: Cédric Lequesne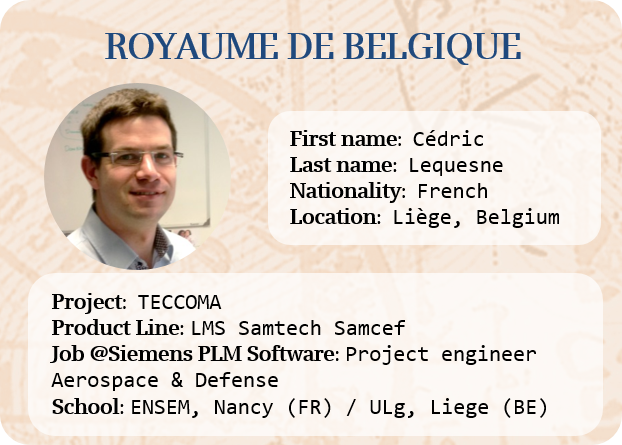 What you probably don't know is that we're involved in a variety of international research programs around the globe – everything from safer, quieter and more efficient airplanes to electronic vehicle research. It is something we've been doing for years and it is a great way to incubate new concepts and ideas that later transform into market-ready products. It is an amazing place for young researchers and grad students to really push their limits in a business environment.
How did you end up at Siemens?
Right after my studies at ENSEM in Nancy, France, I started a PhD about linear FEM. I implemented new methods and really loved it. I wanted to extend my work in this field. Since LMS Samtech was specialized in this field, it was an exciting opportunity for me. I applied, and got the job. Right about this time, the company was acquired by LMS International and then LMS was acquired by Siemens.)
What is your project about?
I work on the TECCOMA project. Basically, we work on composite manufacturing. As you may know, the aerospace industry is looking to reduce the amount of metal, and replace it with composites, as it is lighter and has interesting properties. The problem with composites is that its production is tricky, and takes time.
To cut a long story short, the goal of the project is to improve the manufacturing processes. One may wonder how simulation is involved, so maybe it is best to explain the whole project process in 3 parts:
Manufacturing defects: There are many manual steps in the manufacturing of composite materials, leading to frequent manufacturing defects. As our clients say, we can't avoid it, so we have to live with it. We then have to assess the defects: we either have to destroy the whole part, or fix the defect, or neglect it. In order to assess this situation, our clients use simulation. We use LMS Samtech Samcef to simulate the structural impact of composite defects.
Learn more about LMS Samtech Samcef Composites.
Curing: During the manufacturing process, some stress appears in the material due to its dilatation during the curing. Therefore, when we take out the part from the shell, some residual strains can develop. The goal is to add a numerical tool to the LMS Samtech Samcef solution to estimate the residual stress and strains during the curing process.
Non-destructive tests: if a part has defects, we must detect it without breaking the whole item. Currently, the industry uses lasers or sound waves. The problem with those techniques is that they won't give us the depth of the defect into the part. So we are adding an innovative numerical tool to the solution LMS Samcef solution to simulate the positions of the defects, and match the results with the actual behavior of the part.
Why did you choose this area?
When I was at school, I've always been driven by Research & Development. In college, I studied mechanical engineering and I loved the structures field! During my PhD, I worked on behavior laws of materials, and I continue to specialize in this area at Siemens. I focused on composite materials and the aeronautics industry, which are areas that I'm really interested in!
What is the craziest thing you have ever done as an engineer?
I wouldn't say that there's something literally 'crazy' in an engineer's daily job. However, it's very exciting, as you develop and create technologies, from scratch, and you know that it will really impact the industry.
What is the best thing about your research project?
Well, I know that my product will solve one of today's major problems for companies. Moreover, composite materials are very trendy today, especially in aerospace. Therefore, working on techniques that could improve its manufacturing is really cool! Another great aspect is that at Siemens PLM Software, we develop solutions that make academic research available to the industry. We also provide universities with feedback about the current market needs.
What is the worst thing?
What's boring, when you are a project manager, is the whole administrative part, but well, it has to be done to ensure the project's continuation. In addition to that, the project is still at its very early phase, the curing part started about one year ago, and the defects part started this year. I'm asked to follow all tasks and it gets tricky sometimes.
Do you think your work will really make a difference?
The project makes the product evolve, and it really helps our clients. It improves their production time, and avoids wasting parts that are often usable. With our tool, clients will be able to improve their parts and their manufacturing process, so definitely, we feel like we have made a real impact.
25 years from now, there will be:
We could project lots of things. Who knows? Maybe composite materials will be outdated, and replaced by additive manufacturing (3D printing) techniques. We'll go more and more into precision engineering, and maybe someday we'll be able to link 3D printing with composite materials. Some research already points in this direction.
What would you do differently, if you could?
Nothing, I'm happy with all my choices so far. I think no one should ever regret what he or she does as long as it has a positive impact in the long term.
If you weren't an engineer, what would you be?
Without hesitation, I would have gone into cooking! I love that, and it's my second passion after composite materials! I could totally see myself as a chef.
Will engineering change the world?
The engineer's mission is to solve problems on a daily basis. It's hard for one engineer, alone, to pretend to be changing the world. But seen as a larger picture, then yes, engineering does change the world. Every day, we contribute to a larger plan. For instance, my project will allow industries to improve their production process: it could bring better efficiency to planes, and impact directly the way people are travelling.
This article first appeared on the Siemens Digital Industries Software blog at https://blogs.sw.siemens.com/simcenter/researcher-of-the-month-cedric-lequesne/