MLMM: the new modal parameter estimator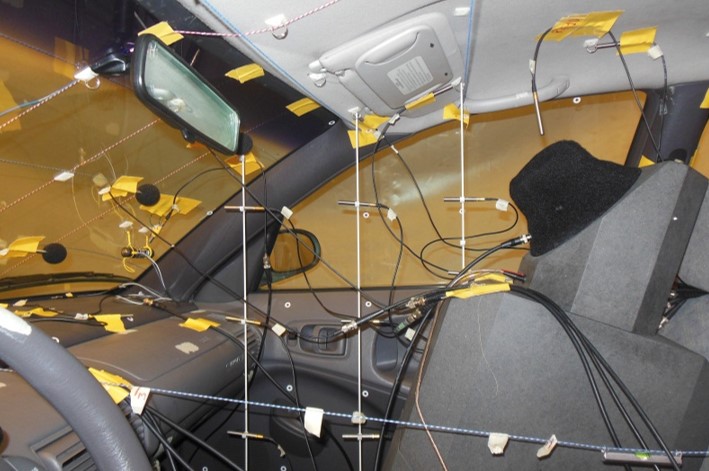 The acronym may be difficult to pronounce, the technology is actually easy to use. MLMM stands for Maximum Likelihood estimation of the Modal Model. It represents the latest advance in the field of modal analysis, a modal parameter estimation tool that simplifies and speeds up complex testing scenarios.
Modal analysis has gone a long way since the eighties. The ultimate goal of the science is simple: identify the dynamic characteristics of systems in order to exclude problematic conditions in use. It's about that footbridge that should not collapse even when trampled on by hundreds of tourists. And about that windmill that should withstand all wind forces, gentle or strong.
Modal analysis is relevant to almost all aspects of engineering: for the civil engineer who mitigates the risks of building in an earthquake-prone area as much as for the mechanical engineer who minimizes vibration levels of modern washing machines. Yes, modal analysis is definitely useful – but it can be complex as well.
Since the eighties, Siemens Simcenter has consistently sought ways to improve and ease modal analysis. It started in the early days with the introduction of a stabilization diagram, the first release of an integrated hardware and software solution for noise and vibration issues, and the first ground vibration test (GVT).
In the 2000s, the structural dynamics testing team introduced Polymax, which quickly became the reference method for user-friendly and industrial modal analysis. Polymax revolutionized the process, by offering an easier way to identify modal parameters. Several years later, Polymax Plus was added to the portfolio to help handle situations with a lot of noise in the data.
Sometimes, all it takes is a nice stabilization diagram
With all those innovations, modal analysis has become standard practice in many engineering companies. It helps solve most noise and vibration issues. Most. In complex testing scenarios, for example with heavily-damped systems, characterizing the modal parameters remains a tough challenge. A challenge that our Siemens engineers were happy to take up. They developed the MLMM, a solver that iteratively identifies the parameters of a modal model.
Perform advanced acoustic modal analysis with MLMM
For heavily-damped structures, acoustic cavities or trimmed-body systems, MLMM increases the accuracy of the modal model by up to 15%. Which is not only great news for the test engineers, but also for their colleagues from CAE departments, who get reliable data to improve the quality of their models.
Interested? For a quick overview of what MLMM is all about, read the article here. Are you eager to get more details about the solution? Download the PDF file of our solution brief. Or learn all about it in this knowledge base article.
Read more about space testing here.
This article first appeared on the Siemens Digital Industries Software blog at https://blogs.sw.siemens.com/simcenter/mlmm-a-new-modal-parameter-estimator/