Laminate Composites: Rise to the Engineering Challenge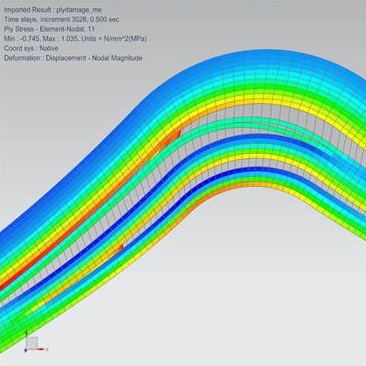 Laminate composites aren't just for the aerospace industry anymore. As demands for more fuel efficient products increase, more manufacturers are turning to composites as a lightweight yet strong alternative to metal.
Many industries face tremendous competitive pressures—and government mandates—to save fuel. It's easy to think of examples with airlines or the automotive industry, but even commercial appliances are affected. Think of the energy star rating on your dishwasher or washing machine.
So why turn to laminate composites? They're lighter than metal, and when it comes to fuel economy, weight is king. Sure, there are other factors, but just look at the numbers: A 10% decrease in weight increases the typical vehicle's fuel economy by 4%. That's pretty significant when you consider the increase that will result from halving a vehicle's weight.
The switch from metallic parts to laminate composites is not always so straightforward though. Composite materials made from fiber-reinforced polymers behave much differently than traditional metallic parts.
Metal can crack, and these failures are easy to find, as most cracks form on the part's surface or exterior. Engineers have been assessing the life of metallic parts for years.
Laminate composites, on the other hand, pose a unique challenge. A typical composite consists of multiple layers called plies that are laminated or "glued" together. Each layer has fibers oriented in a different direction to increase the material's strength.
This construction causes damage to the laminate composites to occur inside where it is not easily observed. Layers delaminate, or come apart inside. Material plies can also be damaged. Failures or cracks to the laminate composites are between layers and thus not easily noticed with a visual inspection.
That's where analysis and simulation come in. You can easily predict and study failures to laminate composites with the new changes in NX 10. First, you must build the analysis model. A seamless connection to FIBERSIM lets you define composite data fast.
Now comes time to solve your laminate composite analysis model. You can calculate fatigue life and damage of laminate composites under various loading scenarios in NX Nastran with the integrated SAMCEF solver. For post processing, NX enables you to identify the critical element and ply over many solutions.
We've talked about some use cases where laminate composites replace metallic parts such as airplanes or cars, but what about baseball? Composite bats have been in use since the 1980s. While Major League Baseball (MLB) permits use only of wooden bats, the National Collegiate Athletic Association (NCAA) and other sports leagues allow bats of other materials as well.
A recent NX CAE seminar at the University of Massachusetts Lowell afforded attendees the chance to tour the university's engineering school, including the Baseball Research Center that certifies all bats used in the MLB and NCAA.
Wooden bats can be "juiced" by lowering their natural frequency. It's illegal due to the unfair advantage it gives the player. The lower natural frequency resonance transfers more power to the ball during a hit and allows it to travel farther.
Composite bats pose a unique challenge in this respect. One simply has to damage the internal plies and lamination to get the same effect. Since the damage occurs inside the bat, it can be impossible to tell just from sight alone that the bat was altered.
Baseball bat manufacturers face a big challenge as a result. They must make damage resistant composite bats to prevent them from being juiced.
Interested in hearing more? Check out the on demand webinar NX Laminate Composites.
For those of you near Los Angeles, California, there will be a free seminar on laminate composites and other NX CAE capabilities on Tuesday, April 14th in Cypress. Register to attend today!
This article first appeared on the Siemens Digital Industries Software blog at https://blogs.sw.siemens.com/simcenter/laminate-composites-rise-to-the-engineering-challenge/