Femap Symposia Series 2016 goes to Solihull, UK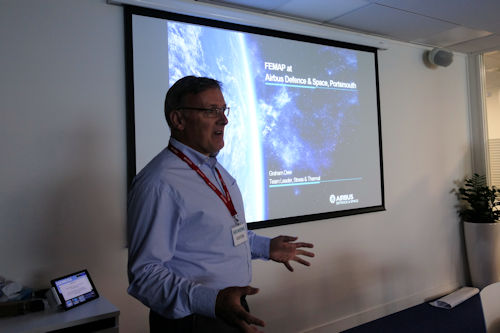 On May 25th the Femap Symposia Series 2016 crossed the pond and staged a user event at the Siemens PLM Software offices in Solihull, UK. The event was well attended, both for the main track, that included an overview of the new capabilities in the recent release of Femap – version 11.3 – as well as an in-depth review of Femap's postprocessing capabilities, and a side breakout track for new user training.

After lunch the event continued with customer presentations from Far-UK and Axon Automotive, and Airbus Defence and Space that provided interesting insights into the usage of Femap in the two diverse industries. Later in the afternoon, two Femap app creators – Plysim and SDC Verifier – gave an overview of their respective Femap plug-in products.
Andy Haines of Siemens PLM Software presents What's New in Femap 11.3 and Femap Postprocessing Tools.
Kevin Lindsay of Far-UK and Axon Automotive presents modeling and simulation in Femap.
Graham Dew of Airbus Defence and Space presents usage of Femap at the Airbus facility in Portsmouth, UK.
Malcolm Wadia of Femply talks about the Plysim composite modeling and postprocessing Femap add-on product.
Wouter van den Bos of SDC Verifier talks about the SDC Verifier Femap add-on product.

Check out these and other apps on the Femap Apps page.

All in all it was a great event – thanks to all of our presenters and participating channel partners Team Engineering, Majenta PLM and Prion Cutting Edge for helping to make it such a success!

In case you've missed these events this year, there is one more event in the Femap Symposium Series 2016 line up in Cypress, CA on September 13th – register now!
This article first appeared on the Siemens Digital Industries Software blog at https://blogs.sw.siemens.com/simcenter/femap-symposia-series-2016-goes-to-solihull-uk/