Products
Femap 12: preview of newly supported solver capabilities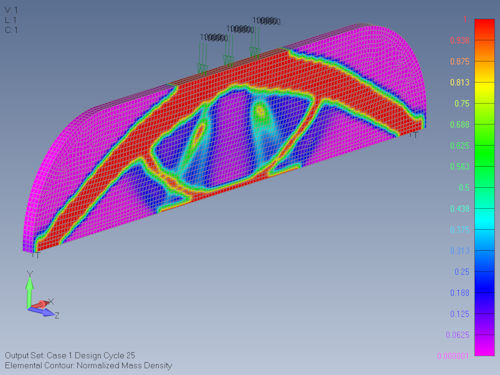 The new release of Femap – version 12 – is coming up soon, so let's take a look at the new solver updates included in the release. Version 12 will include support for multi-step nonlinear solutions, a new topology optimization capability, extensions to design optimization, as well as numerous enhancements to the ANSYS solver interface.

The multi-step nonlinear solutions include SOLs 401 and 402 which allow a more flexible subcase-based approach to analysis control. SOL 402 is the multi-step solver with kinematics which has similar workflows and combines the advantages of solution sequences 401 and 601.
The design optimization solution sequence, SOL 200, has been updated to enhance ease of use and extend support for NX Nastran optimization capabilities. In addition, a new topology optimization solution has been added to SOL 200. Note however, the topology optimization capability is intended to be for preview only in this release… so try it out and let us know what you think!

Watch the video below to find out more about postprocessing enhancements in Femap version 12.

Stay tuned! We'll be outlining more new features and capabilities of Femap version 12 as we run up to the release.
This article first appeared on the Siemens Digital Industries Software blog at https://blogs.sw.siemens.com/simcenter/femap-12-preview-of-newly-supported-solver-capabilities/