Durability is a top priority for heavy machine makers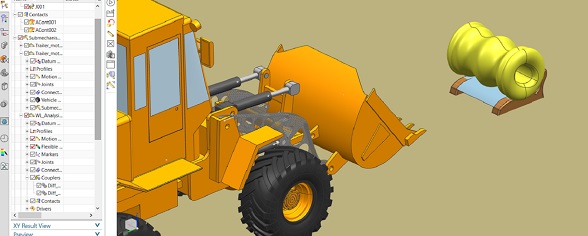 Heavy equipment is a considerable investment. An excavator costs as much as a family home and even a small backhoe still, match the cost of a luxury car! An investment like this needs to be one that operators can rely on. Mechanical parts must be able to sustain many mission cycles and potentially unforeseen events, operating on a particularly challenging site or stretching the boundaries within which they were designed. Engineers designing this equipment, therefore, are seeking to guarantee sufficient operating-life. They also must ensure where possible the vehicle remains safe from damage that can accumulate over the many duty cycles. Consider the repetitive loads acting on the machine – such as the weight lifted and vibrations from maneuvering on rough terrain – challenging conditions!
Excavators can weigh up to 900 tons with a bucket load up to 80tons for the most extreme mining applications, carrying these loads whilst often subjected to vibrations from maneuvers on inclines or uneven ground. This combination of loads and dynamics imposes significant mechanical forces/moments on the machine's components. Consequently, identifying weak spots in the structure during the machine design ensures maximum resilience; durability is a top priority for machine makers.
Pinpoint potential weak spots
The engineering process typically involves different domains such as design, systems and mechanical engineering. Based on the initial CAD structure, finite element analysis (FEA) is performed. In order to refine the design and derive realistic operational loads, multi-body simulations of the entire machine are conducted. Finally, based on these loads, fatigue analyses certify the final design.
Access a step by step demonstration
To learn more about all those engineering process steps, we offer you two options:
First, is to watch the webinar Simulating heavy equipment durability . In that video Sebastian Flock demonstrates the simulation process to engineer structural components for Heavy Equipment machinery. He explains the workflow starting with pre-processing via multi-body simulation for realistic loads up to advanced durability studies, all integrated into one engineering platform.
Second, is to read the complete article How to – Predict realistic operational loads and assess fatigue life. Released in our last edition of Engineer innovation Magazine.
more about Simcenter portfolio for Durability : watch the video Heavy equipment | Structural Integrity & Durability  and learn about testing solutions for the same topic with that webinar Increase your durability engineering insight by deploying measurement campaigns in extreme environments
This article first appeared on the Siemens Digital Industries Software blog at https://blogs.sw.siemens.com/simcenter/durability-is-a-top-priority-for-heavy-machine-makers/