Products
Polarion Positioned 'Challenger' in Gartner's Latest ADLM Magic Quadrant
As every year, we recently conducted our annual KickOff Conference for Employees, Partners and Key Customers, where we celebrated our annual General Availability (GA) release of the latest rendition of our solutions suite.
We are all excited about the latest release, especially in light of just having closed yet another "Best Year Yet" with 50% growth year-over-year, which puts us in a great position to further accelerate our growth with new market-leading functionality and market-expanding partnerships this year.
Where other companies in our space have become stagnant, we have continued to succeed, in part thanks to our core belief that tomorrow's leading companies will succeed not by battling competitors, but rather by creating "blue oceans" of uncontested market space ripe for growth.
In hindsight it is very interesting to note that in 2005, the same year we released our first ALM software, a revolutionary book was published called "Blue Ocean Strategy". Just like Polarion, the book remains an amazing success. In fact, the global bestseller has sold 3.5 million copies, and has been embraced by organizations and industries worldwide.
It makes the case, based on a study of 150 strategic moves (spanning more than 100 years across 30 industries), that cutthroat competition results in nothing but a "bloody red ocean" of rivals fighting over a shrinking profit pool, and that lasting success comes not from battling competitors but from creating "blue oceans" – untapped new market spaces ripe for growth.
Polarion's Guiding Principles further build on the core tenets of the book:



We are a Product Company – Our attention is geared toward making our solution useful, usable, and enjoyable.


We are 100% Web Centric– The web is the platform for our solutions, sales, marketing and services initiatives.


We support Enterprise-grade Customers–our customers are enterprises of any size that deliver world-class offerings themselves, and meet compliance, regulations, guidelines and quality standards every day.


We are committed to Uncompromising Customer Satisfaction–Customers can have a great solutionright out of the box, with a short learning curve and pro-active customer services, chosen to easily configure workflows for their specific needs, or expand on our solution with sophisticated customizations and partner integrations.


These principles, combined with our steadfast adherence to the "Blue Ocean Strategy," have served us well and are now setting us up for an even better future, especially given the emergence of another phenomenon that has taken hold over the last couple of years:
"Change has become the NEW NORM"
. Indeed, our customers, partners, and we ourselves experience this new norm of increasing change every day. The good news is that we are well prepared.
In fact, Gartner positioned Polarion to the "Challengers" quadrant in their Application Development Life Cycle Management Magic Quadrant, recognizing our momentum, feature enhancements, and usability improvements. In the just published 2015 rendition, Gartner recognizes Polarion's completeness of vision and ability to execute.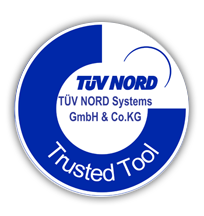 We feel honored, as we believe it confirms our focus on delivering a single, unified product that offers flexible workflow and supports large distributed teams with a strong model for traceability, simplifying reporting. We also feel justified in our approach to delivering strong integration capabilities for round-trip requirements to Microsoft Word, which enables users outside the system to participate in the review-and-acceptance process, and overcomes a traditional barrier to requirements management tool adoption. And, we continue to be proud of the proven value we provide to our customers through our TüV certification, which is to our knowledge still unique in our industry, plus our support for ISO and FDA standards.
We believe our positioning is particularly remarkable due to the fact that per the Market Overview section in the Magic Quadrant, "Gartner has chosen to emphasize the agile and DevOps portion of this market to reflect the changing practices of most of our clients. This emphasis has moved several of the vendors that focus on traditional development, system development or limited portions of the SDLC."
In other words, we have been named to the Challengers Quadrant despite the horizontally focused evaluation process. In terms of cautions, there is little in the way of downside for us in the report.
Yes, a product with our breadth and flexibility is going to have a learning curve and certainly it's a legitimate question. But, when we ask our users they tend have a different perspective, especially those that have also been exposed to equivalent alternatives. In the end, we believe that the best way to judge usability is to convey what actual customers tell us:

"In comparison to other systems, working with Polarion ALM is a walk in the park."
– Phillippe Meuli, Swisslog
"It convinced us with its fast installation and implementation, and the ease of use in our day-to-day work. With Polarion we achieved transparency on all levels of development and we got fast acceptance in the teams."
– Andreas Deuter, Phoenix Contact Electronics
"During the implementation phase, the ease of use and ease of administration were extremely helpful. These strengths netted us a very high user acceptance from the start, and enabled us to migrate our users faster than initially planned."
– Werner Motzet, WaveLight (Alcon Group)
The above quotes are representative of the consistent feedback we get from our customer base. Of course, there is some adjustment, but most customers say they have not experienced any serious obstacle to adoption, but rather the opposite. Once users are familiar with the new tool, they often prefer the streamlined elegance of our user interface to the bloated UI of Microsoft Office applications, not to mention the limitations of these and competing tools in addressing key use cases.
Siemens Product Manager for PLM Software, Pascal Vera, furthers this notion: "We are pleased to see that our partner Polarion progressed from Visionaries to Challengers in Gartner ADLM MQ 2015, showing increased recognition from analysts in a highly competitive market. This gives even more confidence in the ability that we will have together to provide unparalleled solutions to our customers in the Systems Engineering market, our common key target space."
Going forward, the following aspects will be critical for Polarion to succeed in the age of ever accelerating change.



We understand the urgency of the need to change and adjust from a flexible startup to a scalable yet still innovative company that delivers on the power of its vision




We have built the corporate structure and collaborative, transparent environment that is needed to help us succeed, and hold steadfast to our vision to "deliver a unique customer experience out of the box, with a short learning curve and pro-active customer services," plus adjust to ever accelerating change and growing opportunities in our company life cycle by adjusting to a flexible, yet scalable model.


To find out more about the power of our unified solution, and how it can help you become more successful, join the upcoming webinar with Jiri Walek, our VP Product Management on May 21, 2015!
---
Gartner does not endorse any vendor, product or service depicted in its research publications, and does not advise technology users to select only those vendors with the highest ratings or other designation. Gartner research publications consist of the opinions of Gartner's research organization and should not be construed as statements of fact. Gartner disclaims all warranties, expressed or implied, with respect to this research, including any warranties of merchantability or fitness for a particular purpose
This article first appeared on the Siemens Digital Industries Software blog at https://blogs.sw.siemens.com/polarion/polarion-positioned-challenger-in-gartners-latest-adlm-magic-quadrant/