Products
Not sure whether PALM is real? Check out this new Audi.
When we talk about the convergence of Application Lifecycle Management (ALM) and Product Lifecycle Management (PLM) – we call it "PALM" – you might wonder if it's just another buzzword. Maybe, but we think not. And if this slick new design from Audi is any indication, it would seem that PALM is not only a reality now, but a wave that's just starting to build.
Audi has built a high-tech virtual cockpit into it's third-generation TT model, according to a recent article in the Tech section of The Guardian. While the sleek exterior is what attracts the eye of potential customers, the eye-opening change Audi has made is replacing traditional hardware with software:

"Audi has dragged the car out of the analogue world, doing away with the traditional line up of fixed needles, gauges and dials that sit in front of the driver. Instead information like the car's speed, fuel level and revolutions per minute is beamed from a high resolution LCD screen to create a customisable virtual cockpit." –

www.theguardian.com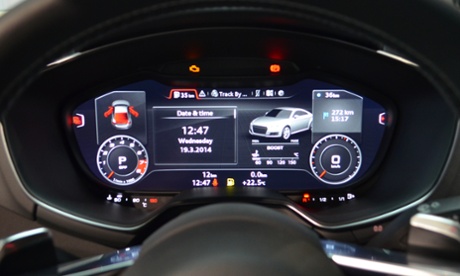 Photo: Samuel Gibbs/The Guardian
We can only speculate about the number of requirements to design this software, the lines of code to implement it, the amount of manual and automated software testing, levels of regulatory compliance, and the complexity of the development process. It cannot have been trivial. But one thing is certain: here is a
classic example of PALM
– the convergence of ALM and PLM.
If you think it might be time for you to start learning more about PALM – what it is and why it's important – Polarion Software has put together some handy (and free) resources to help you get a quick grip on the basics. I encourage you to take advantage of them.

Download Free Info on "PALM"

Also available as free, on-demand webinars:
This article first appeared on the Siemens Digital Industries Software blog at https://blogs.sw.siemens.com/polarion/not-sure-whether-palm-is-real-check-out-this-new-audi/