Medical Device Design Control Complexities in Evolving Market
The wearable market is expanding quickly, and it's no longer just consumers jumping into the surging market.Growing curiosity in the healthcare and medical sector has generated new interest in creating software and solutions that collect a large amount of data.
Medical Wearables: Only The Beginning
As more companies begin to test wearable technology able to capture personal medical information, there are legal and ethical questions in relation to regulations on compliance.
***UPDATE*** – New banner now redirects to the on-demand webinar.
The Food and Drug Administration (FDA) has largely taken a hands-off approach to consumer wearables, but that's not the case when it comes to medical wearable compliance.Instead, the FDA's Medical Device division will take a closer look at wearables, even in the consumer space – better preparing for the future.
There are questions regarding how medical data is collected, what information is tracked, disclosure restrictions, and how the medical information is utilized – all serious question marks in a fast-paced market.Of course, there could be greater concern regarding medical patients using a device to self-diagnose and try to treat their own medical conditions – imagine if a wearer attempts to use data from blood glucose levels to guess how much insulin must be injected.
We co-hosted a webinar with Siemens in early November: "Cyberattack risks to avoid when developing a medical device." Please click the following banner to view an on-demand recording.
Does a device provide just the glucose level, or will it offer instructions on followup procedures. It's just one of the latest concerns in a market that seemingly undergoes new changes on a weekly basis.
Those talking points join how the data is managed, disclosed and protected from unauthorized access.As wearable sensors become significantly less intrusive, and more comfortable to wear for longer durations, there are great opportunities for pharmaceutical companies to jump on the bandwagon during testing.
Real Development Solutions
http://www.polarion.com/products/alm/?utm_campaign=Blog-2015-Q3%2FQ4&utm_source=Blog customers benefit by using a document creation and management tool that monitors ideas and concepts – available to any department in your company – across lifecycles and projects.Polarion provides a software platform that models process relationships and outputs a multidimensional, live-linked relational database solution.
This type of transparency allows for easier accountability, just in case there are issues related to compliance with federal registers or manufacturing processes.However, that doesn't mean wearable manufacturers and software designers can have a lackadaisical approach to creating their solutions – especially in the medical market.
Recently, there has been increased interest in biopharmaceutical companies using fitness trackers and other wearables as part of ongoing drug trials and medical research.Using wearables allows program directors to more closely monitor a patient's medical data, providing accurate results in addition to traditional survey questionnaires for program participants.
It's an exciting time in the medical and wearable industries, but with so many unanswered questions, ensuring proper government-mandated protocols are followed.
---
To learn more: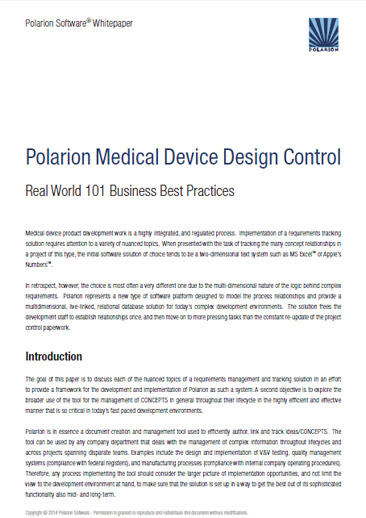 This article first appeared on the Siemens Digital Industries Software blog at https://blogs.sw.siemens.com/polarion/medical-device-design-control-complexities-in-evolving-market/