Products
Korean Developers Introduced to Polarion At MDS Automotive Technical Conference
In September, 2014 Polarion's South Korean partner MDS Technology introduced Polarion's Automotive Solution and application lifecycle management product line to a larger group of developers and project managers working the the Korean automotive industry.
According to Sungwan Kim, team manager in the company's Systems Engineering SolutionsDivision:
"On September 18 we held our 'Technical Conference for Automotive- in Dae-Gu city, the second largest area in Korea's automotive market. More than 100 people are attended my presentation 'Effective ways to build an ALM system with Polarion ALM', which was very well received and generated quite some interest (in Polarion)."
It's exciting for us as a company to see this kind of international reach happening. People in the entire automotive industry globally are well aware of the record numbers of devastatingly costly product recalls, mostly due to software failures brought on not only by market pressures, but by a major paradigm shift in product development, where a unified approach across software and product development is urgently needed, but has largely not happened. We're also pleased to know that our partners around the world are working to get the word out to the automotive industry that Polarion's solution can already deliver the kind of unified approach that is so badly needed today.
You can find out more in the free Whitepaper below. On your way there, here are a couple of snaps from the Korean conference:
Polarion partner MDS Technologies presents Polarion's solution to attendees from the Korean automotive industry
Attendees discuss Polarion with a MDS Technology representative following the presentation
---
DOWNLOAD FREE WHITEPAPER: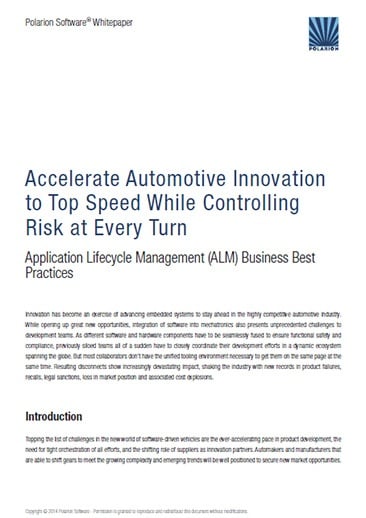 Accelerate Automotive Innovation to Top Speed While Controlling Risk at Every Turn –
Real World 101 Business Best Practices for Effective Application Lifecycle Management (ALM)
This article first appeared on the Siemens Digital Industries Software blog at https://blogs.sw.siemens.com/polarion/korean-developers-introduced-to-polarion-at-mds-automotive-technical-conference/