Podcasts
Revitalizing Quality Culture with Best-in-Class Solutions
One of the most impactful steps that manufacturers can take to set themselves apart is by making closed loop quality management a priority in every process related to the product. Failure to do this can lead to costly recalls and loss of market share to competitors who might be perceived as having superior products. These risks drive many companies to adopt a quality culture that crosses all departments that are involved in the manufacturing process.
Digital Transformation for Quality Management
The Digital Transformation for Quality Management is a 5-episodes mini-series podcast, part of Where Today Meets Tomorrow, which will focus on the value of quality management in the digital era and what to expect in the future.
In this third episode Bettina Pruemper is joined by Katrin Leyh, who is Business Development Manager of overall Quality Management Software at Siemens Digital Industries Software. She will explain the closed-loop QMS approach to quality and the benefits that it offers manufacturers. She will also provide a deep dive about the different areas that are impacted by the introduction of quality culture in the production process.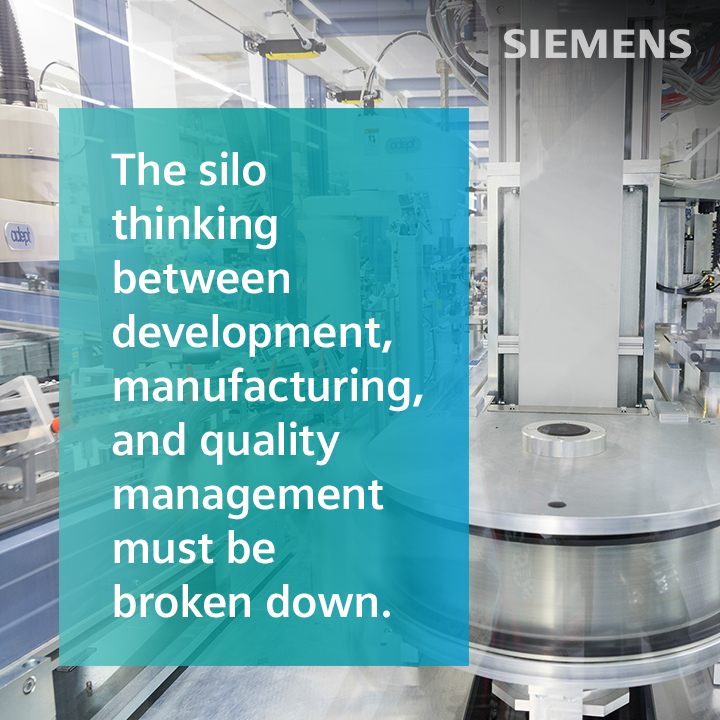 Benefits of The Closed-Loop Quality Approach
In this episode, you will learn:
Challenges faced by companies implementing quality culture (02:49)
How companies need to approach quality management (04:07)
What closed-loop quality entails (05:39)
How to solve quality issues arising during the production process (09:19)
In case you missed the first episode, go back and listen to it!
In case you missed the second episode, go back and listen to it!
Stay tuned for the next episode on January 31st!
Connect with Bettina Pruemper:
If you are interested in Quality Management topics, you might also check:
[00:11] Bettina Pruemper: Welcome to Where Today Meets Tomorrow. I'm Bettina Pruemper, and I'm your host with Siemens Global Marketing. I present a special podcast miniseries about "Digital Transformation for Quality Management", which is part of Where Today Meets Tomorrow. We will pivot on how to realize innovation in our smart era with focus on quality management. In today's session, we will talk about revitalizing quality culture with best-in-class solutions. We will discuss how to deploy our quality vision in the manufacturing context. But before we get started, let's recap the last episode about quality. We talked about the value and drivers for quality culture and quality management in the context of the digital era. We learned about the importance of cultural mindset change, and the role quality must play throughout the entire product lifecycle. If you missed it, I urge you to take a listen. Today, we will focus on how to realize that vision. So, among other things, we will talk about breaking the silos using common collaborative platforms and so much more. So, let's get started. For having this deep dive, I'm pleased to introduce today's special guest, Katrin Leyh, who is Business Development Manager of overall Quality Management Software at Siemens Digital Industries Software. Welcome, Katrin. Thanks for taking the time to join us. How are you?
[01:36] Katrin Leyh: Hi, Bettina. I'm fine, thank you. And a warm welcome from my side. I'm happy to be here.
[01:42] Bettina Pruemper: Before we dive in, could you please share a little bit about your background and role at Siemens?
[01:47] Katrin Leyh: My pleasure, Bettina. I have been working in the field of quality and product management for 30 years now. Starting at IBS, which was then integrated into Siemens in 2012. I was not completely innocent of this as I initiated the first major implementation of quality software at Siemens in 2002. Over time, I have worked in various positions, initially in projects, later in sales and consulting. My mechanical engineering studies helped me a lot in understanding and adapting customer processes. The question of how our quality and compliance management software can improve customer processes still motivates me every day, even in the new normal where we are unable to make on site customer visits. Today, I'm responsible for business development for the quality software in our digital manufacturing segment. Let's say, I'm something of an interface between our sales and service unit and our product development.
[02:49] Bettina Pruemper: Since this podcast series is about quality culture and its management, why don't we first take a minute to recap the main challenges you'll see when you're in touch with customers? As we learned during the previous episodes, the goal is on the one hand to produce products faster with improved quality, and also on the other hand to gain a competitive advantage. So, Katrin, what are the challenges around?
[03:13] Katrin Leyh: Good question, Bettina. Let me start with a specific challenge that I observed in my larger companies, and that I can also confirm from my own experience. Manufacturing companies need to overcome typical constraints. I would like to focus on just one point here; the silo thinking between development, manufacturing, and quality management must be broken down. This means, above all, the quality department is not responsible for all quality-relevant tasks. How often do you hear, "Perform FMEA! Okay, that's what quality does." No, that is completely wrong. Quality supports this process, but the experts are in development or production depending on the FMEA type. And only together can they initiate the right actions to get to the root of problems and eliminate them forever.
[04:07] Bettina Pruemper: So, if I heard you correctly, you're saying that companies need to remove barriers and pursue a new quality culture.
[04:15] Katrin Leyh: Well, most companies end up with a standalone QMS system and then try to integrate business processes to join domains. But so, these traditional methods are missing growth and profitability targets, impacting shareholder value. I liked the quote from Hermann Tietz, "Quality is when the customer comes back and not the product." And that should be a motivation for everyone in the company.
[04:42] Bettina Pruemper: So, as you look around, what's changing?
[04:45] Katrin Leyh: Companies need to develop a holistic view of quality and not see it as a necessary evil.
[04:51] Bettina Pruemper: What does it mean?
[40:52] Katrin Leyh: I would say a new product starts its lifecycle as a requirement and not as a product that can be produced directly. Therefore, we need to upgrade our old quality thinking with the three phases of planning, execution, and improvement. And add a new thought, which is called design for quality. It becomes a new first phase because we are now starting in development. So, we have designed for quality, planning for quality, quality during execution, and quality improvement. And I think, Bettina, you heard of the circle when the last phase of improvement gives the feedback back to the first phase of the design, so we call it closed-loop quality, CLQ.
[05:38] Bettina Pruemper: Yes, of course, I heard about it. So, in order to realize this new quality culture, what do they need to apply the closed-loop quality?
[05:46] Katrin Leyh: Okay, I hope we still have some time since I would like to explain a few details about the closed-loop quality. Unfortunately, we don't have the possibility to show a picture here, but I will try to describe it. Let me first focus especially on the design for quality phase. Our loop begins with customer requirements. If you consider a new product introduction, many requirements need to be taken up in a structured way and implemented efficiently from design, production, and quality domains. So, it is necessary to involve different teams that are working on the entire value chain of a product. The first ideas are put on paper or captured in our digital environment. The program manager develops a new program and defines what is necessary. Let's say all requirements are collected, a project plan is created with checklists and milestones, and responsible employees from the individual departments are named for implementation with target dates. The design and development department implements the requirements and design the new product with CAD models. So, the resulting parts are created as drawings or model, and they have included the Product Manufacturing Information, we call it PMIs. With all the needed specifications to describe the quality of our product during and after production. This is one of our key elements which we will reuse in more or less all quality phases. Bettina, I'm saying a lot. Is it okay to continue like this?
[07:21] Bettina Pruemper: Yes, of course, we are following your explanation.
[07:24] Katrin Leyh: Thank you. In this stage, we want to mitigate risks for our product and that is why we use FMEA methodology. FMEA stands for Failure Modes and Effects Analysis. The design FMEA helps companies to avoid failures in the planning phase. One important action to implement is the performing of Variation Analysis. The Variation Analysis supports early detection and prevention of issue related to the tolerances in design, especially when the products are assembled. The combination of FMEA and Variation Analysis supports to reduce potential costs in production or in the field already during development. We should not forget to briefly talk about the action management. Actions are defined in each process step. So, a company-wide action management helps to control the activities between the departments and to meet deadlines. Looking into the manufacturing process, there are also risks. And here, the process FMEA methodology helps engineers to avoid errors, evaluates them, and defines the relevant preventive and detective actions to eliminate them. The quality department works in the engineering team here testing, validation and initial prototype or sample inspections are carried out. The control plan is typically derived from the process FMEA. It describes all the required tests and inspections to monitor the remaining risks on the delivery of the product. And of course, I should not forget to mention suppliers. They are also heavily involved in quality process at an early stage. It is important to collect all data for initial supplied part including needed approval, for example, for the first sample inspection. After the first part is produced, quality assurance starts working.
[09:19] Bettina Pruemper: Great. So, from design to planning, and now we're focused on the realization stages.
[09:25] Katrin Leyh: Yes, let's talk about producing of subparts. Depending on the critical characteristics to be inspected, the appropriate solution for quality data collection should be used, of course, based on the inspection plan which is derived based on the control plan for the shop floor area. And of course, when we talk about inspections, we also talk about deviations from specifications. For example, quality inspections can be performed on incoming goods from a supplier, and deviations or non-conformances can be detected on the supplied parts. On the shop floor, the inspection can be executed via Quality Station or MES system. Deviations can be detected, and non-conformances can be recorded as well. SPC methods can be used to discover process violations, like trends or deviations from specifications, or defects can be discovered in the final inspection. So, you see, a lot of possibilities which we have to handle in the end. Unfortunately, it is also possible to receive a complaint from an end customer while they are using the final product in the field. Certainly, the most important type of complaints, because generally the most expensive.
[10:40] Bettina Pruemper: Sounds fascinating. But Katrin, what can you do to solve these issues?
[10:46] Katrin Leyh: Our types of issues are typically investigated within a problem-solving process, maybe you heard about. Problem-solving process means to analyze the root cause by using standardized quality tools. Typical methods are the 8D process, Ishikawa or Fishbone Analysis, "Five Whys" which ask again and again why an issue occurred and why it was happen with the final scope to identify the root cause of the issue. Typically, for companies that do not have an integrated system is that only the quality engineer works on this issue. But now this is a root advantage of behalf, because now we can involve all the teams. That means we can eliminate silo thinking between the different departments. Bettina, you remember what I said in the beginning of our conversation, teams can work together to identify the root cause of failures and define actions. This is a precondition to continuously improve the product and process to ensure a high level of quality, meet standard requirements, and satisfy the final customer. And finally, the loop is closed, and the specialists of all departments can check again via action management all important info to deal with complaints, actions, deadlines, and so on.
[12:08] Bettina Pruemper: All right. Now we all must take a deep breath. Thank you, Katrin. This was a very good overview of all the quality processes around the product and also the processes needed for manufacturing. So, if I understood you correctly, it's a process with many stakeholders and phases. It starts by listening to the voice of the customer and collecting customer requirements. And then all the value chain works to ensure the fulfillment of those requirements. So, in addition, as we explained, it is fundamental to embed quality since the early stages so we can speak about design for quality, and then we can move to the next steps as quality planning, realization, and also improvement. Right?
[12:53] Katrin Leyh: Exactly, Bettina. You are completely right with your summary, let's say.
[12:58] Bettina Pruemper: Great, then let's extend on that. How can Siemens support all this? I can't believe that there's an end-to-end solution for this.
[13:06] Katrin Leyh: I think so. Siemens built its system to support digital transformation across the entire product lifecycle and support end-to-end quality. The Siemens quality offering helps companies by supporting the entire product lifecycle from planning to production and back to the lessons learning for a new planning iteration. Leveraging several elements of the portfolio quality provides a closed-loop approach from design to manufacturing on shop floor and backlogs. This holistic solution performs functions in all stages, positively impacting product and process quality and efficiency throughout the product development process.
[13:47] Bettina Pruemper: Sounds like Siemens for sure has a fantastic end-to-end solution for its customers. So, Katrin, I'm really sorry, but I have some bad news; we've run out of time. Thank you so much for this wonderful extensive explanation on quality culture.
[14:03] Katrin Leyh: You're welcome, Bettina. Thank you for having me here.
[14:06] Bettina Pruemper: And of course, I'd like to extend my many thanks to our listeners. I'm glad you tuned into this podcast. Also, for further information, you can visit us online siemens.com/teamcenterquality, and use the Contact section to reach out to us, or you can just send us an email to mom-marketing.plm@siemens.com. This is the "Digital Transformation for Quality Management"; a miniseries part of Where Today Meets Tomorrow. And I hope you will join us again for our next podcast episode. Thanks again and see you next time.
Where Today Meets Tomorrow Podcast
Amid unprecedented change and the rapid pace of innovation, digitalization is no longer tomorrow's idea. We take what the future promises tomorrow and make it real for our customers today. Welcome to "Where today meets tomorrow."
Listen on:
This article first appeared on the Siemens Digital Industries Software blog at https://blogs.sw.siemens.com/podcasts/where-today-meets-tomorrow/revitalizing-quality-culture-with-best-in-class-solutions/