Products
What's new in Opcenter Execution Electronics 8.5
Improving functionality to manage small lot sizes and production changeovers
We are excited to announce the latest version of Opcenter Execution Electronics has been released! Version 8.5 is now available!
Opcenter™ Execution Electronics software is a full digital manufacturing solution for the electronics industry that is built on an industry leading manufacturing execution system (MES) platform for the medical device and semiconductor industries. Opcenter Execution Electronics is used throughout the electronics value chain, including for printed circuit board (PCB) and mechanical and box-build processes. Opcenter Execution Electronics is part of the Xcelerator™ portfolio, the comprehensive and integrated portfolio of software and services from Siemens Digital Industries Software.
The solution includes best-in-class manufacturing operations management (MOM) capabilities, such as manufacturing execution, quality management, materials management, planning and scheduling as well as manufacturing intelligence, facilitating direct connectivity to machines and production lines.
Electronics manufacturers are realizing faster new product introduction (NPI) and time-to-market, while improving their ability to compete in a rapidly changing, consumer-driven marketplace.
Opcenter Execution Electronics version 8.5 provides enhanced and new functionality to handle product changeovers, PCBs and box assemblies.
Opcenter Execution Electronics 8.5 brings a lot of valuable features.
Not only enables this version manufacturing scheduling page enhancements, but also a new manufacturing operation page, which provides a lot of advantages. Also, Opcenter Connect MOM tester adapter functionality provides new capabilities. Production client and BOM enhancements for work instructions are just two of serval more features the new version provides.
Benefits of Opcenter Execution Electronics 8.5:
Improve new product changeover capabilities
Improve the management of upcoming manufacturing orders
Enhance production preparation guidance
Provide easier interface for standard functional testers at lower cost
Consolidate defect labels for better visibility
Improve interactive THT and boxbuild process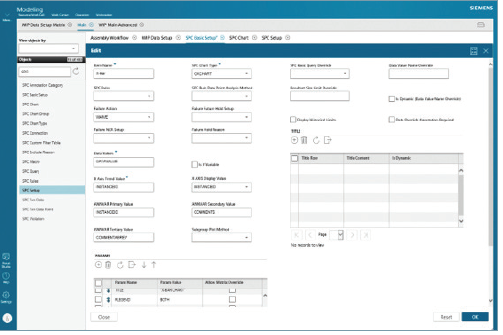 Already using the Opcenter Execution Electronics? See what's new in v 8.5.
Want to learn more? Opcenter Execution Electronics is a comprehensive manufacturing execution system (MES) for electronic printed circuit board (PCB) and box build. It is designed specifically to help electronics manufacturers respond efficiently to frequent design modifications, short product lifecycles and increased product and production complexities, all while improving quality and reducing the cost of operations. Opcenter Execution Electronics enables PCB and box assemblers to meet traceability requirements, control production, and integrate the shop floor into their product lifecycle management (PLM) and enterprise resource planning (ERP) system. Learn more about Siemens Opcenter Execution Electronics.
This article first appeared on the Siemens Digital Industries Software blog at https://blogs.sw.siemens.com/opcenter/whats-new-in-opcenter-execution-electronics-8-5/