EVENT HIGHLIGHT: Join Siemens at the Gartner Supply Chain Executive Conference!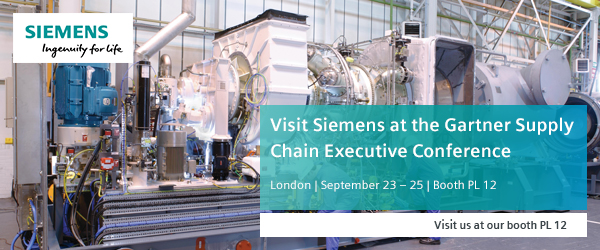 Siemens is excited to sponsor Gartner's premier Supply Chain event for 2018. Come join us as we show you how to "move to mastery" over your digital supply chain. There are many ways to engage with us at the event:
Meet with us at Booth #PL12
Come meet with Siemens supply chain, industry, and product experts. Explore a host of cutting edge innovation and hands-on discovery of the digital supply chain.



How Closed-loop Manufacturing is impacting the Supply Chain – Optimizing Supply Chain Planning and Supply Chain Execution




Advanced Planning and Scheduling (APS) in MES/MOM: Why APS is a must-have for the efficient Supply Chain




Jumpstarting your supply chain digital transformation – why APS is a great first step



You won't want to miss the opportunity to participate in an interactive game simulating advanced planning and scheduling – find out first hand why APS is creating dramatic efficiencies. And have some fun, too!
Hear a Siemens case study: Siemens Gas Turbines
Tuesday, September 25 | 12:30 – 1:00 PM
MES and APS – The First Steps Towards Full Digitalization
Siemens Gas Turbines, production site based in Lincoln, UK, decided in 2017 to launch a full digitalization project. As a starting point for this broad initiative, they are implementing both the APS and MES solutions simultaneously. Why? Because of the unique complementary nature of the 2 solutions and how they fit into the evolution of a complete digital manufacturing enterprise. Hear about how the team determined their roadmap to digitalization.
Siemens is proud to be a Platinum Sponsor of this event.
The Siemens portfolio for manufacturing operations management (MOM) enables the digitalization of a broad spectrum of production-related functions, including advanced planning and scheduling, manufacturing execution, quality management and manufacturing intelligence. Working together, these solutions optimize production processes and drive operational excellence, with a focus on steadily improving production efficiency, flexibility and time-to-market.
Find out more. Visit us at the event. Register today!
This article first appeared on the Siemens Digital Industries Software blog at https://blogs.sw.siemens.com/opcenter/event-highlight-join-siemens-at-the-gartner-supply-chain-executive-conference/