What's new in NX 11 for Manufacturing? Read all about it!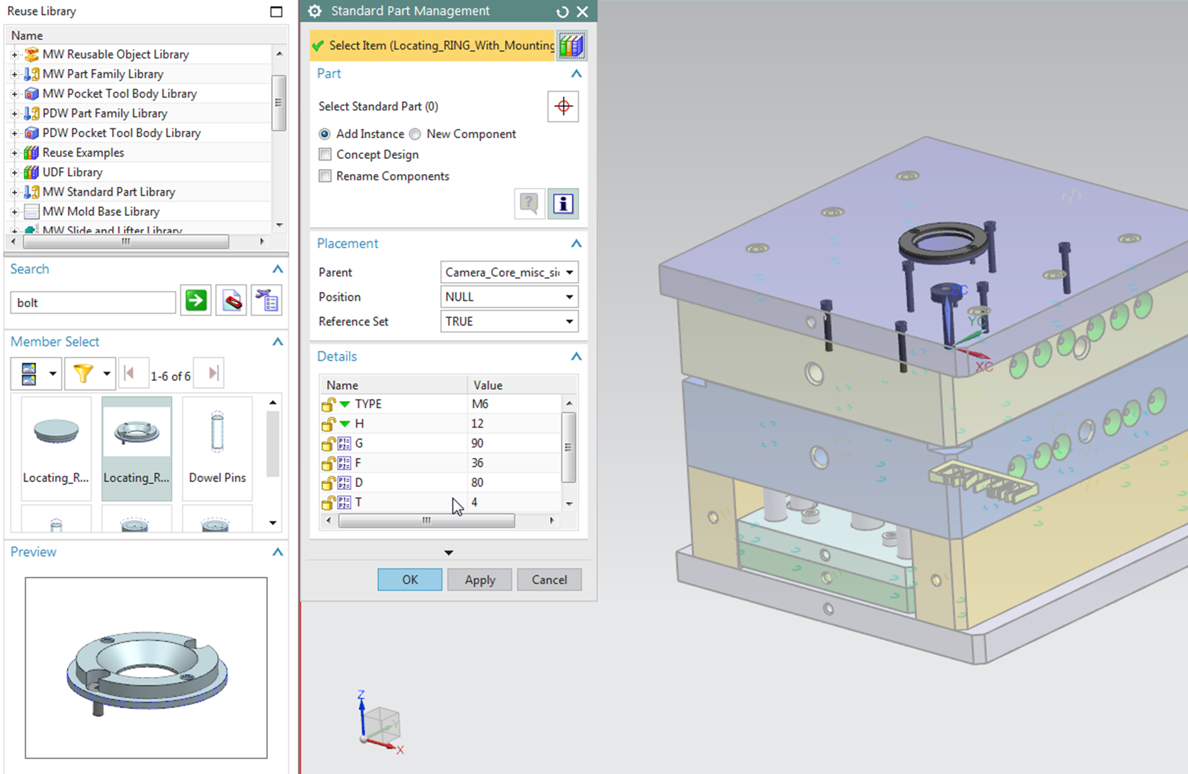 We're excited to announce NX 11 for Manufacturing!
Read about what's new in the latest version of our software and let us know what you think in the comments section below.
New software technologies in NX 11 for Manufacturing can dramatically improve productivity and create new opportunities to transform your business. The robotics machining and groundbreaking hybrid additive manufacturing capabilities enable you to produce completely new parts with better performance while delivering tremendous savings. With Line Designer's point cloud updates you can design and visualize layouts of production lines more quickly and associate the production layout design to manufacturing planning. New advanced NC programing capabilities for molds and dies, prismatic components and complex-geometry parts enable efficient programing while reducing machining cycle and improving part quality.
Transform your production with new, innovative technologies
Robotics machining
Robotics machining provides more flexibility and dramatically improves efficiency on the shop floor. NX CAM robotics machining helps robots to perform precise machining-type tasks that are often done manually. Automating these operations can reduce manufacturing cycle time and improve quality.
Beyond the familiar tasks of lifting, positioning and welding, robots are being fitted with tool holding heads. This enables robots to perform machining operations such as trimming, polishing and deburring to boost your productivity.
NC CAM Robotics – Program robots with NX CAM to perform precise NC machining operations
Improve efficiency by taking advantage of the large work envelope and flexibility of industrial robots. Robotics machining increases your flexibility to machine larger parts in a single setup and improve repeatability and accuracy by relying on the robots' precision motions.
For more details about NX CAM Robotics, you can view our new video, "NX 11 for Manufacturing – Robotics Machining"
Hybrid additive manufacturing
Hybrid manufacturing combines additive manufacturing (metal deposition) and CNC machining into a single environment to create new product designs with speed and precision. You can manufacture production-ready metal components on a single machine. NX CAM provides a complete solution to program the latest hybrid machines by DMG MORI. By building up complex geometries using additive manufacturing, including internal cavities, and then machining them for tight tolerances as they are built using subtractive manufacturing, you can manufacture new classes of parts or consolidate many setups into one.
NX hybrid additive manufacturing combines 3D printing (metal deposition) and CNC machining in a single environment.
In addition, the increased speed of powder deposition methods and the flexibility of building parts in five axes mean that hybrid additive manufacturing is better suited to production work than ever. This development represents an industrialization of additive technology as it becomes suitable for more applications. Prototype and repair work continue to be popular applications also.
Line Designer allows you to quickly design and visualize layouts of production lines in NX. With point cloud data support, you can easily compare your physical plant with your virtual plant layout model. Using Bentley technology, point clouds scanned from brownfield environments can be used to create new plant items or modify plant models after on-site changes. Point clouds also help to initially build 3D layouts where there is no existing CAD data.
Point clouds scanned from brownfield environments are used to create new plant items in Line Designer.
For globally distributed manufacturers, keeping plant models up-to-date helps distant plants duplicate their processes and maintain consistent quality across different product sources. When the centrally located plant design office is far from the actual plants it is trying to accurately model and update, point clouds quickly convey information that would otherwise require extensive time and travel to acquire. Using point cloud scans can help keep plants working with best practices and up-to-date methods across your enterprise.
Mold and die machining
Powerful new computer-aided manufacturing capabilities for mold and die machining enable you to create more precise tool paths faster and produce parts with high-quality surface finish. Multithread processing takes better advantage of multi-core hardware and produces tool paths as much as 50 percent faster. Recalculations are also faster, with intelligent updates across multiple operations that understand dependencies and recalculate only what requires an update. Non-cutting moves can be quickly updated without disturbing the cutting passes, making recalculations even faster.
Intelligent tool path recalculation in NX CAM allows quick refinement for best results.
Automatically defined cutting direction and machining order for different parts regions improves efficiency while delivering superior finish.
NX is delivering quality where it counts – on the surface of the part. Smooth, consistent on-part step-overs provide fine finishes across even imperfect imported geometry. And fine finishes in corners and valleys where smaller tools are used to complete machining are achieved with careful attention to cutting directions in steep and non-steep areas. These optimized cut directions make for more consistent semi-finish results as well. Toolpath validation gives you confidence at the machine tool knowing that the toolpath is error-free. NX has a new option providing final validation results almost immediately, delivering significant time savings, especially in programming large or complex molds.
Production machining
Production machining is typified by cutting larger quantities of prismatic parts with many features, such as components used in machinery, automotive and energy industries. It is important to have advanced tools to accelerate or automate the programming of these features and, more importantly, to minimize the cycle time on the machine tool. NX 11 provides several efficiency improvements and more automation for hole making, yielding reduced cycle times and up to 60 percent faster programming.
The new hole making capabilities in NX CAM 11 can reduce programming time by up to 60 percent.
NX CAM software provides several new operation types that make it easy to program complex, non-standard hole making processes for minimum cycle times. Deep hole drilling (gun drilling) automatically recognizes existing cross holes and speeds up the tool advance across pre-drilled channels. The new back countersinking operation positions specialized tools for an offset insertion through the hole, then turns on the spindle for back cutting. More specialized operations include chamfer milling for modeled or unmodeled chamfers and radial groove milling to provide circular passes with radial and axial stepovers as needed. These non-cycle operations would be tedious and error-prone to program manually, but are now easily programmed for efficient cutting.
Deep hole drilling (gun drilling) in NX CAM 11 automatically recognizes cross-holes to reduce cycle time.
NX CAM software makes it easy to program holes in logical groups, both manually and automatically with feature-based machining. You can maintain the most efficient cutting sequences by optimizing across hole groups to connect cuts together, minimize engages, and even re-sequence to avoid obstacles. The optimized toolpaths ensure safe cutting and reduced cycle times.
NX CAM 11 provides optimized drilling sequences across hole groups to ensure safe cutting and minimize engages.
Feature-based machining is a powerful method to automate NC programming time and keep programs consistent. NX makes it easier than ever to maintain and update your feature machining processes by defining feature variations and associated process variations in NX. Machining rules can be defined directly in the NX software, streamlining the development of your automated processes.
Complex parts machining
In the aerospace and medical industries particularly, 5-axis machining is critical to reaching and cutting complex shapes accurately and safely. As the tool axis changes during the cut, it is important to precisely control the cutting process to avoid tool overloads and sudden machine rotations.
New capabilities in NX CAM software allow easy analysis of complex multi-axis machine behaviors. You can optimize the machining conditions by visualizing 5-axis tool path characteristics, including:
Tool lead angle
Rotary axis positions, with over-travel limits
Rotary axis speeds to detect reversals
Short and long segments
This visual analysis helps you verify your cutting conditions across the entire operation.
NX CAM 11's visual analysis reveals important information about 5-axis cutting conditions.
Shop floor connectivity
The shop floor is where the benefits of NC programming are realized. NX CAM software produces complete shop floor documentation, but can also link more substantial systems for data and process management. The manufacturing resource library (MRL) provides complete tool assemblies for CAM programming. Teamcenter manages complete work packages and serves them to shop floor DNC systems, even including MRP systems.
NX CAM 11 has new capabilities for creating postprocessors directly in the NX environment, where the post's kinematic definition comes automatically from the machine tool digital model. The new post configurator provides modular layers of output definitions that can serve as templates, making posts easier to build and maintain.
Work instructions are output files that greatly impact the productivity of shop personnel setting up new jobs. NX CAM enables you to document each step of the process with a unique setup sheet that includes the view of the setup and any instructions required. You can easily include standard instructions as selectable text templates and provide complete tool lists. Work instructions are associative and easily update to reflect geometry or toolpath changes. You can deliver work instructions as rich HTML pages with graphics, which can be displayed on the machine controller.
Create comprehensive and detailed work instructions as you program in NX CAM.
An important new development in shop floor connectivity is the availability of managed DNC communication; even for NX CAM users that do not use the Teamcenter application. DNC Connect hands off NC work packages from NX CAM to the managed DNC system, which is based on Shop Floor Connect. The work packages are delivered to the shop floor under revision control to ensure that the correct released data is used in production.
Coordinate measuring machines (CMM) are key quality control features of manufacturing shops. NX CMM inspection programming can efficiently program CMM equipment and also read the results back into NX for visual comparison and analysis.
An important development in CMM scanning technology is the availability of high-speed heads that scan a surface and "flick" the head to make intermittent touches. In NX 11, NX CMM is able to program Renishaw PH20 probes to take advantage of their unique "head touches," even showing the head motion in simulation. These new probes allow measurement points to be taken faster and with improved accuracy and repeatability by moving only the probe head instead of the entire CMM structure. With NX CMM, you can easily program the latest probes, taking measurement points three times faster.
A new high-speed inspection cycle using "head touches" in NX CMM 11 enables three times faster inspection while improving accuracy
Establishing base coordinate systems and datums for measurement programs is easier with NX 11, as simple geometry selections fix the degrees of freedom until the datum is fully defined, speeding up the setup of a CMM program.
In aerospace and automotive sheet metal applications, where more traditional features are absent, CMM programs are often based on datum planes attached to surface points. NX 11 speeds up the definition of such datum planes with automatic creation of datum features that can remain associative to the Product Manufacturing Information (PMI).
Program origins are easily constructed with quick geometry selections in NX CMM 11
Analysis of measured data in NX CMM programming is also enhanced, with graphical displays of the measured data on the part model, making it easier to understand the measurement results and monitor part quality more effectively.
Analyze inspection results by displaying the measured data in the context of the 3D part model in NX CMM.
NX 11 tooling design delivers increased productivity when designing molds and progressive dies. First, a flexible spreadsheet display of the Bill of Materials (BOM) makes it easier to manage, edit and update the BOM. The spreadsheet display also allows bulk edits for faster updates.
NX 11 provides a flexible spreadsheet display of the Bill of Materials that makes it easier to manage, edit and update.
Mold and die design efforts gain great efficiency by utilizing standard components and design features. Drag and drop standard components from the flexible and configurable re-use library. Standard library parts, including your custom components, are stored in the re-use library with improved search capability and family-of-parts support. Easy access to standard and custom components can significantly accelerate your tooling design.
Speed up mold and die design by using standard components read directly from libraries in NX 11.
Several standard mold design components (cooling component, ejectors, gates and runners) and die design components (forming inserts, piercing inserts) are updated with more intelligent configurations to accelerate your tooling design.
Mold and die motion visualization and validation help you verify complex motion more accurately with NX 11. You can clearly view additional component actions, including hydraulic components and the actions of sliders and lifters. Visualization and validation using the complete digital model of your tooling assembly speed up the design and prevent costly errors in production.
To learn more about NX 11 for Manufacturing, go to:
This article is a roll-up summary of resources, broken down in industry categories, describing NX CAM updates available with the NX 11 release. It includes new and improved functions delivered since the release of NX 10.0.0.Each item listed is linked to another article with more details.
To learn more about NX 11 read the press release, Siemens' NX Delivers Next Breakthrough in Product Design…
This article first appeared on the Siemens Digital Industries Software blog at https://blogs.sw.siemens.com/nx-manufacturing/whats-new-in-nx-11-for-manufacturing-read-all-about-it/