Video: Andreas Saar on Hybrid Additive Manufacturing: A Game Changer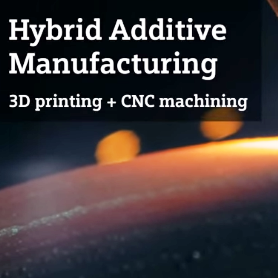 Andreas Saar, Vice President – Manufacturing Engineering Solutions, Siemens PLM Software, discusses hybrid additive manufacturing in a new video title, "Hybrid Additive Manufacturing: A Game Changer."
You will also find the complete video transcript below.
Every new technology, and particularly something like this, has its challenges. And, we are seeing a lot of issues we have to deal with, particularly bringing this additive process into this hybrid environment. There are a lot of issues with heat, heat distribution, the metals itself, the powder delivery, different metals, how they react together. There is a lot of research in this area to be done in the future. It opens a lot of freedom but it's also brings challenges in how these things react together and how you can machine it. For us in the software industry, in supporting that process we have to develop an additive tool path which has the specifics of adding material, not taking away material. So it is the opposite of what we are doing today and it has its challenges by itself as well as bringing this whole environment into a product lifecycle mode. Up to now it has been prototyping, in the future if you go into production these have to be dealt with as normal machines which are managed within a lifecycle of the product itself.
Innovative technology for improved productivity
Our vision for the process is that we can provide for the customer a complete end to end solution. End to end means that we have means for the designers to come up with new ideas, new ways to model lightweight products which utilize the additive technology together with the hybrid and subtractive in one environment. That is what our vision is; to support the end to end process and make our customers more productive and gives them the chance to build products for their customers.
A complete solution for hybrid manufacturing
So what our plan is in terms of the hybrid manufacturing solution is that we decided it is a very new technology that we work very close with a partner on the hardware side. It's a big machine tool OEM who has challenged that topic and we are working with them closely because we believe we have to have a partner in this area where we can test this technology live and optimize this technology as we are pushing it into the market. Our strategy is that we bring this technology to market together with partners around that in particular the machine tool vendors who provide that and make it very productive from day one.
A transformative technology
The workflow within NX is that you obviously have design tools or will have design tools that allows you to design additive structures, lightweight structures, which are better suited or allows more freedom in the process of designing the part. You will have CAE tools which are adapted to that process which allow you to support the editing layer by layer process in terms of the heat distribution, the stability from a CAE point of view. And then we go into the manufacturing part where we work on a feature decomposition model. We take part, decompose it in singles feature, each feature can be then edited and created in that process but it can also have a subtractive or finishing path to it where we complete the part. You have a combination between these two operations and you can actually alternate between these two processes as you move left which allows you a lot of things that you have never been able to do before? You can basically machine inside the part which you would not be able to do before. For that combination and the alternation of these technology operations allows you to do something that you have never done before and that is why this is a game changer.
What do you think of Andreas' comments in the video?
You can learn more about Additive Hybrid Technology on our website.
This article first appeared on the Siemens Digital Industries Software blog at https://blogs.sw.siemens.com/nx-manufacturing/video-andreas-saar-on-hybrid-additive-manufacturing-a-game-changer/