Products
Try iMachining for NX CAM software and you could win $10,000!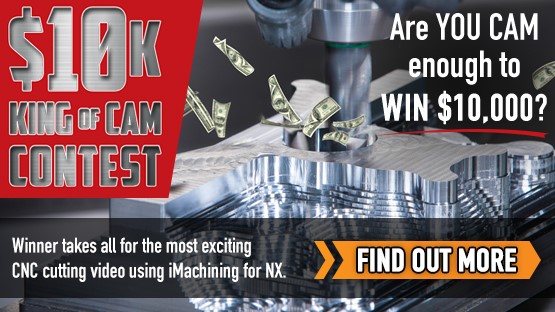 This blog post is authored by Gregory Abbass | Applications Engineer | SolidCAM Inc.
If you work with CNC machines, than you have likely seen and heard about iMachining's impact on cycle times and cutting tool life. iMachining can be embedded in Siemens PLM's NX CAM software, a comprehensive solution for NC programming, postprocessing and machine-tool simulation. Here's your chance to see how iMachining works inside your NX CAM software on your parts, and possibly win $10,000 US.
$10,000 King of CAM Contest!
It's very simple. Try iMachining for NX, then submit a short video of CNC cutting for your chance to win $10,000 CASH on December 13th, 2017.
Register for a Trial of iMachining for NX, read the contest rules, and record a CNC cutting video using iMachining for NX with any part and material. Submit the video to us, and our judges will pick a finalist each month to be entered into the Grand Prize eligibility list, and voted on by our LIVE iMachining webinar attendees on December 13, 2017! Please note: The contest is valid in the United States and Canada only.
Watch the Cutting Tool Video
Seamless Integration of iMachining in Siemens NX CAM
The proven iMachining technology is an integrated plugin for Siemens NX. NX CAM users can easily generate iMachining 2D and 3D operations inside the familiar NX CAM environment, using all the advanced NX functionality and post processors for their specific machine tools.
Saves 70 % and More in CNC Machining Time
Often, iMachining users achieve more than 70% reduction of cutting time. It's like buying another CNC machine without the cost and upkeep.
Cut the Hardest Materials
Using iMachining for NX, even the hardest materials can be cut with the smallest tools or low power CNC machines.
Drastically Extends Tool Life
Customers can increases tool life by 5 times or more as full depth-of-cut ensures that the entire tool is utilized rather than only the bottom part. Also, by always automatically keeping the tool in its "sweet spot", cutter wear and breakage are dramatically reduced.
iMachining Technology Wizard
The exclusive, patented Technology Wizard takes out the guesswork of how fast to run your parts by automatically providing all CNC machining parameters to obtain the optimal results. The industry's first and only true wizard uses an advanced, patented technology that automatically produces optimized feeds, speeds, depth and width of cuts – all specifically for your CNC machines, your materials and your tools.
Do you want to learn more about iMachining?
iMachining for NX action video
Video testimonials
This article first appeared on the Siemens Digital Industries Software blog at https://blogs.sw.siemens.com/nx-manufacturing/try-imachining-for-nx-cam-software-and-you-could-win-10000/