Generic Tool Catalog revolutionizes cutting tool data exchange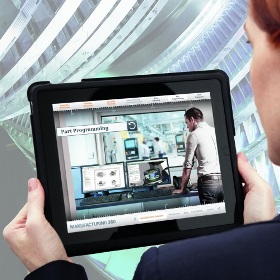 Having access to complete, reliable, comprehensive cutting tool data has been a dream for computer-aided manufacturing (CAM) and product lifecycle management (PLM) users for a very long time. ISO (International Standards Organization) 13399 is in a process of creating a common language, but there was also a need for a standardized way of exchanging information, resulting in a new cutting tool data exchange format, GTC. The GTC data exchange format was developed as collaboration between Siemens PLM Software, and our partners Sandvik Coromant, Iscar and Kennametal. Also Cimsource and Machining Cloud were participants in the definition process. GTC is an addition on top of ISO 13399 and it does not contradict it.
NTB Interstate University of Technology Buchs, an institute that specializes in engineering informatics, recently announced a new website, gtc-tools.com. The website provides information on how to use the Generic Tool Catalog (GTC) cutting tool data exchange format, to help expand use of new format. This is the first time that GTC is made available to all tool vendors and application developers enabling them to communicate through this format.
GTC enables a direct connection between the tool vendor and the application without the need of an intermediary company. GTC format catalogs from Sandvik Coromant, Iscar, Kennametal and other companies are currently being deployed into production by leading manufacturing companies. This process assures that the published data has been field-tested and found to be appropriate for production use.
The new site makes available to cutting tool vendors and applications developers information about GTC. We are fully committed to GTC as it specifies a standard format suitable for cutting tool data exchange. It avoids the need to create interfaces for different cutting tool vendors and applications. This is a crucial step for its deployment by additional cutting tool vendors.
While having a standard format is a necessary precondition; only by having wide-spread deployment can turn it into a success. For that purpose we need your help in requesting data in ISO 13399/GTC format. It is important to understand that Siemens PLM is not a cutting tool catalog provider. Catalogs should be obtained through the different manufacturers. Sandvik and Kennametal currently have processes for providing such data while others like Iscar and Walter can do so on a per request basis.
Siemens' Manufacturing Resource Library (MRL), a Teamcenter® portfolio application that provides classification and data management for manufacturing engineering resources, can import catalogs in GTC format starting from version 10.1.4. It enables using the tool data and 3D models to create tool assemblies that can be seamlessly used in the company's NX™ software for tool assembly creation and in NX CAM for tool path creation and simulation.
If your engineering data is managed in Teamcenter, it enables you to locate "where used" data for a certain cutting tool component. This capability is critical when a certain tool is discontinued by the vendor and the process has to be re-certified using another cutting tool component. Teamcenter can also store technological data so that feeds and speeds that have been successfully used in the past can be reused as a reference for new projects.
NX CAM can connect to Teamcenter either in a full PLM environment or can just use Teamcenter just as a cutting tool library. In this case Teamcenter does not need to be installed in the client and can be even located in the Cloud. This setup facilitates sharing the same tool library between the OEM and suppliers.
Tool Assembly setup sheets, including a Build of Materials (BOM) and call outs, can be created using NX Drafting. This data is essential for assembling the tool assembly in the shop floor.
While some gaps still exist in the process available, Siemens sees the cutting tool domain of strategic importance for the part manufacturing process and more developments can be expected in this area in the future.
Written by: Marcel Keinan, Siemens PLM Software
To learn more about the Generic Tool Catalog, read the published NTB news release, "NTB collaborates with Siemens, Sandvik, Iscar and Kennametal to make GTC data exchange format available to the public."
Please write your questions or comments in the COMMENTS section below and give this article a "kudo" if you like it!

Check out Siemens' Manufacturing 360 tablet app!
Explore the world of digital manufacturing. See how Siemens' software
for part and assembly manufacturing enable more efficient and nimble operations.
Download the FREE Manufacturing 360 app from Google Play or the Apple Store.

This article first appeared on the Siemens Digital Industries Software blog at https://blogs.sw.siemens.com/nx-manufacturing/generic-tool-catalog-revolutionizes-cutting-tool-data-exchange/