Products
A holistic approach to machine electrical design from – Initial Design to Configuration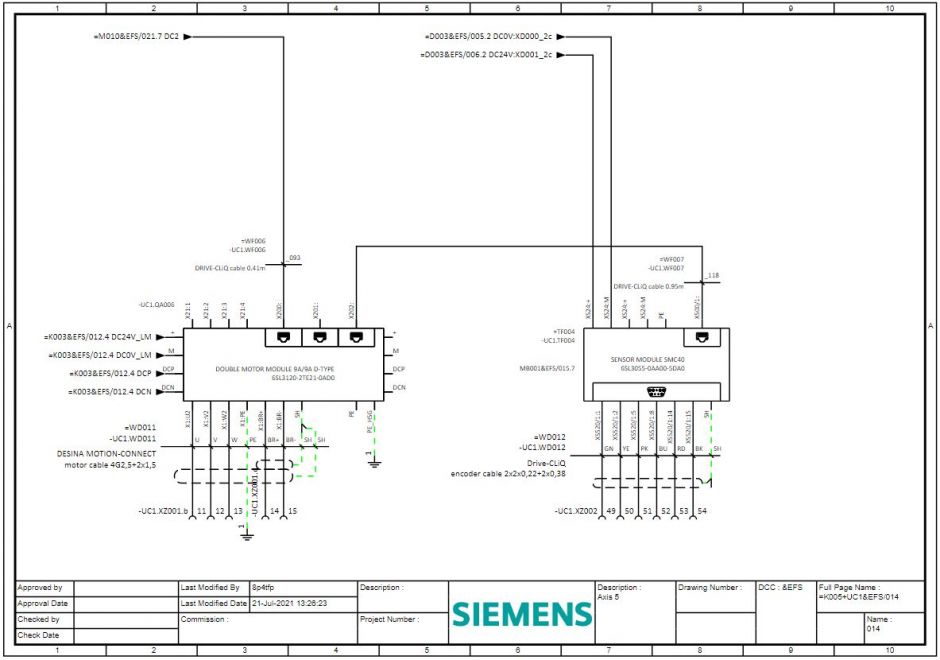 With NX Industrial Electrical Design, Siemens offers a complete electrical design package that delivers on design and speeds up configure-to-order and engineer-to-order workflows.
Modern machine design is undergoing hyper-automation, where functionality that was previously delivered by mechanical designers is being implemented more and more through electrical and software components. These changes are being driven by the need to make machines more flexible and adaptable, while keep costs to a minimum.
The consequence for electrical engineers designing these machines, is an increase in workload and complexity, with more pressure to deliver their work faster. To rise to these challenges, they need a tool that can support them not only in initially creating electrical designs efficiently, but that helps them quickly reuse and adapt designs to new orders and helps reduce complexity when collaborating with other disciplines. Siemens' NX Industrial Electrical Design can deliver on all these needs, helping them reduce design effort and speed up configure-to-order processes, while increasing quality.
Completing electrical design requires creating schematics, reports and for many laying out cabinets. With a full suite of ECAD functionality, NX Industrial Electrical Design, offers electrical engineers the ability to create schematic designs in ANSI, IEC and ISO formats quickly, with naming rules, out-of-the box symbols.
Those using of-the-shelf components can also leverage a wealth of supplier data through the import of product information in both ECLASS and EDZ formats, speeding up schematic creation and improving quality with data provided direct by the manufacturer. Once the design is completed designers can then leverage standard and custom reporting capabilities, to generate connection lists, bills-of-materials and other reports directly from the project data. This enables them to provide consistent, quality information for manufacturing.
For serial machine builders, design doesn't stop with the first machine, but involves developing different variations of the machine to address various customer requirements and market segments, as well as provide flexibility. In the past, this has been a timely and cost-intensive process for electrical designers who design all variations of a machine, manage the options and variants and to reproduce them for each order. Combining a wealth of knowledge in both electrical and mechanical design, Siemens' has created an engineering environment which allows electrical designers to create functional modules and variants that can be intelligently combined to create holistic, customer specific designs. These modules can be made intelligent to adapt to customer requirements, such as motor power changes, speeding up design. Combined with central management of the modules, serial machine builders can avoid reengineering the same components repeatedly for each new product and design, eliminating over engineering and lowering the cost to deliver the machinery.
Once the product line has been designed, then the machine lifecycle transitions to active sales and the electrical engineer needs to create and execute order-specific designs, often in configure-to-order and change processes. This is where machine builders can significantly speed up delivery, by leveraging mechanical design and configuration information, combined with intelligent functional electrical designs, to generate 100% complete configurations within minutes. With this, they can drive high-quality machine design, reducing start-up and commissioning time and lowering the cost of repairs. Which means they are delivering to their customers exactly what they need.
Want to learn more? Our products enable a holistic engineering of production systems from mechanical concept through to complete PLC code. NX Industrial Electrical Design offers a one-of-a-kind engineering toolset, designed from the ground up to enable controls engineers to complete their work with the highest efficiency, quality and speed possible. Electrical and automation engineers work on the same backbone, with an integrated data model, saving time and eliminating errors. Directly integrate mechanical engineering data and receive updates, improving collaboration across your organization. Learn more about NX Industrial Electrical Design 
Engelbert Blumenthal, Senior Product Manager at Siemens Digital Industries Software
This article first appeared on the Siemens Digital Industries Software blog at https://blogs.sw.siemens.com/nx-industrial-electrical-design/2022/03/07/a-wholistic-approach-to-machine-electrical-design-from-initial-design-to-configuration/