Products
What's New in NX | June 2023 | NX Mold Wizard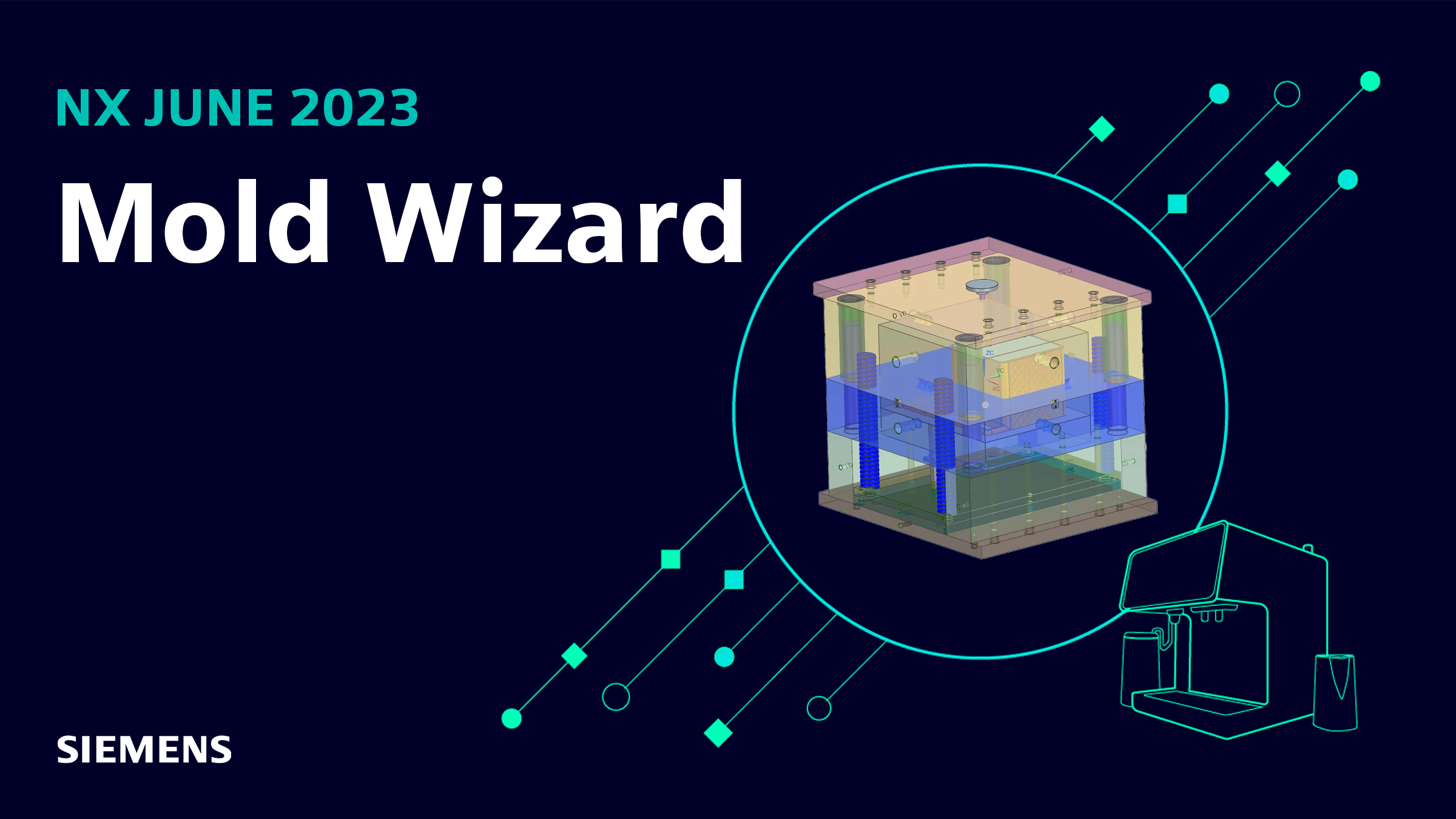 NX Mold Wizard is an NX™ add-on module that helps you design molds better and faster. It automates many of the repetitive, time-consuming tasks involved with mold development and provides advanced analysis tools to ensure high quality injection-molded products.
The June 2023 release of NX has made NX Mold Wizard even more powerful with a variety of new features and enhancements to improve your mold design workflows.
Watch the video or keep reading to learn more. And if you want to see how we designed the plastic part itself, check out our blog about Molded Part Design.
---
Feature2Cost
Feature2Cost automatically identifies features on a molded part design that will impact mold design and mold cost.
It'll list undercuts, ribs, and openings along with dimensions and other key information in a table format. They'll also highlight on the model in the graphics window too.
You'll also a get comprehensive information about the overall part, including:
Dimensions
Volume
Surface area
Projected area
Minimum and maximum wall thickness
Feature2Cost's real power is unlocked, however, when you combine it with the Mold Cost command.
Mold Cost
The features recognized by Feature2Cost pull through automatically into the Mold Cost report, where you can adjust various parameters to match your customer's requirements and your own manufacturing processes.
For undercuts, you can choose the material and configuration for the slider and lifter, and costs updates accordingly.
Similarly for ribs and openings, you can specify the material, complexity, and an implementation method for each.
The Mold Cost report also calculates a wide range of cost data based on the overall part dimensions, covering material costs and the time spent on different manufacturing methods. You can even include the cost of processes such as mold design or CAM programming.
Once complete, you can export the report to an Excel file to share with clients and stakeholders. The excel template is fully customizable to your organization's needs or to suit different use cases.
Detail Design
Once you've generated a Mold Cost report and had approval from your stakeholders, you're ready for Detail Design.
One of NX Mold Wizard's most impressive features, Detail Design automatically generates the full mold design based on configurations from the Mold Cost report and the geometry of the injection-molded part.
All this happens while you wait – automating a workflow that would take hours to complete manually.
It includes all relevant features such as cooling, cores, cavities, sliders, and lifters. NX imports these parts from a standard part library which you can customize to match your own manufacturing operations. You can also quickly edit each of these individual components within the mold assembly if needed.
Conformal Cooling Circuits
Conformal Cooling Circuits is one part of NX Mold Wizard that's seen some particularly exciting new enhancements in the June 2023 release.
One addition is the ability to use variable sections within the same cooling circuit to ensure optimum performance at different points.
In our video, we have a circuit with a teardrop section and show how you can switch to a circular section between specified points. The Conformal Cooling Circuits command will automatically create a smooth transition between the two section types.
Another common use case for variable sections is to accommodate different connections at the end of a cooling circuit. For example, the majority of a circuit could be rectangular and then you could transition to a circular section at the connection points.
Watch NX Mold Wizard video
Learn about all these features in greater detail in the video below.
As an add-on module, NX Mold Wizard is available through NX's flexible value-based licensing system. Use your existing token pool to access NX Mold Wizard today, or contact your sales representative to get started.
We'll be back again soon with the next What's New video to cover even more new content from the June 2023 release.
This article first appeared on the Siemens Digital Industries Software blog at https://blogs.sw.siemens.com/nx-design/whats-new-june-2023-nx-mold-wizard/