Products
Running VR (Virtual Reality) with NX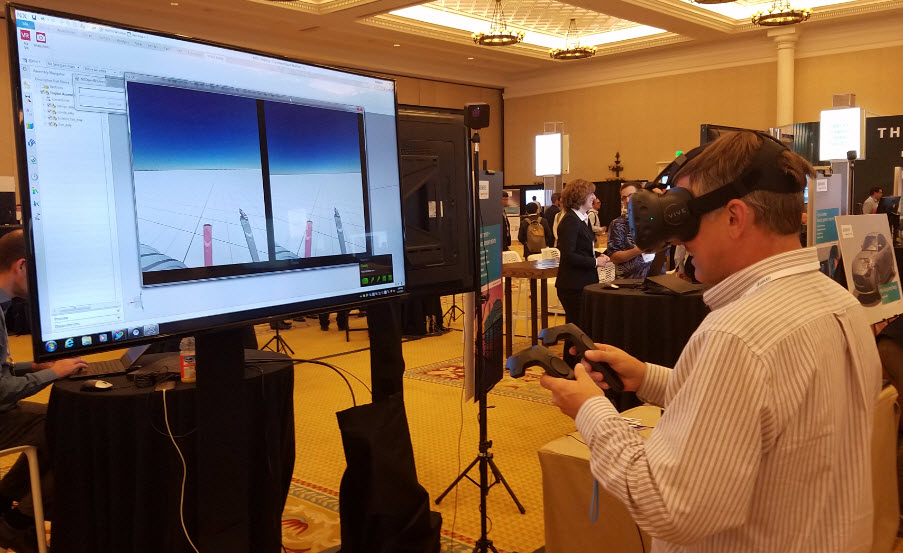 2018 Siemens Converge Conference
Siemens 2018 Converge Conference was held in Las Vegas, NV on the first week of November. The NX product development team show cased NX Virtual Reality (VR) functionality for design review as an add-on license option.
Working with the VR development, an early prototype version of the software was set up in conjunction with HTC VIVE Virtual Reality System, giving attendees the opportunity to review and provide feedback to a full-sized jet engine.
Using several commands within the NX VR environment, users were able to section the jet engine assembly, select a designed component (or components), VR would display critical attribute information of that NX part, and enable users to capture NX Snapshot of the view state (show/hide, section, view orientation.). Snapshots could be "replayed" in the VR immersive environment as well as in the NX environment.
Many testers had the opportunity to experience this NX VR functionality, and comments included: "this is awesome!", "When can I have this capability in the production release of NX?", "My customers would love this!", "The section display of this engine is very detailed!", "I can do this all day!", "Wow, this is fantastic!"
We are very excited about this upcoming enhancement in the NX future release, and please look for other blog posts about this new functionality.
This is NX.
PES Marketing Team
This article first appeared on the Siemens Digital Industries Software blog at https://blogs.sw.siemens.com/nx-design/running-vr-virtual-reality-with-nx/